Local sightings
Return to the list of reports
December 2017
1st

a Hen Harrier reported about Polhampton was the first local bird of this species recorded this year; it having been seen on several occasions. The area also held a flock of c.50 Fieldfare, a Bullfinch and small numbers of Yellowhammer.

Right: Yellowhammer, Emberiza citrinella — Picture: Deb Heath. Note the chestnut rump

2nd

the c.50 Fieldfare remained at Polhampton, where Brown Hare and Roe Deer were also seen. The Community Orchard drew in both Green Woodpecker and Wren. The fields and hedgerows about Turrill Hill held small numbers of Meadow Pipit and Yellowhammer pre-dusk. Four Red Kite were seen over the Highfields area.

3rd

both male and female Tawny Owl were heard early evening on the eastern boundary of the village. Goldfinch charms continued to feed in the scrubbier areas on Overton Hill, a Coal Tit being seen to visit at least one garden. Four Red Kite were again seen over the southern part of the village.

4th

a Seven-spot Ladybird was the latest invertebrate to be recorded, and possibly one of the last of the year. The / a Coal Tit once again visited a garden feeding station.

5th

Red Kite were continuing to be seen regularly over the village, the largest gathering, to date, was of four. Up to half-a-dozen Long-tailed Tit were active about gardens off Winchester Street.

6th

the woodland flanking The Test at Quidhampton held vocal Bullfinch. .

7th

the Water Rail was heard by the Bridge Street allotments, the male Tawny Owl again late in the evening at Two Gate Meadow. A Coal and eight+ Long-tailed Tit were seen visiting a Woodlands garden. A male Bullfinch was seen off Silk Mill Lane. A Grey Squirrel was becoming a very regular visitor to a Dellands garden. On the rain finishing two Jay, a Great Spotted Woodpecker and a small flock of Linnet were seen at Polhampton.

8th

Red Kite continued to be seen by many residents.

9th

light snow was noted for the first time this winter. A Stoat was seen on local farmland, as were Roe Deer, Yellowhammer and Bullfinch. Herb Bennet, White Dead-nettle and a dandelion sp. were still to be seen in flower, Snowberry however now very much in fruit. A male Kestrel was about the northern end of Turrill Hill, a Mistle Thrush seen heading south-west closer to the farm, another of the latter still protecting ornamental sorbus in Woodlands. A Red Kite drifted south over the High Street early afternoon, a Buzzard being in a tree on the eastern Parish boundary at Ashe mid-afternoon. A Wren visited one garden.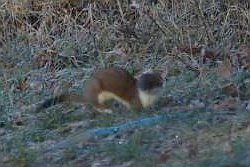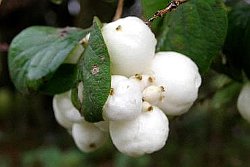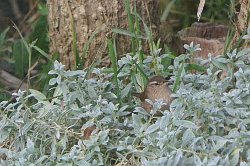 From Left to right: Stoat, Mustela erminea; Snowberry, Symphoricarpos albus, also known as Ghostberry; Wren, Troglodytes troglodytes — Pictures: Deb Heath
10th

the male Kingfisher was again on the wall over The Test, Kingsclere Road. Flooding was evident today, as were numbers of boughs bought down by the strong winds. A Red Kite was wind-blown over the village centre late morning, others being seen elsewhere as the day progressed.

11th

a flock of Long-tailed Tit was seen about the Two Gate Lane hedgerows, Bullfinch being heard nearby. A charm of Goldfinch was seen at Polhampton.

12th

a notable frost this morning! A Red Kite, Buzzard, many Bullfinch, a Nuthatch and Redwing were seen about Polhampton. House Sparrow remained active about the bushes and roofs by / of the Community Centre. The western extremes of the Parish held a Raven, Little Egret, female Sparrowhawk and five Red Kite early afternoon, two Nuthatch being vocal in Southington trees about this time.

Right: Redwing, Turdus iliacus — Picture: Deb Heath. The smallest of the regular wintering thrush

13th

a Little Egret was in The Test off Straight Lane during the morning, being seen by several residents as it fished there. A Dunnock was a less expected visitor to one Highfields garden, Green Woodpecker however remaining regular there.

14th

a Little Egret was again seen foraging in The Test, another, or the same, later seen flying along the same. Brambling were seen amongst / with Chaffinch in fields off the northern end of Straight Lane, the first of these winter visitors to be seen in the Parish this winter. Red Kite were also again over the village, seemingly no matter the weather was like. 50+ Fieldfare were on fields about fields towards Ashe, a further 50+ of these / Redwing being found on the Overton Hill playing fields. A Wren, one of many now obvious and making the most of the milder weather, proved photogenic on the Overton Hill building site.

Right: Wren, Troglodytes troglodytes — Picture: Deb Heath

15th

Fieldfare joined the resident thrushes about gardens on the edges of the village, more of these and Redwing foraging on the playing fields on Overton Hill. Nearby both Goldfinch and Dunnock were active about Polhampton scrub.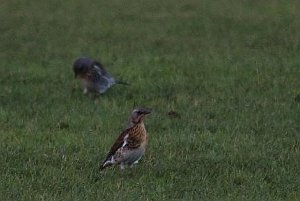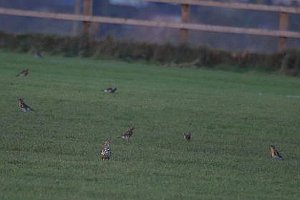 From Left to right: Fieldfare, Turdus pilaris & a Mistle Thrush, Turdus viscivorus — Pictures: Deb Heath
16th

Yellowhammer, Fieldfare and Goldfinch continued to explore the urban edges of the village. Red Kite remained regular visitors to / the airspace over Highfield gardens.

Right: Goldfinch, Carduelis carduelis — Picture Deb Heath. One of the many active, mobile and vocal charms about the Parish

17th

a Green Woodpecker again visited lawns on the village outskirts. Another frosted start to the day.

18th

the Fieldfare were again seen about the village flanks, the relatively empty arable fields appearing to their liking, at present. A Buzzard was on / in Hyde Hill Plantation mid-morning; one of the more regular sites to see this raptor within the Parish.

19th

two Little Egret were in Flashetts, one of very few multiple sightings so far this winter of this ever-increasing species. An over-wintering Chiffchaff was in the hedgerows off the lower part of Kingsclere Road. A red-letter day, well, certainly an 'r' day with Red Kite, Robin and Rook reported from one garden. Another garden played host to Bullfinch, these also being seen, as were Yellowhammer, at Polhampton. Mid-afternoon saw a Buzzard over Town Meadow.

20th

the milder weather allowed 'midges' back out on to the wing, a "Big black spider" also being seen!

23rd

a Water Rail was vocal at the Filtration Pools, a Meadow Pipit nearby also vocal as it passed over Station Road. A possible Winter Moth on a Foxdown property remained just too far out of reach to confirm its identification! Several Grey Wagtail were mobile about the northern part of the village, Red Kite, also mobile, being seen over Overton Hill, Copse Road, two+, Hill Meadow and Lower Whitehill. Wintrier was a mixed flock of Fieldfare and Redwing south over Hill Meadow early afternoon.

24rd

a Water Rail was heard 'sharming' by The Test, off Bridge Street. A Red Kite passed over Woodlands late morning.

25rd

both Little Egret and Grey Wagtail were about The Test, Flashetts. A group of three Robin was seen in one parishioner's garden. A Mistle Thrush in Woodlands continued to 'protect' the ornamental sorbus there. Local raptors included a Kestrel at Court Farm, two Red Kite over Kingsclere Road, two over Woodlands and singletons over the Great North Field, Sprents Lane and Lordsfield Gardens.

26th

a Buzzard was vocal over the village early afternoon, another being seen in a roadside tree at Southley Farm.

27th

a Red Kite was seen over Highfields gardens.

28th

a further frost lingered. A Buzzard was once again on the eastern Parish boundary fencing by Ashe Park Lodge.

29th

two Roe Deer were seen in Ashe fields. The Red Kite count over Highfields grew to two.

30th

the fields between Willesley Warren and The Harroway later in the day held a mixed feeding flock of Fieldfare, Redwing, Starling and Pied Wagtail, ranging in numbers from 170+ for the former and just two for the latter. Overhead and nearby perhaps half-a-dozen Red Kite and two Buzzard were apparent, one of the latter seen to have a bulging crop on leaving its perch - its earlier prey however not seen / identified. A pair of Dunnock, these already in song, was seen on / in hedgerows about the upper reaches of Overton Hill.

Dunnock, Prunella modularis — Picture: Deb Heath. The archetypal 'little brown job'

31st

two Red Kite were active about the southern end of Winchester Street, and nearby. Further afield a recent visit to Cumbria had one resident finding a somewhat coy-looking Red Squirrel.

Right: Red Squirrel, Sciurus vulgaris — Picture: Deb Heath. 'vulgaris' the Latin for common, perhaps hinting at how widespread these once were in Britain
Contributors: David Cluett, June Gibbs, Deb Heath, Alison Hutchins & Peter E. Hutchins.
January offers...
Even more wintry weather, though to date the it's been more autumnal!
Milder weather will however allow the likes of bumble-bee, butterfly and myriads of midges out on to the wing, Brimstone, Small Tortoiseshell and Red Admiral the most likely to be encountered of the more readily identified species. As always, please do make the Society aware of your early year sightings, if only as a hint of things i.e. spring to come.
Daisy and White Dead-nettle are already in bloom as I type this, but it won't be long before snowdrop and daffodil join them, the former in drifts of white that carpet copse floors; Pleated is one to look for about Ashe.
Wintering thrush and finch numbers will continue to build, the open, and perhaps less 'tidy', arable fields and adjacent hedgerows and scrub the place to look for these, including Brambling amongst the expected Chaffinch and perhaps further Hawfinch, remaining from the huge influx of autumn / early winter 2017. Wildfowl will increase in numbers if the weather deteriorates to our east / on the continent, though the extravagant Mandarin may well appear on quieter waters no matter what the weather. Both Little Egret and Water Rail sightings should increase, the latter just as likely to be heard though.
The more open fields and growth of winter-sown crops may see goose numbers increasing locally, Pheasant and partridge also making the most of the readily available and easily sourced vegetable matter from both this and last year's growth; of the latter Red-legged will be evident, Grey far less so. Both Rabbit and Brown Hare will become ever more active, the hare possibly being seen in the early stages of their courtship, Mad March coming early. Recent local roadkill hints at Badgers being at least close to the Parish, so beware of these on your nocturnal journeys, Roe Deer however more likely to make that trip just a little bit more exciting!
Enjoy the waning winter, keep on watching and listening, and who knows, you might just still find the first Waxwing this year, though numbers throughout Britain remain all too small compared with recent winters.
Don't forget that the Big Garden Birdwatch takes place late in the month. More information about this can be found at: https://ww2.rspb.org.uk/
Don't forget to send in your sightings from this to both the RSPB and OBS!
Wishing you all the very best for the month, the New Year and all that both have to offer.
Peter.