Little Meadow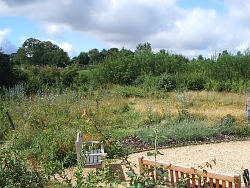 The Overton Parish Council has invited O.B.S to develop the area adjacent to the cemetery on Kingsclere Road for the benefit of all parishioners and visitors. With the help of a grant from the Local Heritage Initiative, O.B.S has now developed this area to favour wildlife and provide a space for all to enjoy.
The work was carried out as a community initiative and included planting of hedgerows and low borders, planting and sowing of wild flowers, making of a hard standing area and gate for wheelchair access, realisation of a sun dial and information boards.
'Little Meadow' was formerly opened to the public on 6th May 2007.
Photographic story of Little Meadow