Local sightings
Return to the list of reports
December 2016
1st

Grey Wagtail were noted on the wing through The Orchard and Court Drove.

2nd

a Little Egret flew over Woodlands early afternoon whilst Red Kite were seen over there and the ORC. A Buzzard was once again on the Parish boundary fencing near Ashe Park Lodge mid-afternoon. A Grey Wagtail moved off from Oak Close to the adjacent park.

3rd

a Feathered Thorn was found in Lordsfield Gardens, perhaps one of the last of the lepidoptera to be seen this year? Single Red Kite were seen over the High Street and Kingsclere Road whilst a 'pair' lingered over the Woodlands / Town Meadow area.

4th

a frosted morning to start the day today.

5th

Red Kite were seen over Winchester Street and Woodlands, a Buzzard settled in Hide Hill Plantation. Grey Wagtail noted at Town Mill and Lordsfield Gardens may have been the same bird.

6th

a Little Egret was again seen in Southington Lane gardens. The Test also held a Little Grebe, this just off Bridge Street. A Grey Wagtail was very active about Woodlands and Oak Close. Also on the move were a Fieldfare and three Meadow Pipit, none of these however lingering.

Right: Redwing, Turdus iliacus - Picture: Doug Kelson. By far the most regularly encountered of the wintering thrushes locally

7th

a day notable for the temperatures recorded, if nothing else; 10°C being noted both early and late in the day. The temperature about noon being as high as ?

8th

34+ Redwing moving south over The Green mid-morning was the largest gathering of this species for some time. Also, noted over the village were a Meadow Pipit and Red Kite, the latter over The Green and Woodlands. A Bullfinch was in Two Gate Meadow. A Buzzard remained in Hide Hill Plantation during the early / mid-afternoon period, A Kestrel over fields on the eastern edge of the village.

9th

a further day of birds noted on the wing over the village - a Little Egret, up to five Red Kite and single Grey Heron and Buzzard.

10th

single Red Kite, Grey Wagtail and Meadow Pipit were noted moving through the village on a day of continuous grey clouding and intermittent rain; very autumnal! A Mistle Thrush was, for at least the 3rd day, present in ornamental sorbus in Lion Close; presumably having set up a winter / feeding territory about these trees.

Right: Mistle Thrush, Turdus viscivorus - Picture: Doug Kelson. This bird also protecting its winter food resources, though in central Derby against Waxwing!

11th

three Grey Wagtail were by the football fields atop Overton Hill.

12th

a queen bumble-bee was seen working the gardens on Winchester Street. A further invertebrate was seen, a Winter Moth at Town Mill; possibly one of the dullest of the lepidoptera in Britain! Kingfisher were heard at Kingsclere Road and Glebe Meadow, Grey Wagtail in Lordsfield Gardens and Glebe Meadow. A Red Kite put in several appearances over Glebe Meadow. A Fieldfare was seen over Lordsfield Gardens, perhaps up to 14 Redwing also moving about the village in small, active flocks.

13th

a Little Egret was foraging on Town Meadow early afternoon. A Fieldfare and 18+ Redwing were noted on the move about the village. A Buzzard was seen on the eastern Parish border fence line near Ashe Lodge mid-morning and early afternoon. The Overton Hill playing fields hosted 13 Black-headed Gull mid-afternoon.

14th

four Red Kite and a Buzzard were in a Polhampton field. A mixed flock of Fieldfare and Redwing moved from the school grounds in to Lordsfield Gardens gardens, a smaller flock of the former also being seen over Woodlands, as was the territorial Mistle Thrush. The football fields on Overton Hill drew in ten Black-headed Gull to forage. Red Kite were again seen over the school and Lordsfield Gardens.

15th

two Little Egret and a Grey Heron were about The Test between the village and Ashe. A Kestrel was again over fields by the Overton Hill football fields, two Red Kite over The Harroway. A Grey Wagtail was recorded moving over Woodlands late morning.

16th

a Little Egret was seen on the wing over Glebe Meadow, a Grey Heron over Court Farm and a Red Kite over Woodlands, as was the sorbus protecting Mistle Thrush. Another Winter Moth was located, at the Primary School. Somewhat less appreciated was the Brown Rat seen in a Bridge Street garden.

17th

a Meadow Pipit moved low south over Lordsfield Gardens early afternoon. A Red Kite over Dellands eventually moved off to the east, a Grey Heron moving towards The Test nearby, over Woodlands.

18th

a Kestrel was hunting low over the fields and hedgerows of / off Straight Lane. A single Mute Swan flew west over St. Mary's Church. A Great Spotted Woodpecker was drumming on trees off Straight Lane, only the second record of this noted this late year period.

Right: Great Spotted Woodpecker, Dendrocopos major. This a male - confirmed by the red on the nape area

19th

the / a Buzzard was again on the Parish boundary fencing south of Hide Hill Plantation. Both Red Kite and Grey Wagtail were seen moving over Red Lion Lane, south-east and north-east.

20th

the / a Buzzard was again on the Parish boundary fencing south of Hide Hill Plantation, the flock of Canada Geese nearby at The Source of The Test. A Red Kite was moving over Lordsfield Gardens towards The Great North Field late morning.

21st

a Roe Deer was seen in fields off The Harrow Way, a Buzzard nearby seen to be feeding on a Woodpigeon. A Little Egret was again on pools off Southington Lane, a Grey Heron over Glebe Meadow. Red Kite were seen over Court Drove, Bridge Street, the High Street and Woodlands.

22nd

one of the resident Indian Peafowl appeared, being seen walking along Dellands late afternoon. Raptors were very much in evidence with a Kestrel hunting over farmland off Waltham Road, Buzzard once again on the fence line by the Ashe Floods and two Red Kite noted over Woodlands. More confiding was the Grey Wagtail feeding on lawns and rooftops in Lordsfield Gardens.

23rd

a Red Kite was working westwards along the railway line near Hill Meadow late morning, three Buzzard being seen over the fields and in trees between here and Frost Hill a little earlier. A further Red Kite was over Town Meadow, again late morning. A party of Long-tailed Tit was obvious about the Two Gate Lane area.

24th

a male Muntjac was heard 'barking' from Town Meadow early evening. The Grey Wagtail was again about Lordsfield Gardens gardens, three Redwing moving over to the north-east there. The Mistle Thrush continued to protect 'their' Rowan from all other thrushes in Lion Close, Bullfinch being seen on cherry blossom. Red Kite were seen over Town Meadow, Woodlands and Dellands.

25th

Christmas Day - so little news, hopefully all the usual observers tucked up inside their homes with family and friends. However, both Red Kite and Buzzard were seen over Flashetts. Close to the Parish a pair of Muntjac was seen late evening by Ashe Park. A very warm day, becoming one of the warmest Christmas Days to be recorded!

Happy Christmas to you all!!!

26th

a Buzzard was atop Hide Hill Plantation mid-afternoon, a Muntjac being seen nearby late evening; the latter again hinting at reaching the Parish boundary. A party of Skylark remained about the 'building site' on Overton Hill with, nearby, Great Spotted Woodpecker again drumming, a Wren foraging actively and a Song Thrush, appropriately, in song.

27th

another notable frost that lingered throughout the day. A Grey Heron dropped towards Town Meadow and The Test late morning whilst a three-figure count of Canada Geese dropped in to fields west of Straight Lane during the morning. A Bullfinch was again seen in Two Gate Meadow where less regular garden visitors included a Yellowhammer and Wren.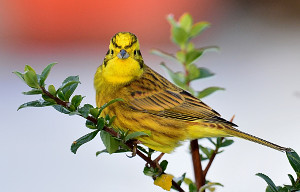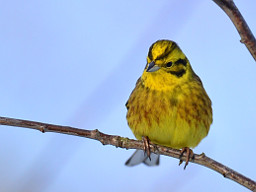 Yellowhammer, Emberiza citrinella - Pictures: Stewart Woolley. If seen properly they're certainly one of the most flamboyant of the Parish residents
28th

fog and frost presumably helped ensure that little was recorded - a Kestrel however being heard about the school grounds. The flock of Canada Geese was again noted on the fields north of Berrydown.

29th

one of the Mistle Thrush was seen to still be attending the Rowan in Lion Close, from where two Fieldfare were seen to move off eastwards, perhaps with the 'encouragement' of the former thrush. A Meadow Pipit flew low south over Lordsfield Gardens late morning, Red Kite also on the wing, over Red Lion Lane / Woodlands; two lingering for some while, also prior to noon. The Canada Goose flock was seen dropping in to fields east of Straight Lane, scattering Rook as they did so. Great Tit were heard in song about the village edges.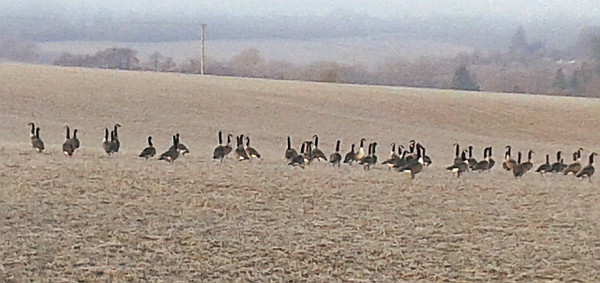 Greater Canada Geese, Branta Canadensis - Picture: Deb Heath. Note the 'Greater', there now also being a 'Lesser'!
30th

the 'freezing fog' apparent throughout the day may have been one of the reasons for at least 12 Blackbird being seen in one Bridge Street garden; an unusual gathering even for this time of year. Further thrushes came in the form of a Fieldfare heard at Lion Close where the Mistle was still on patrol.

31st

the end of 2016! Thank you to all those that have contributed sightings / records throughout the year, I look forward to even more in 2017!!!
Contributors: Brian Elkins, Margaret Elkins, Deb Heath, Alison Hutchins, Peter E. Hutchins, Jane Mackenzie & Ken Mackenzie.