Local sightings
Return to the list of reports
November 2015
2nd

on the avian front Red Kite, Redwing, Grey Wagtail and Meadow Pipit were seen, or heard, moving about the village whilst a flock of 23 Goldfinch adorned trees in Kerchers Field and one of the male Blue Peafowl sedately wandered the Charledown Road area.

3rd

playing fields about the southern part of the village attracted birdlife today, a Red Kite over the Edward Kersley and three Mistle Thrush over the Sapley Lane one.

4th

a Red Admiral up from a Sapley Lane garden decided that its next place of settling was the side of nearby a white van. Further lepidoptera came in the form of Emmelina monodactyla, three of this plume moth being found in Charledown Close. Skylark, Meadow Pipit and Lesser Redpoll continued to move in small numbers, Redwing in increased numbers.

5th

two Red Kite were seen to be harassed by three Rook over the Great North Field.

Right: Rook, Corvus frugilegus. A close up!

6th

the mild and wet weather didn't stop good numbers of Lesser Black-backed Gull coming in to the Parish to visit the fields about Turrill Hill.

7th

Monkey Flower was still in bloom in The Test at Polhampton. Few birds were on the wing in the morning, unlike the leaves being stripped from the trees in a gusting south-westerly. The evening firework display at the School was appreciated by many, though this probably wasn't the case for the ducks etc. heard on the wing during it!

8th

the pre-roost flight of Canada Geese over the village was noted by several parishioners, after a further grey day.

9th

Red Kite, Mistle Thrush, Redwing, Siskin and Buzzard were all on the wing over the Parish during a further grey day.

10th

a day for raptors with a Peregrine hunting over fields near Two Gate Meadow, a Buzzard moving west and up to three Red Kite lingering.

11th

a Robin was seen at the railway station during the morning emptying of the village. Continued movement of birds about the Parish included Lesser Redpoll, Grey Wagtail, Buzzard and, of course, Red Kite.

12th

two Hedgehog were in an Alexander Road garden, the first multiple sighting reported for many months. A flock of 80+ Fieldfare west over Winchester Street late morning was an exceptional early winter period record, this soon to be followed by a single lagging some way behind.

13th

a rainbow was the first for some time, unlike the Lesser Redpoll, Buzzard and Red Kite about the Parish skies. One of the Blue Peafowl was seen, appropriately at 16 Dellands; the initiation point of HART.

14th

a further plume moth species was seen, this being Amblyptilia acanthadactyla!

15th

a Kestrel over the Great North Field was an increasingly rare sighting locally, as was a Honey-bee in Woodlands gardens. Several Red Kite showed off their proficiency in flight over the village in further squally south-westerlies.

16th

two avian records of note were a 'v' of eight Cormorant west and 14+ Fieldfare north / north-east. The Amblyptilia acanthadactyla remained at roost / rest in Winchester Street.

17th

a Light Brown Apple Moth braved the increasingly windy conditions, being seen in a Dellands garden. Red Kite were again obvious over the village, a few Redwing other wise of most note on the avian front.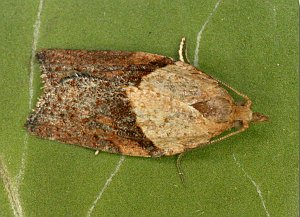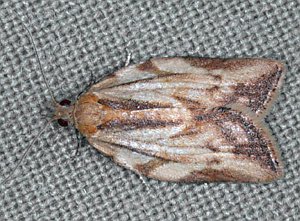 Light Brown Apple Moth, Epiphyas postvittana. Left: male, right: female. Pictures: Mike Wall, www.hantsmoths.org.uk
18th

a Red Kite was seen at David's Wood, both low in flight and, less characteristically, hovering, others being over the fields off Two Gate Lane, three, and The Green.

19th

Grey Wagtail and Meadow Pipit were noted in the grey sky covering the village for yet another day.

20t

a male Sparrowhawk was hunting through Dellands gardens.

21st

a Little Egret flew over the Great North Field / Lordsfield Gardens, this perhaps the first of the winter sightings locally as they move to and from their roost sites.

Right: Little Egret, Egretta garzetta

22nd

a Yellowhammer over Woodlands mid-morning was the first recorded there for many weeks.

23rd

Chicory was still flowering in The Dog Field. c.65 Lapwing were over White Hill late afternoon. Three Grey Squirrel were in a paddock behind Southington houses.

24th

a Hedgehog in a Glebe Meadow garden was a late visitor. The milder weather presumably helping to ensure, hopefully, that this late visitant was feeding well and preparing well for its eventual hibernation.

25th

Red Kite were seen on six occasions about the village mid-morning through to early afternoon.

26th

Red Kite continued to be seen over the farm and woodland north of St. Mary's Church / Court Farm House. Several small flocks of Fieldfare were brief visitors to the centre of the village, Redwing being seen in larger numbers.

27th

a large 'fairy ring' of fungi appeared in the lawn at Milldown House. Over the village Lesser Redpoll, Meadow Pipit and Redwing continued to be seen, and heard.

Right: Hedgehog, Erinaceus europaeus

28th

an even smaller Hedgehog appeared in the same Glebe Meadow back garden; the last to be noted this year perhaps?

29th

a Red Kite braved the increasingly inclement weather mid-morning, sweeping low south-west through Town Meadow.

30th

Lesser Redpoll, Meadow Pipit, Fieldfare, Redwing and Red Kite, two+, were on the move about the village, as was at least one of the Blue Peafowl.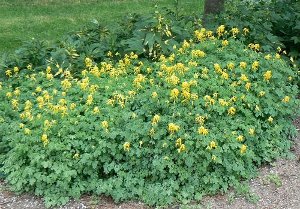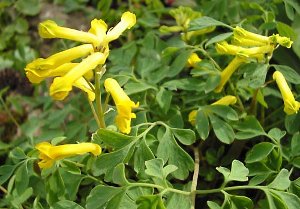 Yellow Corydalis, Corydalis lutea. Also known as Yellow Fumitory, originally from the southern European foothills of the Alps; one of the few plants still in flower as we head in to December, though this sure to be affected by any further frosts.
Contributors: Deborah Heath, Brian Elkins, Margaret Elkins, Alison J. Hutchins, Peter E. Hutchins & Veronique Kerguelen.