Local sightings
Return to the list of reports
October 2017
1st

a mole seen crossing Polhampton Farm Road was perhaps the first to be seen within the Parish this year. On the adjacent pools a duck Wigeon was the first of the late year period, four Teal also there being as equally skittish, a Swallow moving low south. Also on the wing were Red Admiral, the only butterfly seen in the truly autumnal gloom and drizzle, a late Shaded Broad-bar the only moth to venture out of the Test-side vegetation. Red Campion, Ivy-leaved Toadflax, White Dead-nettle and Ragwort were among that still in flower, a few Fox-and-Cubs brightening Station Road verges. Two Red Kite were over the fields between the mill and Harrow Way mid-afternoon, a Kestrel near David's Wood and Buzzard at Polhampton. Chiffchaff were heard at Flashetts and the processing works by the mill, the former site also holding a vocal Kingfisher. Brown Trout off Kingsclere Road included one that was ¼ dark-coloured, ¾pale, another individual being seen off Station Road.

3rd

Green Woodpecker were being seen on a near daily basis about Highfields gardens.

4th

a male Muntjac showed to yards at the filtration pools, two Roe Deer being somewhat less confiding in fields at Polhampton. Kingfisher were vocal about the pools / Flashetts. Himalayan Balsam, Hedge Woundwort, Lesser-type Stitchwort and Red Campion were seen still to be in flower, Red Admiral the only butterfly however noted. Continued passage of migrant birds was in the form of House Martin and Meadow Pipit, several Chiffchaff still being about riverside areas of the Parish. Five Cormorant moved south-west whilst the majority of the 110 Canada Geese on the filtration pools only moved as far as The Source of The Test, a Greylag with them at the original site. Red Kite, Kestrel, Sparrowhawk and Buzzard, in varying numbers, were seen about the Parish during the morning.

Right: Reeves's Muntjac, Muntiacus reevesi. Present in Britain for a century now, having been introduced from China to Woburn; this a buck

5th

a male Tawny Owl was vocal mid-evening, somewhere in the Poyntz Road area.

6th

five Red Kite were between The Harrow Way and Frost Hill early morning.

7th

Highfields gardens were seeing Wren, Robin, Blackbird and "Lots" of Woodpigeon visiting.

8th

Red Admiral, Skylark, Meadow Pipit, Pied Wagtail and Buzzard were amongst that seen moving over the village by mid-morning, Red Kite rising later. 15 larval Large White continued to make inroads on nasturtium leaves, a Comma visiting nearby cedum.

9th

early / mid-afternoon saw seven Red Kite and two Buzzard over farmland between the Kingsclere Road railway bridge and Polhampton Stud, further kite being seen over Woodlands, two, and Dellands later in the day. Two Chiffchaff were at Sapley Lane Playing Field, another at the De La Rue 'pit'. A male Tawny Owl was heard 'singing' in Jackson's Copse, 34 Linnet being on nearby wires, as was a pair of Mistle Thrush.

10th

a Wheatear on a field between Lower Whitehill and Laverstoke Lane was the last of this southbound migrant to be recorded locally this year, nearby at least five Red Kite were on the wing, another two about Turrill Hill. Other summer migrants included three Chiffchaff about the Turrill Hill / Whitehill hedgerows. Several further fungi were seen and noted today. Two Redwing dropping in to fields / trees off Dellands Lane were the first of the late year period reported locally, making it an 'in from the north, out to the south' day with the earlier reported Wheatear and Chiffchaff. Red Kite, Kestrel and Buzzard were seen about the eastern side of the village.

Right: Dryad's Saddle, Cerioporus squamos, Willow House, Quidhampton — Picture: Deb Heath

11th

late afternoon and a Red Kite was circling over the village.

12th

time spent working in one back garden saw two Peregrine, male and then female, male Sparrowhawk, Lesser Redpoll, Siskin, Skylark, Linnet, Meadow Pipit and Pied Wagtail moving over, several Red Admiral visiting flowers and sunlit areas of this and adjacent gardens. Also on the wing about the village were Southern Hawker, Common Darter, Small Tortoiseshell, Kingfisher, Red Kite, Kestrel and Buzzard, Chiffchaff and Mistle Thrush being more sedentary.

13th

Purple Toadflax was still flowering in Dellands, as was Fox-and-Cubs. Both Kingfisher and Grey Wagtail were about the waters off Southinton Lane, a Red Kite over fields to the north. Garden invertebrates and feeders drew in parties of tits, including Long-tailed, to Highfields gardens.

14th

the micromoth Blastobasis adustella was attracted to a garden moth-trap overnight, as were Red-line Quaker, several caddis fly and a lacewing. A further larval Ruby Tiger was seen, as were larval Small and Large White. A Chiffchaff was in song on the eastern side of Town Meadow, another quieter bird at Little Meadow. A gaggle of c.50 Canada Geese moved over the village late morning, several on-the-wing Large White perhaps not having quite the same impact as they moved by the observers. The bi-coloured Brown Trout was still off Kingsclere Road.

15th

the O.B.S. Fungi Foray had 12 attending with 20+ species of fungi being identified, a larval Ruby Tiger, Red Kite, Nuthatch and several Chiffchaff also being noted on the walk that took in Flashetts. Returning to the Community Centre for the after-event refreshments and puffball poking a spider's web by the entrance held a predated Barred Sallow. The fungi found included: Yellow Fieldcap, Glistening Inkcap, Blushing Bracket, Birch Mazegill, Common Cavalier, Common Bonnet, Candlesnuff, Turkeytail, Sulphur Tuft and Elder Whitewash. Moth-trapping saw a Scarce Bordered Straw, Pale Mottled Willow, Black Rustic, Willow Beauty and Light Brown Apple Moth drawn in overnight.

Right: Turkeytail, Trametes versicolor

16th

the effect of Hurricane Ophelia had near-eclipse light during the day, the sky turning a range of colours before clearing later. Vestal, Pale Mottled Willow, Yellow-line Quaker, Lunar Underwing and Light Brown Apple Moth were found after another night's moth-trapping.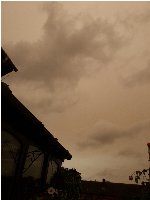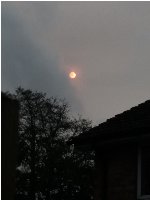 Pictures: Alison Hutchins. These taken around midday!
17th

a Slow-worm on Straight Lane was seen to be the latest 'prey' of local traffic. Nearby Bullfinch were near David's Wood and six Red Kite were over Polhampton. A Red-lined Quaker, Setaceous Hebrew Character, Black Rustic and dagger sp. were the latest moths to grace a moth trap. A covey of Red-legged Partridge and group of Long-tailed Tit were seen off Straight Lane; the latter also known as Silver-throated Dasher!

Right: Red-legged Partridge, Alectoris rufa — Picture: Deb Heath. Better known as French Partridge to many

18th

returning Black Rustic and Light Brown Apple Moth were seen again on dawn breaking. Kestrel, Mistle Thrush and Grey Wagtail were all noted flying over the Town Meadow area.

19th

three Vestal, a Silver Y, two Beaded Chestnut, Black Rustic and Large Yellow Underwing were the latest visitants to overnight lighting.

20th

an Eel seen at the Southington Mill archaeological dig was almost two-foot long. Tracks, hedgerows and fields between Polhampton and David's Wood held a Red Admiral, Brown Hare, Yellowhammer, Red Kite and a flock of Starling.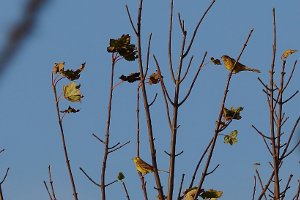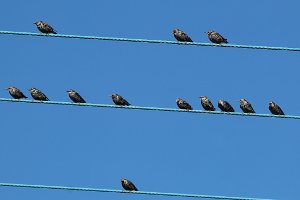 Left: Yellowhammer, Emberiza citrinella & right: Starling, Sturnus vulgaris — Pictures: Deb Heath. Two species to be seen in ever-incerasing numbers about the Parish's farmland as winter approaches
21st

early in the day a Hedgehog was seen crossing Two Gate Meadow. Later a Little Egret was on waters at Polhampton, four Red Kite, two Buzzard and several Yellowhammer being nearby. Further Red Kite were seen over the Woodlands are and the woodlands about Ashe crossroads

Right: Red Kite, Milvus milvus — Picture: Deb Heath. The richer colour of the underparts of this bird confirm its age as adult

22nd

a drake Teal was on the pools off Southington Lane. Flocks of Red-legged Partridge and Starling were again evident, on Straight Lane and the by-way by David's Wood. The first Rabbit of the late year with Myxomatosis was seen, as was another as-yet-to-be-identified fungus.

23rd

a "Kingfisher frequently patrolling to and fro along dig site, completely oblivious of the digging team in the river bed. It flew between me and someone else, almost skimming my face. It also sat observing from the safety rope and from a dangling branch, both within 5 meters of the people working." Red Admiral, Green Woodpecker and Meadow Pipit were all about the grassier reaches of the Overton Hill estate.

24th

a Merlin passing northwards over Overton Hill was 'accompanied' by a pair of local Jackdaw; this tiny falcon an all too rare winter visitor to the Parish. A Little Egret was again on the waters at Polhampton. Five Red Kite were near David's Wood. A Green Woodpecker was in Two Gate Meadow gardens. A Red Admiral was flying about the decreasing blooms of Overton Hill. Less active, unfortunately, was a Hedgehog in the nearby Community Orchard, another that wouldn't be hibernating this winter, or making the most of HART's welcome during this busy period for them. Both Red Kite and Buzzard were seen at Turrill Hill, another of the kite lingering over Southington.

25th

a Brimstone butterfly was seen in Two Gate Meadow gardens, perhaps now the last of the year. Fields south of The Harrow Way held c.ten Brown Hare and a Roe Deer. A Buzzard was seen hunting over the eastern side of Overton Hill.

Right: Brown Hare, Lepus europaeus — Pictures: Deb Heath.

26th

a presumed bellflower sp. was seen on a Turrill Hill verge. Southington proved productive with two Redwing, two Grey Heron, a Grey Wagtail and Meadow Pipit being recorded there, as well as an unprecedented gathering of 60+ Collared Dove at Northington Farm.

28th

a flock of six Long-tailed Tit was seen in Southington gardens.

29th

Red Kite continued to move over the fields and gardens on the southern side of the village, as did Magpie, Jackdaw and Rook.

30th

a Hawfinch dropped in to Kingsclere Road trees from the west mid-morning, the first in the Parish during an unprecedented movement of birds, locally, nationally and on the continent. This may be the first Parish record, it if nothing else being the first known of in several decades. Also on the wing over the village were Lesser Redpoll, Siskin, Fieldfare and Redwing, all hinting at the winter, as did flocks of Lapwing and Lesser Black-backed Gull on farmland off Court Drove. Chicory, Common Vetch and Spindle continued to add colour to the hedgerows and field edges, Red Admiral to the massed Ivy flowers. A flock of ten Long-tailed Tit was seen in a high and lengthy flight over Willesley Warren farmland, a double-figure count of Red Kite and 'handful' of Buzzard being nearby.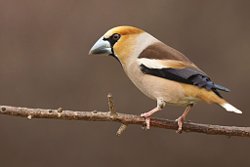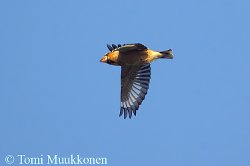 Hawfinch, Coccothraustes coccothraustes. A striking finch, the bill able to despatch the likes of cherry stones! The right image is unfortunately the more likely view of these at present - note the translucent wing panel / bar, an often-evident identification feature
31st

flowers lasting to the month's end included Fox-and-Cubs, Herb Robert, Herb Bennet, Red Campion, Ivy-leaved Toadflax, Chicory, White Dead-nettle and Yellow Corydalis. At least 41 Redwing were seen, in four flocks, moving low over the village, Kestrel, Sparrowhawk, Red Kite and Grey Wagtail also being seen to be on the move.
Contributors: David Cluett, Deb Heath, Alison Hutchins, Peter E. Hutchins, Jane MacKenzie, Ken MacKenzie & Mike Waterman.
November offers...
Further hints of the forthcoming winter!
Farmland about the Parish will play host to increasing numbers of Lapwing, perhaps the more mobile and skittish Golden Plover even making an appearance. Short-eared Owl may return to roost and overwinter, though the resident Barn are sure to be seen, likely to appear in the late afternoons on an increasingly regular basis. Tawny's will be ever more vocal as they prepare territories for the winter and their breeding early in 2018. Brown Hare and Roe Deer will be even more obvious as the vegetation dies down, Muntjac likely to remain more elusive, unlike the local population of Grey Squirrel!
Hedgerows will be filled with foraging parties of insectivores, tits and crests being joined by both Nuthatch and Treecreeper. The summer residences of Dormouse will appear as the leaves continue to drop, this and the discarded Hazel nuts perhaps again the only signs of their continued presence locally. Ivy flowers will draw in late bees and butterflies to nectar, the vanessid tribe likely to provide the last of the latter in the form of Red Admiral. Towards dusk moths will take their place on the flowers, providing food for the bats, before they also disappear from the colder winter nights.
Wildfowl numbers will increase on The Test and adjacent waters, Water Rail hidden but 'sharming' in the decreased reed edges. Little Egret and Grey Heron will also increase in sightings and numbers, as will Kingfisher - keep an eye and ear open for these, particularly as you head down Bridge Street, Kingsclere Road or Southington Lane.
Kite, Buzzard and Kestrel will become evident with the shrinking daylight hours, perhaps to be joined by Peregrine, Merlin or Hen Harrier, the latter two most likely to be encountered over the arable farmland and downland.
More wintery still will be the increase in thrush, lark, pipit, bunting and finch numbers, including, hopefully, more Hawfinch. Although few of these might visit Parish gardens there are sure to be other birds drawn to the feeders and water as both the days and weather change - anything could appear, so be prepared. Late Hedgehog may appear, but if seen and you've any worries about their over-wintering, don't forget that HART isn't too far away, a 'phone call in fact.
Enjoy the start of the winter, keep on watching and listening, and who knows, you might just find the first of the Waxwing this month!
Peter.