Local sightings
Return to the list of reports
October 2016
1st

Canada Geese were heard over the village shortly before midnight.

2nd

three Red Kite and single Buzzard and Grey Heron were seen about the fields between Polhampton and Ashe. Many insects were seen coming to flowering Ivy including Red Admiral, Comma, Brimstone, Large White, Honey-bee, bumble-bees, wasps and hoverflies. Canada Geese were again heard over the village, shortly after midnight.

3rd

the first of the late year Redwing were recorded. A Hummingbird Hawk-moth was seen in Station Hill gardens, favouring Verbena bonariensis. A Muntjac was seen at Turrill Hill, as were Red Admiral, Small Tortoiseshell, Brimstone, a white sp., Dark Bush-cricket and flowering Chicory and Lucerne. The Canada Geese were again heard on the wing shortly after midnight. Also on the wing about the Parish were Red Kite, Sparrowhawk, Buzzard, Grey Heron, Meadow Pipit, Yellowhammer, Skylark, Linnet, Green Woodpecker, Gadwall and Lesser Black-backed Gull. One of the later migrants, a Chiffchaff, was also seen in Turrill Hill hedgerows. A Garden Carpet was seen on a front door.

Right: Redwing, Turdus iliacus. Picture: Stephen Burch. The smallest of the regularly seen thrushes, more often heard than seen as they migrate overnight

4th

a Swallow south over Lordsfield Gardens late morning might well have been the last to be seen locally this year. The Hummingbird Hawk-moth again visited blooms on Station Hill. A Painted Lady was again seen on buddleia in Poyntz Road. Further Redwing, Meadow Pipit, Grey Wagtail, Skylark and Red Kite were seen and heard over the village.

5th

two Swallow moved south late afternoon, so the bird of the 4th wasn't the last of the year! Common Wasp and bumble-bees were also still present, were Red Kite and Buzzard.

6th

Song Thrush, Meadow Pipit and Red Kite were seen moving over the village.

7th

two Grey Heron and the Canada Goose flock were present in a recently ploughed field off Straight Lane.

8th

single Sparrowhawk and Grey Heron, at least two Red Kite and four Buzzard were noted over the village, Red Admiral in several gardens.

11th

both Redwing and Meadow Pipit continued to migrate over the Parish, Buzzard also being seen.

12th

a Hummingbird Hawk-moth was again visiting Station Hill gardens where bumble-bees joined it and a Red Kite moved low overhead. A Grey Heron and 30+ Canada Geese were at The Source of The Test late afternoon. Nearby both Goldfinch and Yellowhammer were about the trees close to the stubble-filled fields. More mobile still were Redwing, Red Kite, Grey Wagtail, Meadow Pipit, Siskin, Chiffchaff, Sparrowhawk and Kestrel, all of which were noted by Parishioners about / over their gardens.

13th

five Little Egret on The Test was the largest late year count to date. Nearby the Canada Goose flock at The Source of The Test had increased to 44+. A Sparrowhawk on a Glebe Meadow pavement was seen to be eating its prey, a Woodpigeon. Up to three Red Kite were seen over the school grounds / Lordsfield Gardens, others being noted over Red Lion Lane and Town Meadow. Redwing and Meadow Pipit were still to be seen migrating over the village whilst movements of both Grey Wagtail and Buzzard were presumed to be more local; two of the latter seen to 'argue' over Overton Hill fields.

14th

four Little Egret were in riverine fields at Polhampton. Late evening had an owl calling at / about Town Meadow and Redwing heard on their nocturnal migration.

15th

a Crossbill, a rare visitor to the Parish, moved over Kings Meadow early afternoon. Also on the move were Meadow Pipit, Siskin, Redwing, Red Kite and Buzzard. A Kingfisher flew across Station Road at Flashetts. Red Admiral, Brimstone and bumble-bees continued to visit Station Hill gardens, as did Long-tailed Tit.

Right: Crossbill, Loxia curvirostra. This an adult male, showing the specially adapted bill used for teasing seeds from pine cones

16th

a Little Egret moved west over Town Meadow early evening. Red Admiral and Common Wasp were seen, when it wasn't raining! Five Grey Partridge at Turrill Hill were unexpected as most, if not all, records are usually of Red-legged Partridge; at least 16 of the latter also being seen there, as were Dark Bush-cricket. Red Kite, Buzzard, Meadow Pipit and Pied Wagtail were seen moving over the village, the latter presumably to roost as most were heading north-east, possibly towards the station/ mill, later in the day. One of the cock Indian Peafowl was seen at the Sapley Lane Spar. Late evening had a Tawny Owl calling within the village. A Harlequin Ladybird was seen at Station Hill.

17th

a presumed ringtail Hen Harrier was seen, the first locally this late year period. Invertebrates of note included Red Admiral and Angle Shades. A Little Egret was at The Source of The Test mid-afternoon. A Lesser Redpoll was the latest 'winter migrant' to be recorded, two heading south-west over Lordsfield Gardens late morning. Also still to be seen, and heard, on passage, albeit perhaps just locally, were Grey Wagtail, Red Kite, Skylark, Buzzard and Meadow Pipit.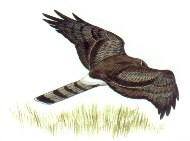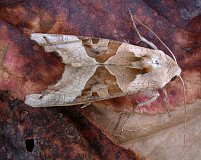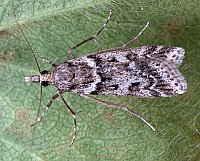 Left: Hen Harrier, Circus cyaneus. The 'ringtail' relates to either female or juvenile birds, the adult males primarily being a striking grey
Middle: Angle Shades, Phlogophora meticulosa. Picture: Mike Wall. www.hantsmoths.org.uk. Perhaps most notable for the way that the wings are 'rolled up' on not being used
Right: Eudonia angustea. Picture: Nick Montegriffo. www.hantsmoths.org.uk
19th

the latest autumnal moth appeared, in the form of Eudonia angustea. Other hints of the autumn / winter were in the form of fly-over Siskin and Meadow Pipit, perhaps six Red Kite also being on the wing, including a group of three over Woodlands. More anticipated was a Wren that was seen foraging in gardens near the station.

20th

a stunned Goldcrest was found in a Winchester Street garden. After a period of recuperation it was soon back up in the local conifers, singing as if nothing had happened. A Green Shield-bug was seen in Bridge Street, a late hint of the summer. Red Admiral and Large Yellow Underwing were the only lepidoptera recorded. More autumnal were the Sulphur Tuft seen in a Lion Close garden. Red Kite, Buzzard and Redwing continued to be seen moving over / about the Parish. Less mobile was a Common Dor Beetle found in Foxdown, this scarab-type recently deceased.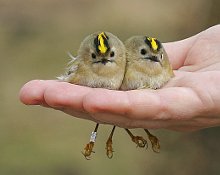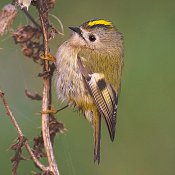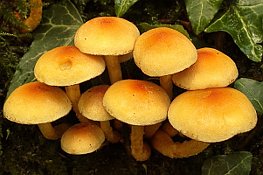 Left: Goldcrest, Regulus regulus. The smallest British bird, weighing in at about five to the ounce!
Right: Sulphur, Tuft Hypholoma fasciculare. Picture: Roger Butterfield
21st

the mobile Canada Goose flock had grown to 80+ birds. As well as these very vocal birds Grey Wagtail, Redwing, Siskin, Red Kite and Buzzard were all still moving about the Parish, often being seen in / over the more residential areas.

22nd

the first late year Fieldfare appeared over the village, including a flock of 55+ moving west late morning. Two Muntjac became the latest victims of B3400 traffic, a Grey Squirrel crossing the road at White Hill being somewhat luckier! Both Red Kite and Buzzard were obvious, as was the continued passage of both Redwing and Meadow Pipit. A Grey Wagtail was seen in Woodlands, just one of the many reports of these riverine birds away from their anticipated habitat.

Right: Madeira Chaffinch, Fringilla coelebs maderensis. Picture: Jill & Julian Aburrow. A female

24th

a pair of Raven moved low north-east over Lordsfield Gardens late morning, their airborne 'cronking' alerting the observers to their presence well before they appeared. Also moving over the village were Lesser Redpoll, Redwing, Meadow Pipit and more locally produced Red Kite, Buzzard and Grey Wagtail. Some of the last hints of the 'summer' were the single Red Admiral and Chiffchaff seen, in Lion Close and Harveys Field. A Tawny Owl was 'singing' at Town Meadow mid-evening. The Lion Close Sulphur Tuft had now had budding grass verge puffballs for company.

25th

the Canada Goose flock had reduced to 44 birds, being seen moving west over Poyntz Road late morning. Still being seen to be on the move were Redwing, Grey Wagtail and Meadow Pipit, albeit in small numbers. A further Muntjac was found dead at Ashe.

26th

a Hedgehog visited Glebe Meadow gardens. Just a single Red Kite was reported, this over Kingsclere Road early afternoon. Nearby a Green Woodpecker feeding in Little Meadow moved off to trees lining the same road. Later in the day 20 Lesser Black-backed Gull moved as one north-east towards a presumably reservoir-based roost.

27th

a Kingfisher flew downstream at Bridge Street, before returning upstream! A presumed November Moth was found on a Winchester Street front door. Two Lesser Redpoll moved south-west over Lion Close, Meadow Pipit, Red Kite, Grey Wagtail and Buzzard also recorded moving over nearby.

Right: November Moth, Epirrita dilutata. Picture: Mike Wall www.hantsmoths.org.uk. One of three epirrita species that are notoriously difficult to separate!

28th

a Hedgehog was seen early morning at Berrydown. A larval Pale Tussock brightened a Woodlands path, before heading on to grassier areas. A Hummingbird Hawk-moth was again seen, again on Station Hill. The most notable of birds moving over the Parish today was a Cormorant, 'joined' by Red Kite and Buzzard, perhaps four of the former being recorded.

29th

the November Moth was still present on a Winchester Street door, single Feathered Thorn and Emmelina monodactyla being found in Charledown Close. A very bright Buff-tailed Bumblebee Bombus terrestris was thought likely to be from a recent brood. Siskin, Redwing, Meadow Pipit and Grey Wagtail were all recorded over the village, a flock of eight of the former the largest yet this late year period.

30th

the fields and waters between Lower Ashe and Polhampton held a Little Egret, 25+ Teal, 98 Canada Geese, c.100 Lesser Black-backed Gull, Fieldfare, Redwing, Red Kite, Kestrel, Buzzard and Grey Wagtail - all seen by a non-parishioner! A small Hedgehog was visiting Station Hill gardens.

31st

on clearer and warmer weather appearing Red Admiral, Small Tortoiseshell, Brimstone, Large and Small White also appeared. Five skeins of geese over the village in the morning mists included one of 14 Greylag, the rarer of the two species regularly encountered locally. Six+ Red Kite and one+ Buzzard were circling low over Berrydown / Ashe Hill late morning, other kite being seen over the school, Woodlands / Harveys Field, three, Lion Close, a Buzzard also over the school grounds.

Right: Brimstone, Gonepteryx rhamni. One of the last and first of the butterflies to be seen annually, often over-wintering in Ivy
Contributors: Martin Baker, Paula Baker, Brian Elkins, Margaret Elkins, Deb Heath, Alison Hutchins, Peter E. Hutchins, Nick Montegriffo, Margaret Rainford, Mike Wall & Simon Yates.