Local sightings
Return to the list of reports
October 2015
1st

the first late year Lesser Redpoll was heard moving over / through the village, as were further Siskin, Meadow Pipit and Chiffchaff; two Swallow, heading north-east through The Green, were more unexpected and may well be the last local birds of the year. Yellow Corydalis was still in flower between Winchester Street and Papermakers.

Right: Lesser Redpoll, Acanthis cabaret. Generally noted moving through the Parish but, perhaps, an occasional visitor to garden feeders

2nd

a most unexpected find was the corpse of a Sparrowhawk, even more surprisingly this being in The Test between Town Meadow and Glebe Meadow. A Comma was seen settled on a post off Straight Lane. A Chiffchaff was heard in Woodlands gardens where Red Kite, Sparrowhawk, Buzzard and Meadow Pipit moved overhead in the clear blue sky and Lily Beetle, Honey-bee and Common Earwig attended the flowers; the latter all head down in the Day-lily seed heads! A Buzzard was circling over Hyde Hill Plantation late afternoon, another dark bird over Woodlands earlier in the day; distinct from the one seen with other raptors later...

3rd

a Hummingbird Hawk-moth was seen in Woodlands gardens.

4th

Small Tortoiseshell and Small White visited several gardens. Also hinting at summer (!) was a Woodpigeon seen with nest material and three Swallow, the latter however moving north! Other birds noted moving about / over the village included small numbers of Lesser Redpoll, Red Kite, Buzzard and Meadow Pipit.

5th

moths found post-dawn included Large Ranunculus, Lunar Underwing and Lesser Yellow Underwing. Chiffchaff were in Two Gate Meadow and The Green, a Red Kite being seen over Lower Ashe / Ashe Hill.

6th

both Lesser Redpoll and Chiffchaff were vocal as they moved through / over the village. Large Ranunculus and Lunar Underwing were again found on the exterior of buildings after darkness had moved on.

7th

four Swallow moving south-west over Dellands Track were late for local birds, possibly the last of the year? Also on the move were Chiffchaff, Siskin, Skylark, Meadow Pipit and Grey Wagtail, more sedentary 'locals' included one of the cock Blue Peafowl, in Greyhound Lane, Red-legged Partridge at Turrill Hill and the long-staying Large Ranunculus.

8th

a Pale Tussock caterpillar was found on a gardening coat! A Red Admiral was seen about Pound Road gardens. Three Raven were over the western part of the village late morning. Chiffchaff were singing in Two Gate Lane and Dellands / Sapley Lane, others being heard in Waltham Road and Southington. A mobile flock of 40+ Lesser Redpoll about Southington was an exceptional gathering locally whereas a singleton in Silver Birch at Kerchers Field was perhaps more expected. Also on the move were Siskin and Red Kite, a Large Ranunculus in Battens Avenue albeit now stationary a new visitant to that area.

Right: Pale Tussock, Calliteara pudibunda - David Cluett. "I found a pale Tussock moth caterpillar on my gardening coat on Thursday, I have never seen one before. Then on Friday I was visiting a friend in Balmoral Close in Basingstoke and saw another one on the pavement! Colouring is very bright almost fluorescent green." Finding one is unusual, two in two days just about unheard of!

9th

a Chiffchaff was seen and heard as it moved through Woodlands gardens on its southward migration, another being in the Sprents Lane / Winchester Street gardens. A Grey Wagtail was mobile about the latter road, both Red Kite and Buzzard being seen over Southington, a further kite being over Charledown Road, Buzzard over Harveys Field and Poultons Close.

10th

Red Kite, Stock Dove, Meadow Pipit, Linnet, Pied Wagtail and Lesser Black-backed Gull were all seen moving over the village, as were continuous movements from the local corvids - Rook, Jackdaw and, in much lesser numbers, Magpie. A Red Kite was on the wing over the Dog Field and adjacent fields. No butterfly were seen about gardens and little other invertebrate activity was noted, though a variety of bumble-bee were still busy about the remaining blooms.

11th

a Red Kite was at Frost Hill at noon, a Sparrowhawk and three Buzzard over the village itself late afternoon.

12th

a Green Woodpecker was, for a change, reported from the north of the village, on a track near David's Field.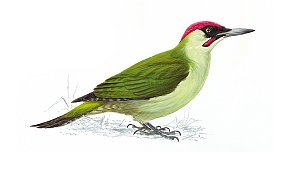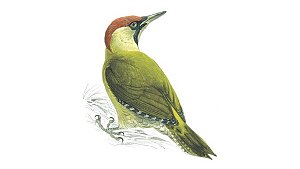 Left: Green Woodpecker, Picus viridus. The male on the left, the female on the right - can you spot the differences?
13th

a bat (!) was seen in the school where many Harlequin Ladybird were also evident, a variety of colour and spotting options being available amongst the gathered masses! 12 Redwing low north over Woodlands were the first of this wintering thrush to be recorded locally this late year period. A further winter visitor came in the form of a Lesser Redpoll, also north over Woodlands, whilst more expected was a Red Kite, drifting east there just prior to noon.

14th

a Buzzard moved low north at Hide Hill Plantation as dusk approached.

18th

a Peacock* was seen in St. Mary's Church. Also on the wing was a Buzzard, this over the Dog Field.
*the butterfly!

19th

an Emmelina monodactyla adorned the wall of a Mede Close property. A Chiffchaff was singing in Pound Road. Red Kite, Redwing, Grey Wagtail and Buzzard were seen or heard moving about the central village area.

20t

three loosely associating Buzzard were circling over the village earely afternoon.

21st

a Shuttle-shaped Dart was the latest of moth finds. Singles of both Lesser Redpoll and Red Kite were noted over the village.

22nd

a further macro-moth appeared this in the form of a Black Rustic in Mede Close. Up to six Red Kite and two Buzzard were seen over the village by mid-afternoon.

23rd

two Mute Swan flew 'up' Overton Hill mid-morning where a Grey Wagtail was also active. Both Grey Heron and Buzzard moved over Pond Close, a Redwing over Poultons Road.

24th

another quiet day for movement of birds over / about the village it would appear, just a single Redwing and two single Skylark being recorded by early afternoon, though a Grey Heron was heard prior to dawn. Plants seen to be still in flower included Fox-and-Cubs, Yellow Corydalis, Yarrow, Ivy-leaved Toadflax and, of course, Daisy.

Right: Fox-and-Cubs, Pilosella aurantiaca. One of the most striking of the 'weeds' to still be seen in flower about Parish gardens and roadside verges

25th

the OBS Fungi Foray about Flashetts saw 20+ species recorded which included Jelly Ear, Lemon Disco, Fairy Inkcap, Coral Spot, Sticky Scalycap, Sycamore Tarspot and Candlesnuff Fungus. A Red Kite north of Court Farm was only unusual in that it was seen settled on a fence post, unlike almost all others reported from this area, or any other within the Parish.

26th

three Red Kite were on the wing over the Great Northfield and the woodland off Court Drove. Just Red Kite, Lesser Redpoll, Redwing and, not red but still being seen, Buzzard were noted over the village by another by mid-afternoon. One of the cock Blue Peafowl was seen in Dellands gardens, still without its magnificent 'train'.

27th

several Crossbill were amongst birds noted over the village by early afternoon; Red Kite, Buzzard, Sparrowhawk, Redwing, Siskin and Skylark also being present overhead in small numbers.

Right: Common Crossbill, Loxia curvirostra. A chunky finch with a large head and bill which is crossed over at the tips. Most often encountered in noisy family groups or larger flocks, usually flying close to treetop height. It feeds acrobatically, fluttering from cone to cone. Adult males are a distinctive brick-red and females greenish-brown

28th

three Stock Dove, a 'pair' and one, flew rapidly east mid-afternoon, when a juvenile Red Kite was lingering about the Town Meadow area.

29th

a Lesser Redpoll was the most notable of birds noted over the village in the near-continuous 'rain', several Skylark and increased numbers of Redwing also passing over by mid-afternoon.

30th

Yellowhammer joined the birds over the village today - Redwing, Siskin, Grey Wagtail, Skylark, Red Kite and Buzzard also being noted.
Contributors: David Cluett, Brian Elkins, Margaret Elkins, Deborah Heath, Alison J. Hutchins & Peter E. Hutchins
PS keep your eyes and ears open for Waxwing in the coming month, an invasion has started and they're gradually working their way southwards towards the Parish!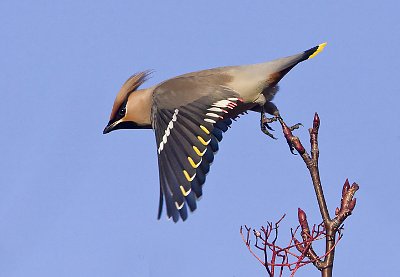 Waxwing, Bombycilla garrulus. Here showing off why it was named Waxwing!