Local sightings
Return to the list of reports
October 2014
1st

both Red Admiral and a white butterfly were seen on Court Drove. Nearby a flock of c.60 Lapwing was settled in a field, two Buzzard being seen on the wing to the north-east. A flock of c.20 House Sparrow at Northington Farm was something all too rarely seen nowadays.

2nd

12 Greylag flew low west over the village mid-evening; these far more rarely seen locally than Canada Geese.

3rd

much mist early morning didn't stop the continuing passage of migrant birds through the Parish - Meadow Pipit and Chiffchaff once again the most evident though more localised movement of Pied Wagtail, Canada Geese, Lesser Black-backed Gull, Mistle and Song Thrush was also recorded. Chiffchaff, Robin, Wren and Woodpigeon were in song.

4th

two Raven were recently seen over the north of the village, one carrying out the mid-air tumbling that is so distinctive, and so different from the expected less extrovert flight as they move low over / through the Parish.

5th

the first frost of the autumn! Both Red Kite and Buzzard were lingering over the Station Road / Community Orchard area mid-afternoon in the improved weather.

6th

yesterday's frost was followed by the first real rain of the autumn today. Post-precipitation two Raven moved low and north through the Turrill Hill valley whilst a late Hobby, flushing Meadow Pipits, Linnets and Starling also moved low and north, over the Hop field and Jackson's Copse. Nearby a Red Kite was seen drip-drying, two Buzzard and a Kestrel then adding to the raptors about the valley and fields south of the village. A Roe Deer was feeding on the western slope of the Turrill Hill valley whilst a regular black Rabbit was also out feeding, south of the barn near Jackson's Copse. Reduced migrant numbers did however include the following being recorded: Chiffchaff, Skylark, Meadow Pipit, Mistle and Song Thrush, Blackbird and Pied Wagtail. A 'V' of 34 Black-headed Gull moved north-east over the village late afternoon, these the first notable gathering over this autumn.

7th

A much brighter morning had four Red Kite, three Buzzard and a Kestrel seen about the village. 14 House Martin lingering in the valley at Turrill Hill were the first seen locally for some time and now perhaps the last of the year. Several Chiffchaff were in song whilst other migrants noted included Skylark and Meadow Pipit, two Cormorant heading south-east late morning hardly in this category but noteworthy nonetheless. Flowering Ivy in Sapley Lane attracted several Red Admiral, White-tailed Bumble-bee, Honey Bee, Drone Fly, Common Wasp and several as yet unidentified bumble and honey-bee types.

8th

a Siskin over Woodlands mid-morning was the first recorded locally this autumn. A quieter walk about the west of the village saw increases in both Skylark and Goldcrest numbers, one of the former in song, whereas other migrants had all decreased in numbers i.e. just a single Chiffchaff. A flock of c.50 Greylag was vocal over the western edge of the Parish, presumably having been flushed from Laverstoke Park Lake. The Turrill Hill area continued its run of raptors - three Red Kite, two Buzzard and a Kestrel being seen. A further Red Kite was seen heading west over Town Meadow mid-afternoon. What appeared to be a Giant Hogweed was found off the Dellands track - it approaching perhaps 10' in height! The male Blue Peafowl was again in Sapley Lane, being seen on a bedroom windowsill late morning.

9th

before the rain, rainbows, a double being seen, and thunder etc. etc. a walk out about the usual farmland produced two Raven, harassed by their smaller corvid cousins, five Red Kite, three Buzzard and, even more notable, single House Martin and Swallow battling southwards. Other migrants included two Chiffchaff and ever more reduced numbers of both Meadow Pipit and Skylark. Four Red Kite were circling over the Kingsclere road mid-morning, waiting to make the most of the casualties from the night / earlier in the morning. A Grey Heron was seen on The Test. The Nursery Web Spider Pisaura mirablis was still evident on nettle patches whilst almost all other winged invertebrates were keeping off the wing; two Drone Fly on flowering Ivy being the exception. The cock Blue Peafowl was still about Sapley Lane. Chaffinch were seen to be gathering, both to the south and north of the village, the latter area also holding a covey of 14 Red-legged Partridge.

10th

two Raven moved low south-west over the village, being seen and heard in several areas, late afternoon, 'cronking' as they did so. four Swallow moved through the Turrill Hill area mid-morning where three Buzzard, a Siskin, four Chiffchaff, one in song, ten Goldcrest, eight Skylark, nine Meadow Pipit, five Song Thrush and three Yellowhammer were otherwise perhaps most notable. A vanessid butterfly was seen to fly in to / over Jackson's Copse while flowering Ivy in Sapley Lane continued to attract White-tailed Bumble-bees. A Red Kite drifted slowly south over Woodlands mid-morning. The cock Blue Peafowl was seen to have moved to Pond Close gardens.

11th

two House Martin were drifting north over the fields at Pond Close late morning. Other migrants about the west of the village included Chiffchaff, one still feeling the urge to sing, Skylark, Meadow Pipit, Song Thrush and, more distantly to the west, a flock of c.15 Golden Plover. Five Red Kite and a Buzzard braved the showers, as did several very sorry-looking White-tailed Bumble-bee; still attending the Ivy in Sapley Lane.

12th

a Woodlark moving south-east over the Hop fields this morning was the first that I'm aware of for the Parish! Also on the move, even if only locally, were three House Martin, a Swallow, 19+ Skylark, 23+ Meadow Pipit, five Goldcrest, seven Pied Wagtail, three Mistle Thrush, two Song Thrush, 16 Blackbird, Yellowhammer and Reed Bunting whilst single Red Kite, Sparrowhawk and Kestrel were seen hunting. Two Little Egret were at roost at The Source of The Test late morning, adding a snowy-white splash of 'colour' on a very grey day. A gathering of 152+ Lesser Black-backed Gull on plough at the southern end of Turrill Hill was the largest noted locally so far this autumn. The cock Blue Peafowl had moved further south, though hardly migrating, along Sapley Lane, being seen pruning hedgerows at Maidenthorne. Later a further Red Kite was seen over Berrydown.

14th

two Red Kite were over Frost Hill in the late afternoon drizzle.

15th

the attractive plume moth Amblyptilia acanthadactyla was found inside one house. At least two Redwing were heard moving Woodlands late evening; the first of the late year period noted in the Parish.

Above right: Amblyptilia acanthadactyla - Picture: Mike Wall (http://www.hantsmoths.org.uk/)

16th

a larval Pale Tussock was an unexpected find on garden fencing. A flock of nine Redwing flew low west over Woodlands late afternoon. Red Kite were seen at Hill Meadow, two, and Frost Hill, a Buzzard on a roadside tree just south of The Harrow Way.

Right: Pale Tussock, Calliteara pudibunda

17th

both Red Kite and Red-legged Partridge were 'hunting' on the northern side of Frost Hill early evening.

21st

Canada Geese were heard over the village after dark.

27th

both Peacock and Red Admiral were seen in Court Drove, the former somewhat worse for wear! To the north of the village at least five Red Kite, a Kestrel and three Buzzard were seen, hundreds of Woodpigeon also being seen heading towards the south-west. A covey of 20+ Red-legged Partridge was north of Frost Hill late afternoon, the Pheasant nearby including one playing 'chicken' with road users! Further Redwing were on their nocturnal rambles during the evening.

28th

a Little Egret was seen heading away from Town Meadow mid-afternoon. Red Kite were seen over Lordsfield Gardens and north of The Harrow Way. A small party of Rabbit at the sewage treatment works was made up of one 'normal' and four black. Nearby hundreds of Jackdaw and Rook were in Northington Farm fields.

30th

early morning saw a possible Barn Owl briefly seen, this unfortunately a victim of a car hit near The Harrow Way. Redwing were again active over the village after dark.

31st

an as yet unidentified fungus was found growing in one Parish garden. Both Redwing and Blackbird were heard moving about in the pre-dawn drizzle.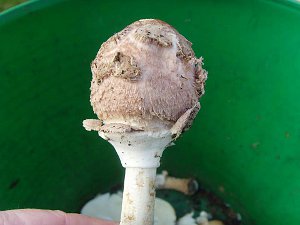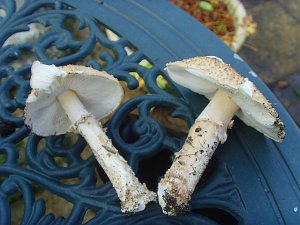 Fungi sp. - Pictures: Deborah Heath. Your thoughts on this would be appreciated!
Contributors: David Cluett, June Gibbs, Deborah Heath, Alison Hutchins, Peter E. Hutchins, Mike Wall (Hantsmoths) & Tamsin Williams.