Local sightings
Return to the list of reports
October 2010
1st

Siskin and Grey Wagtail were moving over / about the village, House Martin through to the west and south.

2nd

a Small Copper was sunning on walls off the London Road car park. A Red Kite lingered east of Winchester Street. Four Buzzard circled over the northern village mid-afternoon, a Kestrel moving rather more purposefully south; attended by a pair of Jackdaw. Small Dusty Wave and Lunar Underwing, both moths, were found on walls in Poyntz Road flats.

3rd

Lesser Black-backed Gull joined corvids in fields south-east of Frost Hill, Red-legged Partridge being seen trotting across the road there; a covey of ten+ then being seen in fields a little further north.

4th

Honey Fungus appeared to be 'attacking' trees about Flashetts. Both Honey-bee and wasps were making the most of late-flowering Ivy in Station Hill.

5th

both Grey Wagtail and Magpie were on the move over the village.

6th

possibly the last House Martin of the year moved west late morning, Magpie and Grey Wagtail also being on the move. Comma and Red Admiral were on the wing, and blooms, in Station Hill. A Tawny Owl was 'singing' in Southington early evening. The spider Lepthyphantes tenuis was identified in a Woodlands kitchen.

Right: Lepthyphantes tenuis (Picture: Peter E. Hutchins)

7th

singleton Siskin were heard moving over on several occasions, another sign of the autumn, unlike the Red Admiral seen by one lucky local. The latter observer, visiting Flashetts, also caught up with several of the fungi still rampant there.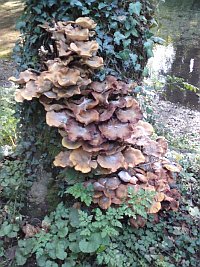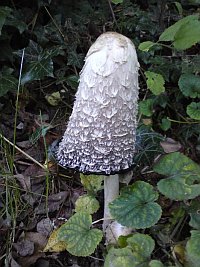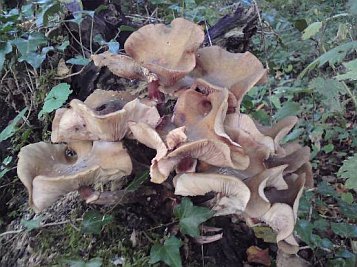 Pictures: Julian Aburrow
8th

the morning started with a heavy mist / low clouding.

9th

the first late year Redwing was heard moving over late evening.

10th

an immature Red Kite lingered low over gardens late morning whereas a Kestrel low south moved directly through, the latter far rarer about the village nowadays. A Harlequin Ladybird was found inside a porch. A red-tailed bumble-bee visited one Lordsfield Gardens.

11th

Siskin, Redwing, Meadow Pipit and Skylark were noted on the move over the village, Grey Wagtail remaining closer to their summer homes.

12th

a Red Kite glided rapidly westwards over the High Street early afternoon. Lesser Redpoll, Siskin, Meadow Pipit, Skylark and Grey Wagtail were all heard, and occasionally seen, over the village. The plume moth Emmelina monodactyla was found on a Poyntz Road flat.

13th

a House Martin, possibly more, was heard high overhead early evening, surely the last of the year?

14th

a Whinchat / Stonechat seen distantly without optics at Turrill Hill was a notable Parish bird. The Turrill Hill chat had moved on by late afternoon, 26 Meadow Pipit, 11+ Pied Wagtail, Lesser Black-backed Gull among the Wild Boar and a Hornet moving to roadside Ivy flowers.

15th

a Red Kite was close to Hill Meadow early afternoon, a Reed Bunting also moving over there while nearby 17+ Redwing moved south-west and two Grey Wagtail east, east and south of the village single Buzzard were making the most of the escalating wind.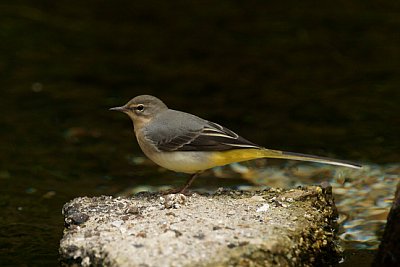 Grey Wagtail, Motacilla cinerea — Polhampton, Overton (Pictures: Alan Willis)
16th

an Emmelina monodactyla, the most frequently recorded of the plume moths, was on a window of Dallence House. Three Bullfinch were in trees bordering Lordsfield Gardens / the school. The two cock Blue Peafowl remained in the Dellands area. Both Meadow Pipit and Skylark were still on the move over the village.

17th

up to two Red Kite and five Buzzard were on the wing over the village, a male Kestrel and a further Buzzard being seen at Frost Hill. A covey of 55+ Red-legged Partridge, also at Frost Hill, was the largest noted locally for quite some time. A particularly large Hornet visited gardens in Woodlands. There was no sign of any Dormouse at Court Drove early evening, just Brown Hare, vocal Yellowhammer and Red-legged Partridge and the usual movement of pre-roost Lesser Black-backed Gull.

19th

a Magpie was an unusual visitor to a Station Hill garden, where Long-tailed TitS and Woodpigeon were more expected.

20th

Red Kite were over the Community Centre and Rotten Hill late morning, two Buzzard over Foxdown. The latter saw hundreds of Ash leaves falling in Flashetts where several Grey Squirrel were also seen; perhaps now more obvious because of the leaf fall.

21st

both Redwing and Grey Wagtail were noted low over the village on a morning that presented the first obvious frost of the late year.

22nd

heavy fog started the day. 16 Lapwing south-west over Northington Farm / House early afternoon were perhaps another sign of the ever-approaching winter months. Nearby, a Grey Wagtail was at Parsonage Farm House. Early afternoon also saw a Buzzard over woodland on the eastern Parish boundary.

23rd

three Red Kite circled low over Walkeridge Farm, another being at Willesley Warren, as was a Kestrel. A further Kestrel was over the fields by The Source of The Test. Both Pheasant and Red-legged Partridge were becoming ever more evident on the quieter roads. Rain started the day for many, the third 'type' of weather in as many days.

27th

ten Gadwall and just a single Coot were on the pools off Southington Lane while The Test attracted both Kingfisher and Little Grebe to The Lynch. Nearby, a female Sparrowhawk was in pursuit of Pied Wagtail at the sewage works and two Grey Wagtail were mobile about the adjacent fields and streams. Continued movement of birds over / about the village included nine Lesser Redpoll, Siskin, five+ Skylark, Yellowhammer and a Coal Tit.

Right: Kingfisher, Alcedo atthis — Polhampton, Overton (Picture: Alan Willis)
"This is what they do to look pretty"

28th

two Red Kite, and two Buzzard, were active about Turrill Hill where the stock fields also attracted 53+ Lesser Black-backed Gull, a further two Red Kite being seen over Upper Whitehill at the same time. A Little Egret was on trees / pools by Southington Mill during the morning. A Hornet moved rapidly through Oak Close early afternoon, six Redwing moving north there. Two Meadow Pipit and ten+ Red-legged Partridge were in a crop field at Turrill Hill, not being obvious until taking flight, unlike the four vocal Mistle Thrush nearby.

29th

a Red Kite was seen moving over Southington where a Little Egret had again been present on the pools in the morning. c.100 Rook and Jackdaw busy over the village early afternoon were joined by ten of the domestic pigeon from the loft at The Old Rectory.

30th

two Red Kite were seen over Lordsfield Gardens. A Nuthatch was visiting garden feeders in Southington Lane. Light rain at noon caused a stunning rainbow to appear briefly over the village.

31st

Lordsfield Gardens was busy birdwise, two Red Kite and a Buzzard, two vocal Tawny Owl and three Bullfinch being noted there during the day, and night.
Contributors: Julian Aburrow, Helen Harden, Alison Hutchins & Peter E. Hutchins, Jane MacKenzie, Ken MacKenzie & Margaret Rainford.