Local sightings
Return to the list of reports
September 2017
1st

a Tree Pipit was the most notable of avian migrants, being present in the Hop fields south of Jackson's Copse later in the morning. Of other migrants noted both Blackcap and Chiffchaff were heard in song. Sainfoin joined Chicory, Lucerne and Tansy-leaved Phacelia in bloom in fields off Turrill Hill where Red Admiral, Comma, Small Heath, Speckled Wood, Small Tortoiseshell and Large White were on the wing; the whites, Speckled Wood and a Brimstone being seen about The Harroway. Two Red Kite over Harveys Field were thought to be the same as those seen over fields by Pond Close later in the morning, a further adult being seen over the Woodlands / Town Meadow area pre-noon. A Kestrel was on a roadside telegraph post at Southley Farm mid-afternoon, Dark Mullein in flower there and a flock of 22 Lesser black-backed Gull lingering on one of the yet-to-be-cleared CarFest fields. Both Large and Small White were seen to be still laying on nasturtium leaves, previous laying now resulting in robust larvae making the very most of this readily available food source. Charms of Goldfinch were still seen to be feeding about the dog-field on Overton Hill.

Right: Sainfoin, Onobrychis viciifolia. A high protein forage crop

2nd

13 Canada Geese moved low west over the village early evening, when House Martin were still to be seen foraging overhead.

3rd

both Swallow and House Martin were again seen over the village, in the near continuous rain and totally grey-clouded sky; truly autumnal weather, at last.

4th

a Hummingbird Hawk-moth was an early evening visitor to at least one garden, preferring the flowering Phlox there. Later in the evening a Tawny Owl was again heard about the Two Gate Meadow area. The 65+ House Martin feeding over Town Meadow during the evening attracted in a single Swallow - both Red Kite and Grey Heron being seen to move over as the flock was watched. Also moving over during this period were a total of 27 Lesser Black-backed Gull and four+ Pied Wagtail.

Right: Hummingbird Hawk-moth, Macroglossum stellatarum — Picture: Mike Wall. www.hantsmoths.org.uk

5th

a now regular Green Woodpecker was found to have made the most of one lawn early morning, signs of its ant-based activities being all too obvious.

6th

a male Kestrel was seen moving off from a hedgerow at the Turrill Hill dog field. Bullfinch were again seen, and heard, about the scrubbier areas off Southington Lane.

7th

two Red Kite, several Bullfinch and vocal Wren and a Nuthatch were about The Harroway. About The Test, between Bridge Street and Station Road one+ Kingfisher, two Blackcap, four Chiffchaff, one in song, three Shoveler and two Teal were most notable early morning, 19+ House Martin being overhead where a Grey Wagtail, Grey Heron and two Meadow Pipit moved over.

8th

early morning about Turrill Hill saw a pair of Raven, two Yellow Wagtail, four Swallow, two Meadow Pipit and 61 Lesser Black-backed Gull on the move. The fields there attracted five Red Kite, 13 Stock Dove and small numbers of Pheasant in to feed, the Tansy-leaved Phacelia field being under plough, the flanking hedgerows adding a Willow Warbler and nine Chiffchaff and a pair of Sparrowhawk, the latter performing acrobatically with the local corvids.

9th

the Tawny Owl was again vocal pre-dawn at Two Gate Meadow. More obvious, or at least being seen, were the Common Darter about Ashe and several of both Red Admiral and Small White.

10th

a Muntjac and two of both Brown Hare and Roe Deer were seen during the evening in the Nutty Bottom area, as were a pair of hunting Buzzard. Meadow Pipit continued to move over in small numbers, both north and south, as did Swallow and House Martin. The Two Gate Tawny Owl was again verbal early morning.

11th

hedgerows and fields north of the mill proved productive, drawing in Southern Hawker and Common Darter, Comma, several Speckled Wood and many Small White, Red Kite, of course, being seen overhead whilst Yellowhammer were more mobile.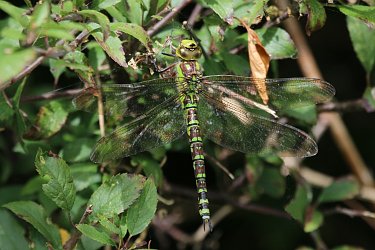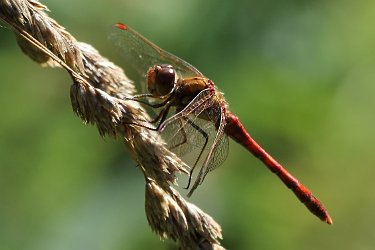 Southern Hawker, Aeshna cyanea & Common Darter, Sympetrum striolatum — Pictures: Deb Heath
12th

a morning visit to Polhampton produced many Wren, two Comma and, again, many Small White.

13th

a Chiffchaff was in song off Southington Lane.

19th

Chiffchaff were noted in David's Wood, perhaps southbound migrants, perhaps birds preparing to overwinter in the Parish.

20th

a further Chiffchaff was heard, this time on the eastern outskirts of the village.

21st

a flock of insectivores hunting over The Source of The Test numbered c.50. Other birds looking for prey included two Red Kite and a Kestrel. Red Admiral, Large and Small White were all seen on the wing. Shaggy Ink-cap was just one of the many fungi now evident about the Parish.

Right: Shaggy Ink-cap, Coprinus comatus — Picture: Deb Heath

23rd

a Chiffchaff was heard in song in Two Gate Meadow. Further butterfly sightings included Speckled Wood, Red Admiral and Small White. Two Red Kite were low over the fields at Lower Ashe, Bullfinch being nearby. A charm of Goldfinch was again seen to visit gardens on the eastern edge of the village.

24th

Skylark were in song over fields now containing just stubble. A Chiffchaff was again seen in a Two Gate Meadow garden.

25th

the Chiffchaff remined about Two Gate Meadow gardens, as did both Coal Tit and Dunnock, Blue Tit becoming ever more evident there. The disused cressbeds at Polhampton attracted 100+ hirundine during the afternoon, these primarily Swallow.

26th

the foraging Blue Tit flock frequenting Two Gate Meadow once again held a Chiffchaff.

27th

a mobile flock of nine Pied Wagtail was on the Overton Hill football fields.

29th

a female Noble False Widow was found in a bedroom!

Right: Noble False Widow, Steatoda nobilis — Picture: Bryher Hutchins

30th

House Martin, Skylark and Red Kite were all seen, and heard, moving over the village during the latter part of the afternoon. A Buzzard was again seen over the woodland at Lower Ashe.
Contributors: Deb Heath, Alison Hutchins, Bryher Hutchins, Peter E. Hutchins & Mike Wall.
October offers...
Falling fruit and falling numbers of wildlife, or so it may seem.
However, don't be dispirited, closer looking will reveal much as the leaves drop and allow all that hidden over the summer months to appear - nests of both birds and perhaps even Dormouse will be evident, along with the resulting refuse of the latter about the hedgerow floor. Searching among the discarded Hazel shells will provide evidence of the continued presence of these within the Parish, as well as a number of other mice and voles.
Martins and Swallow will remain with us for a while yet, their numbers dwindling, but as they move south so will both Redwing and Fieldfare, in from their Scandinavian breeding grounds and sure to put pressure on the local Mistle Thrush, the latter having to defend their ornamental Rowan from these autumnal travellers.
Chiffchaff and Blackcap will now be the only summer visitors to linger, visiting gardens especially if the weather deteriorates; don't forget to keep those feeders full and the water supplies clean! Watching the feeders might also well provide the first of the Siskin, Lesser Redpoll and Brambling that will increase in numbers as we head towards the winter.
Along with the hedgerows dropping leaves the fields will look ever barer, due to both the continued harvesting and general die-back of the more natural vegetation. Late flowerers include some of the campion, daisy and toadflax, so there will be colour to be found for some weeks yet. These last flowers will provide much needed sources of energy for the likes of bee, wasp, butterfly and moths, all of which will remain on the wing throughout the month. If out towards dusk, keep an eye on Ivy, this sure to draw in moths in numbers, many of which are true autumn specialities. The larger numbers of blooms still evident in Parish gardens will also help with this energising, Hummingbird Hawk-moth another moth that might be anticipated becoming ever more obvious.
So, that's just a few things to look out for, and enjoy, but there will be many more, as the October summary will surely confirm.
As always, enjoy all that there is to be seen, and don't forget to let us, the OBS, know what you've encountered. We look forward to hearing of your sightings, many of which will I'm sure help to brighten the monthly summary.
Peter.