Local sightings
Return to the list of reports
September 2016
1st

a Yellow Wagtail moved over The Green in the mid-morning mist, as did a Grey Wagtail. A female Sparrowhawk moved south-east over Highfields, a Red Kite east over Harveys Field. Moths recorded included the migrant Rusty-dot Pearl and resident Orange Swift and Double-striped Pug. An occupied Woodpigeon nest was found in Harveys Field.

2nd

an Ortolan Bunting flying west over Crawts Road was the 1st record for the parish and perhaps one of only half-a-dozen ever recorded in Hampshire! Three Little Egret were at The Source of The Test later in the afternoon, a Sand and two House Martin flycatching there. Five Shoveler, a Kingfisher, four Teal, 54+ Gadwall and a Chiffchaff were amongst that noted at the Filtration Pools. The Rusty-dot Pearl remained in Mede Close. A Grey Wagtail was again heard over The Green, both Red Kite and Buzzard also being seen on the wing over the village. One of the Indian Peafowl was seen in Dellands. Orange Swift and Double-striped Pug were again seen at daytime roosts.

Right: Ortolan Bunting, Emberiza hortulana - Picture: Martin Cade

3rd

a Flounced Rustic was found in Mede Close where Orange Swift were also at roost. A Sparrowhawk was seen over Overton Hill / Station Road, Red Kite over Pound Road, Poultons Road, Vinns Lane and Northington Farm.

Right: Flounced Rustic, Luperina testacea - Picture: Mike Wall. www.hantsmoths.org.uk

4th

recent reports included a gathering of 19 Stone-curlew 'locally'! Several Swallow and House Martin continued their southward migration over the village, where Grey Wagtail, Buzzard, Lesser Black-backed Gull and Canada Goose were also on the wing.

5th

two Little Egret and a Grey Heron were at The Source of The Test. A Blood-vein was found at roost in Poyntz Road.

Right: Blood-vein, Timandra comae. Picture: Nick Montegriffo. www.hantsmoths.org.uk

6th

a Weasel was seen, briefly, at Turrill Hill. Two Raven gradually made their way northwards over the same area late afternoon. Two further Steatoda grossa, False Widows, were found, on long-standing garden fixtures being moved. Late morning found a Little Egret and two Grey Heron, a Red Kite, Chiffchaff, Emperor Dragonfly and 50+ House Martin about Lower Ashe. A Noctule Bat showed well over Woodlands gardens prior to dusk where both Southern Hawker and Common Darter were seen earlier. Migrants moving over / through the village included four+ Yellow Wagtail, four Chiffchaff, Swallow and House Martin. 24+ 22-spot Ladybird were gathered on roadside vegetation at Turrill Hill, where Lucerne was still in flower and Roesel's Bush-cricket 'buzzed'. Small White were seen egg-laying on nasturtiums. Both Mistle Thrush and Buzzard were seen heading south-west, again over the more residential areas of the village. The two Indian Peafowl were seen in Sapley Lane gardens, though not together. Even more vocal were the many Canada Geese over the village during the morning.

7th

a Kingfisher was off Bridge Street early afternoon. Two Little Egret and a Red Kite were seen at The Source of The Test, Chiffchaff and Mistle Thrush being nearby. Poyntz Road yielded a roosting Lesser Yellow Underwing. One local noted a singing Blackbird as they awoke, the first time they'd had this as an 'alarm clock' for some time. Also vocal about the same area, Two Gate Meadow, were Green Woodpecker and Goldfinch.

8th

Fox and Cubs was still in flower in Red Lion Lane and Woodlands. The pair of Collared Dove nesting on the traffic lights was now on the Overton Village website - fame at last! Two Little Egret and a Red Kite at The Source of The Test were joined by two newly arrived Teal. Further Red Kite were seen over Bridge Street and Woodlands. A Chiffchaff was by The Test, off Kingsclere Road.

9th

a Painted Lady was on buddleia in Poyntz Road. Other migrants noted about the village were Chiffchaff and House Martin. A Small Square-spot was also found in Poyntz Road. More notable resident birds included Red Kite at The Source of The Test, Lordsfield Gardens, Red Lion Lane and Woodlands.

Right: Pinted Lady, Vanessa cardui

10th

80+ House Martin were over Lordsfield Gardens late morning, c.40 Canada Geese moving south-east over the village early afternoon. A Buzzard also on the move over the village was 'accompanied' by two corvids for part of its stay. A Grey Wagtail was heard over Winchester Street.

11th

Small Teasel were seen going over by Court Drove / The Harrow Way where up to six of both Red Admiral and Chiffchaff were seen or heard, as were three Kestrel, seven Red Kite, nine Buzzard, Whitethroat, male Common Darter, three Small Tortoiseshell and the first local Clouded Yellow and Meadow Pipit of the autumn, Comma and Large White being seen in the village, as were Common Carder and Buff-tailed Bumblebee and Tree Bee. A singing Willow Warbler in Woodlands mid-morning was unexpected. Tansy-leaved Phacelia was in flower about field edges north of the village. Two Red Kite and two Buzzard were seen high over fields at Lower Ashe, as were a further two unidentified raptors that were even higher. Red Kite, Grey Wagtail and a pipistrelle sp. were seen over the village later in the day.

12th

a Little Egret moved off west from The Source of The Test mid-afternoon. Other birds on the move about the Parish included Chiffchaff, Kestrel, Grey Wagtail, Red Kite and Buzzard. A Garden Carpet was seen on a Lordsfield Gardens front door.

13th

a Little Owl was heard in the Town Meadow area mid-evening. A female-type Common Blue in Lordsfield Gardens was a further unexpected sighting. Ten+ Honey-bee were seen to be nectaring on sedum. A Buzzard and two Grey Heron were lingering at The Source of The Test, perhaps one of the latter the bird seen near the nearby river crossing. A Grey Wagtail moved over the High Street / Woodlands early afternoon, a Red Kite over Red Lion Lane / Poyntz Road. A Harlequin Ladybird 'invaded' a conservatory. Goldfinch were "Everywhere", as one local put it.

14th

ten+ Swallow moved low south-west at noon, a further 15+ south early evening. Both Large and Small White were seen to be egg-laying, again on garden nasturtiums. A female Tawny Owl was head about Town Meadow mid-evening. Both Red Kite and Kestrel were seen over the fields by The Source of The Test. Both Red Admiral and Small Tortoiseshell were seen to visit village gardens, a Comma being found in a more rural setting.

15th

a Hummingbird Hawk-moth was seen in Lordsfield Gardens gardens, Comma and Red Admiral in Station Hill gardens. A Chiffchaff was in song at The White Hart. Red Kite, Grey Wagtail and Meadow Pipit were all noted moving over the village; a flock of 28+ low north of the latter the largest flock yet noted this late year period.

16th

a Roe Deer and her two fawn were at Berrydown, all too close to the B3400! The Chiffchaff was still at The White Hart, though no longer in song. Two Sparrowhawk, a pair, and at least three Red Kite were over the village during the afternoon. Grey Wagtail and Meadow Pipit also continued to be seen, and heard, moving about the Parish. Two Grey Heron were at The Source of The Test.

17th

House Martin, a female Sparrowhawk, Red Kite, Grey Wagtail and Meadow Pipit were all on the wing over the village whilst the plume moth Emmelina monodactyla was seen at roost on several flats in Poyntz Road.

Right: Emmelina monodactyla - Picture: Mike Wall. The most frequently recorded of the Pterophoridae locally www.hantsmoths.org.uk

18th

a Hedgehog was seen wandering the streets, well Woodlands, late evening. A more than heavy hint of migration was in the form of the c.30 Swallow seen gathered on telegraph wires during the morning. Three Buzzard were thermalling over the northern part of the village late morning, another being seen yet further to the north. Drone Fly and Common Wasp visited garden blooms and drinking 'pools'. Four House Martin were present early evening, perhaps one of the last groups to be seen about the Parish this year? Five Red Kite and a Grey Heron were about The Source of The Test in the afternoon, further Red Kite, Lesser Black-backed Gull and Meadow Pipit were also again seen over the village.

19th

a Painted Lady was seen on Woodlands road verges. Two Little Egret, a Red Kite, three Buzzard and single Stock Dove and Chiffchaff were about The Source of The Test mid-afternoon. Lordsfield Gardens airspace was busy with Red Kite, Buzzard and Grey Heron being seen there. A Chiffchaff was at The Red Lion; perhaps the one from The White Hart? Four Long-tailed Tit were seen foraging in Southington Lane gardens. A Common Plume was seen at roost in Poyntz Road whilst the latest visitor to one conservatory was a Silver Y. A flock of c.100 Canada Geese was grazing on stubble between Berrydown and Polhampton during the morning.

Right: Long-tailed Tit, Aegithalos caudatus. Picture: Tony Davison. Surely one of the 'cutest' of local birds?

20th

single Little Egret and Grey Heron were at The Source of The Test mid-afternoon. Four+ migratory House Martin appeared over the village early evening. Two Chiffchaff were heard at The Filtration Pools, Station Road, another seen in a mixed feeding flock alongside The Test, off Bridge Street. Two Buzzard were over fields off Kingsclere Road, north of the railway line. Meadow Pipit and Grey Wagtail maintained their movements over the village, the former to-and-fro from the farmland, the latter the wetter areas about The Test.

21st

a Hummingbird Hawk-moth visited Glebe Meadow gardens / blooms. A Raven moved north over Harveys Field mid-afternoon, 'cronking' as it did so. A Kestrel was on wires beyond Overton Hill. A larval Pale Tussock was found on a Winchester Street front door! Two Chiffchaff were in Highfields. About Lower Ashe both Green Woodpecker and Yellowhammer were seen. Meadow Pipit and Grey Wagtail again were noted low over the village on a regular basis.

Right: Pale Tussock, Calliteara pudibunda. One of the more exotic caterpillars likely to be encountered locally

22nd

a Chiffchaff was in song at Town Meadow, perhaps this bird then being noted in the acers in Woodlands. Further migrants came in the form of Swallow, House Martin and Meadow Pipit whilst other aerial visitors to the village included Nuthatch, Red Kite, Pied Wagtail and Lesser Black-backed Gull. And from somewhat further afield, from two previous residents:
"We were surrounded on our walk this afternoon by a flock of Madeiran Chaffinches who obligingly stood still for just long enough for me to get some photos. They were so lovely and very tame!. We have also seen a couple of the local firecrest species, but they were not so obliging!"

Right: Madeira Chaffinch, Fringilla coelebs maderensis. Picture: Jill & Julian Aburrow. A female

23rd

a gathering of 'solitary bees' about a Lordsfield Garden gardens was noteworthy, perhaps 100+ being present about the front lawn where their activities left small 'volcanoes' of earth evident. An Emperor Dragonfly was patrolling Bridge Cottage's gardens for aerial prey. A further Chiffchaff moved through Woodlands, Meadow Pipit still being noted, but far more mobile than the warbler, about various areas of the Parish. The only Buzzard reported was somewhat more 'relaxed', being seen atop the fence line at Ashe floods.

24th

the Basingstoke Watch Group held a 'Going Batty in Overton' meeting during the evening. This resulted in five species of bat being seen, and recorded; the latter literally by Chris Piper on his tablet: Brown Long-eared, Daubenton's, Noctule, Common and Soprano Pipistrelle. The moth trap attracted in Barred Sallow, Setaceous Hebrew Character, Snout, Large Yellow Underwing, Common Marbled Carpet, Light Brown Apple Moth and Ypsolopha sequella. Two Roe Deer were in the woodland north of Overton Hill. A Large Ranunculus on a Poyntz Road house wall was the first of the year recorded locally. Both Red Kite and Buzzard were seen about The Source of The Test. Chiffchaff were present, but elusive, in hedgerows in Red Lion Lane, Poyntz Road and Kings Meadow / Harveys Field.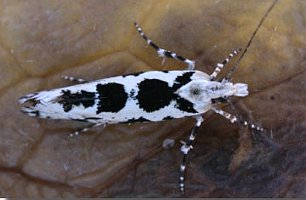 Ypsolopha sequella. Pictures: Mike Wall. The 'Playboy Bunny' moth! www.hantsmoths.org.uk
25th

a flock of c.30 Linnet was seen about the hedgerows and stubble left below Overton Hill, as were a good sized charm of Goldfinch and a Wren. A Red Kite was seen over White Hill. One of the Indian Peafowl was visiting the Spar late afternoon! A Red Admiral was a brief visitor to Woodlands gardens later in the day, where both Meadow Pipit and Grey Wagtail moved over, again later in the day.

26th

a Lesser Stag Beetle was found in Poyntz Road. A Hummingbird Hawk-moth visited Woodlands gardens, a Common Plume being seen to still be in flats at Winchester Street. 80+ of the 'solitary bees' were still about a Lordsfield Gardens front lawn. Chiffchaff were recorded in the 'copse' behind the veterinary surgery, east of Riverside Close and in the Oak Close allotments. A Lunar Underwing in Poyntz Road was the first locally for the late year. 50+ Canada Geese were out on the grass at The Source of The Test mid-afternoon.

Right: Lesser Stag Beetle, Dorcus parallelipiedus. Not quite as spectacular as their bigger cousins!

27th

the Linnet were again out the Overton Hill area stubble, a Kestrel however seen to keep them away from their favoured tree. The 'solitary bee' count had dropped to perhaps less than 40 in Lordsfield Gardens where two Red Kite moved in from the west late morning. A Chiffchaff was by The Test off Bridge Street, a Grey Wagtail nearby in Glebe Meadow. Red Admiral were still visiting village gardens, though often only briefly before moving on.

28th

a Red Admiral in a Winchester Street garden was only unusual in that it was being eaten by a Common Wasp! A Hummingbird Hawk-moth was seen nearby, in The Orchard. The 'solitary bee' count in Lordsfield Gardens had risen to 70+; these appearing like small Honey-bee. A Common Darter spent some time sunning on a Woodlands garden fence. Eight+ House Martin moved south mid-evening. A Chiffchaff was in Silk Mill Lane hedgerows / trees late morning. Red Kite, Buzzard and Meadow Pipit, at least 12, sustained their presence over the village whilst two Siskin, south-east late afternoon, were further hints of the coming winter.

29th

a further Hummingbird Hawk-moth was seen, this time again about Lordsfield Gardens gardens. Further moth, all at roost, were seen in the shape of Large Ranunculus, Lunar Underwing and Common Plume.

30th

a Red Kite over the northern part of the village was seen being harassed by the Rook from the Copse Road rookery. Nearby a Comma was on Ivy, House Martin feeding overhead. The local 'twitcher' added a further bird to his British List, this time 'only' on the Outer Hebrides! The bird seen, the charter 'plane gone, the local then stranded on Barra!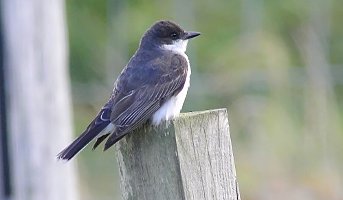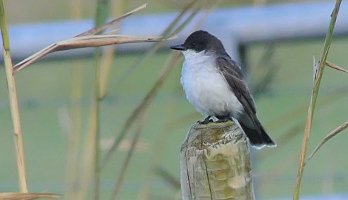 Eastern Kingbird, Tyrannus tyrannus. Picture: Steve Nuttall. The 1st for Britain with two other recent records in Ireland; both 'dipped' by the same local!
31st

two Cormorant moved west over the village early morning. A Red Kite were over Poultons Road / Close early afternoon. Moths found at roost included Square-spot Rustic, Double-striped Pug, Orange Swift and Light Brown Apple Moth, the latter an invader from Australia!
Contributors: Jill Aburrow, Julian Aburrow, Tony Davison, Alison Hutchins, Peter E. Hutchins Shane King, Ken MacKenzie, Nick Montegriffo, Steve Nuttall, Chris Piper, Margaret Rainford, Barry Stalker & Mike Wall.