Local sightings
Return to the list of reports
September 2015
1st

Roesel's, Speckled and Dark Bush-cricket were heard / seen about The Green / Waltham Road / Pound Road. A Nuthatch was very vocal in trees about Dellands House. Red Kite, Swallow and House Martin were seen over the village, a Chiffchaff in Two Gate Meadow. An Orange Swift was at roost in Charledown Close.

Right: Dark Bush-cricket, Pholidoptera griseoaptera

2nd

the 'grass moth' Agriphila geniculea had been attracted to overnight lighting in Crawts Road. A Buzzard was over Berrydown mid-afternoon.

3rd

two Cormorant moved erratically south-west over the village mid-afternoon, two Siskin and two+ Buzzard also being noted over the eastern side of the village by this time. The cock Blue Peafowl were in Sapley Lane and Dellands early afternoon; the latter looking very settled 'roosting' on a sun-warmed driveway. Roesel's Bush-cricket were still in 'song' within the verge at the Overton Hill end of Waltham Road, a female Speckled Bush-cricket being seen nearby in The Green. Speckled Wood and Red Admiral were also seen, still flying in the unsettled weather. Early morning light from a bathroom attracted a Large Yellow Underwing to the window, an Emmelina monodactyla a 'left-over' from the previous night.

4th

a very ragged Red Kite was over Winchester Street late morning, a Chiffchaff nearby in hedgerows / gardens off Waltham Road. Moths attracted to residential lighting overnight included Flounced Rustic, Orange Swift, Square-spot Rustic and Emmelina monodactyla. Both Swallow and House Martin still lingered over the village later in the day.

5th

the Small Teasel were still in flower on Station Hill. A Hummingbird Hawk-moth was again seen visiting Woodlands gardens. A female Speckled Bush-cricket was disturbed during large-scale garden pruning, Roesel's Bush-cricket being found in a 'new' site earlier in the day, on the Dellands Lane edge of Bell Meadow. A Chiffchaff was in gardens of Kerchers Field / Dellands. A Red Kite was over fields east of Straight Lane mid-afternoon. Both Swallow and House Martin were to be seen in reduced numbers about the village airspace.

6th

50+ Honey-bee were nectaring on sedum in one garden, where two Common Darter headed south, a Hornet west. A flock of 110+ Lapwing disturbed from their day-time rest place gradually headed west late afternoon, breaking in to smaller groups on doing so. The remnants of summer blooms attracted Brimstone, Small Tortoiseshell, Holly and Common Blue, Large and Small White. Birds moving over / through the village included Siskin, Chiffchaff, Swallow, House Martin, Red Kite, Buzzard and Lesser Black-backed Gull.

7th

a Hedgehog was wandering in Woodlands early evening. A migrant Chiffchaff was just off the High Street early morning whilst later in the day further Chiffchaff moved through the village, as did Yellow and Grey Wagtail, Siskin, Swallow and House Martin. A pink flowering Chicory was amongst the normal blue ones in the Dog Field, Lucerne also in flower there.


Right: Lucerne, Medicago sativa. Also known as Alfalfa this fixes large amounts of Nitrogen from the air and so can help enrich soil

A Devil's Coach-horse was seen on a driveway in Waltham Road. Other invertebrates noted about the village centre including the moths Flounced Rustic, Orange Swift and Brimstone, a larval Elephant Hawk-moth being seen in Crawts Road. Both of the male Blue Peafowl, currently without their extravagant 'tail' feathering, were about Sapley Lane and Dellands.


Right: Elephant Hawk-moth, Deilephila elpenor. The larva grows up to 3" in length!

9th

a Common Darter was over Woodlands gardens, as was a Red Kite late afternoon. Further invertebrates reported included Setaceous Hebrew Character, Agriphila geniculea, Flounced Rustic, Square-spot Rustic and Emmelina monodactyla; all being moths. Other Red Kite were seen over Ashe Hill and Winchester Street, a Buzzard moving south at Berrydown. A gathering of 75+ hirundine, presumed Swallow and House Martin, over Harveys Field mid-afternoon was exceptional locally, whereas the total of four Siskin on the move was far less so.

11th

a late dragonfly, a hawker sp., was seen about the gardens at Mede Close. Also on the wing were Red Kite, House Martin and Siskin, both Chiffchaff, in Two Gate Meadow, and Square-spot Rustic, a moth, also in Mede Close, being far less active.

12th

a further Slow Worm was seen on Silk Mill Lane, this again a result of an unfortunate meeting with a vehicle! Siskin, Swallow and House Martin continued to pass over and about the village, Red Kite and Buzzard also being noted overhead. Fox and Cubs was still seen to be flowering in Pond Close.

13th

a Roe Deer crossing the B3400 at Ashe Hill caused early morning slowing of traffic, thankfully! Red Kite, Buzzard, House Martin and Swallow were all seen over the village.

14th

Monkey Flower was still in bloom by / in The Test. One of the Blue Peafowl was feeding unconcernedly along the verges in Crawts Road / Poultons Road. Single Flounced Rustic and Large Yellow Underwing were seen at daytime roosts. A Red Kite was over Winchester Street late morning, heading west. Chiffchaff at The Green and Mede Close included a singing bird.

15th

a Red Admiral was rescued from the middle of the road in Winchester Street! An Orange Swift and two Lunar Underwing were seen at roost. Raptors over the village included a Kestrel, Dellands, Red Kite, Red Lion Lane and Poultons Road, and Sparrowhawk, Hilltop Road. Migrants noted on the move were Siskin, five, and Chiffchaff, two.

17th

a Tawny Owl was vocal outside one parishioner's bedroom window early morning. Five Buzzard circled southwards over The Green late morning, two singletons then seen heading south-west over Crawts Road early afternoon, another soon afterwards being over Pond Close, where one+ Siskin were also, heard, in flight. Eight+ Chiffchaff about the village included a singing bird.

18th

one of the Blue Peafowl was in Charledown Road early afternoon. Wilder, but no less notable, birds about the village included Red Kite, two, Chiffchaff, two, Siskin, 11, and Meadow Pipit, three. Singletons of the moths Common Marbled Carpet and Lunar Underwing were seen at roost.

19th

c.15 Red Kite were seen circling over Lordsfield Gardens before the majority gained height and moved off westwards; two however lingering. Further Red Kite as well as Buzzard, Siskin and Meadow Pipit were all noted over the village by midday, a Chiffchaff being more settled in The Green. A female Steatoda grossa was seen late evening in Woodlands, the most poisonous of British spiders!!! A female Tawny Owl was vocal well before dawn broke.

21st

both of the male Blue Peafowl were reported today, about Dellands and Charledown Road. The best of migrants recorded was a Yellow Wagtail south over Greyhound Lane, Siskin, Meadow Pipit and Chiffchaff however also being seen / heard on their winged travels. Large Yellow Underwing and Emmelina monodactyla were seen resting after their overnight exertions.

22nd

a Red Kite moved north over Sapley Lane early afternoon. Chiffchaff were found in Two Gate Meadow and Waltham Road, one of the two found about the latter road being song. Moths still present from the previous night's activities were Lunar Underwing and Emmelina monodactyla.

23rd

a Speckled Wood was about gardens in Harveys Field. A Bullfinch was seen in the hedgerows flanking the track south from the Dellands Track. Other birds on the move about the village included Mistle Thrush, Siskin, Meadow Pipit and Chiffchaff whilst two+ Red Kite, two Sparrowhawk and four+ Buzzard were more likely to be local birds encouraged up by the more clement weather.

24th

recent reports, gathered in from the Committee Meeting the previous evening, included several ones of particular note: a Brook Lamprey being seen in The Test, as was a large Eel, a Muntjac visiting a garden to feed on apples and a Dormouse being found; the latter unfortunately initially by a local cat!

Right: Brook Lamprey, Lampetra planeri. Perhaps not the view most would appreciate of this ectoparasite / parasite of fish!

25th

the Wildlife Watch meeting held in Southington during the evening attracted good numbers of attendees, both children and adult, and the events in place for both saw numbers of bat, Noctule and Soprano Pipistrelle at least, seen and heard, through bat detectors, about The Test, a single Lunar Underwing attracted in to a moth trap and quantities of cake and tea consumed! Skylark, Grey Wagtail and Meadow Pipit were all noted moving over / through the village whilst a Chiffchaff was about Sprents Lane; all being signs of the autumnal passage of birds truly under way. Moths about the village, found during daylight hours, included White-point, further Lunar Underwing and the 'plume' Emmelina monodactyla. Less fortunate than these was a larval Pale Tussock, found as a further victim of an RTC!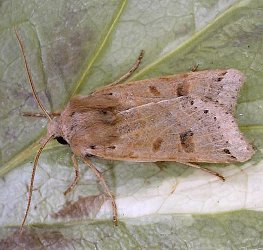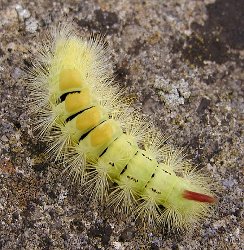 Left: Lunar Underwing, Omphaloscelis lunosa - Picture: Mike Wall. An autumnal moth that appears in a range of suitably autumnal colours
Right: Pale Tussock, Callitera pudibunda. Not the individual found!
26th

a male Vapourer Moth was on the wing in Dellands during the day whilst moth-trapping in Woodlands, to midnight, produced just two Lunar Underwing and a Lesser Yellow Underwing. Several Grey Wagtail were both vocal and mobile about the village, a Red Kite less so as it lingered over the Dellands Track area late morning. A Chiffchaff was in Papermakers, presumably a migrant rather than a displaced local bird.

27th

a Red Kite drifted south-east over the village centre late morning.

28th

Chiffchaff were found in Two Gate Lane, Waltham Road, Overton Hill / The Green and Kerchers Field. A Large Ranunculus was found on a house wall in Battens Avenue, another in Mede Close. Both Meadow Pipit and Lesser Black-backed Gull were seen, or heard, moving over the village in small numbers. Chiffchaff were present about Overton Hill / The Green, Winchester Street, Waltham Road and Kerchers Field, all being heard and presumed to be migrants on their way south. A Red Kite was south of Town Meadow late morning, a Buzzard being heard nearby.

30th

a Fox crossed the B3400 at Ashe Hill pre-dawn; a pleasant change to see such local wanderers not meeting an unfitting end on our local roads. A Kestrel moving north over Pond Close attracted the unwanted attention of the local Jackdaw and Rook. Migrant Chiffchaff were in song at Waltham Road and The Green / Overton Hill, further birds being noted at Dellands / Crawts Road and Kingsclere Road. A Red Kite was over Polhampton House late afternoon.
Contributors: Brian Chivers, Susan Chivers, David Cluett, June Gibbs, Alison J. Hutchins, Peter E. Hutchins, Alan Stevens, Valda Stevens & Mike Wall.