Local sightings
Return to the list of reports
September 2010
1st

a Red Kite and two of both Sparrowhawk and Buzzard were seen over farm / woodland north of the village. Both Greylag and Canada Geese flocks moved east over the village during the evening, as did ten+ House Martin.

2nd

a Red Kite was low over gardens during the morning, both Swallow and House Martin also being seen on the move.

3rd

a Humming-bird Hawk-moth caterpillar, under a thistle in Lordsfield Gardens, proved that there must have been at least two of the moth about the village earlier in the year! This is the first larvae of this species to be found in the Parish, as far as I know, and a particularly unusual, but perhaps to be expected more in the future, record. Mid-evening movement of Lesser Black-backed Gull totalled at least 561 birds, all moving to the north-east; five+ Swallow and ten+ House Martin moving about / through being just a little less obvious!

5th

a Blackcap was visiting gardens in Station Hill while an Emperor Dragonfly was doing the same, but in Waltham Court.

6th

some showers today.

7th

a large Eel was in The Test east of Bridge Street, quite a change from the more usual Brown Trout there.

8th

Chiffchaff were seen to be feeding "Like hummingbirds" at Station Hill where Small Teasel was a new plant for the Parish.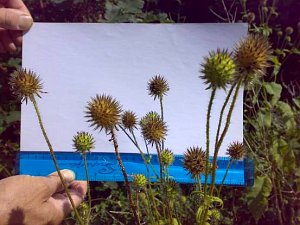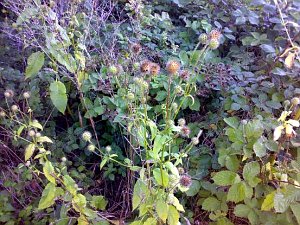 Small Teasel, Dipsacus pilosus. The most recent find of botanical note within the Parish / Borough
(Picture: Margaret Rainford)
9th

a Buzzard was seen early evening, a Comma earlier in the day.

10th

Long-tailed and Blue Tit were still visiting gardens in small flocks, as were House Sparrow.

11th

a Green Woodpecker visited the school field. Gadwall joined Mallard on the wing over the village, Comma preferring to fly rather lower.

12th

Honey-bee and several species of bumble-bee were attracted to Michaelmas Daisies. Four Buzzard were seen over Lordsfield Gardens. A seemingly particularly hungry spider was caught in action in Southington.

Right: Tegenaria domestica & Bombus leucorum. (Picture: Joy MacGregor)

13th

House Martin in small numbers were still evident early evening.

15th

Canada Geese and Lesser Black-backed Gull continued to move over the village later in the day.

18th

the Society's Dormouse Hunt proved very productive, two nibbled nuts, not bad, two nests, better, and an actual Dormouse being seen! The watching over the hedgerows north of the village also presented two Roe Deer, two Harlequin and 25 Seven-spot Ladybird in amongst the vegetation while a Red Kite sailed overhead and a Brown Hare was in fields between the Kingsclere Road and The Harrow Way. A Marsh Tit visited a Lordsfield Gardens garden where two Buzzard were seen overhead.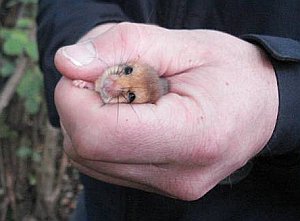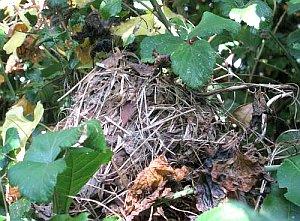 Common Dormouse, Muscardinus avellanarius and nest
Just look at the size of the thumb nail to get an idea of just how tiny these are!
Picture left: Peter E. Hutchins, The Mill Field LNR, Old Basing — Picture right: Veronique Kerguelen
20th

for the fourth day in a row a Red Admiral was seen sunning on Ivy in Station Hill. Two House Martin were still present during the afternoon / evening.

21st

two Swallow moved low eastwards early evening. A female Red-tailed Bumble-bee was still managing to find sustenance in a Lordsfield Gardens garden.

22nd

four Red Kite and two Buzzard were over a garden close to the school, a male Red-tailed Bumble-bee following in the wing-beats of another the previous day.

23rd

a Tawny Owl was calling late evening while a Hedgehog was seen walking down Station Hill. The talk "Pick of the Parish" took place in the evening — sorry!

24th

a Hedgehog was active in Woodlands early morning, a female Great Spotted Woodpecker in Lordsfield Gardens gardens later in the day.

26th

13 Lesser Black-backed Gull were moving low north-east early evening. A bumble-bee heavily laden with 'eggs' visited Woodlands gardens.

28th

both House Martin and Lesser Black-backed Gull were on the move late afternoon.

29th

the morning started with persistent light rain / drizzle.

30th

a morning of heavy fog.
Contributors: Helen Harden, Alison Hutchins, Peter E. Hutchins, Veronique Kerguelen, Joy MacGregor, Margaret Rainford & Janet Wigney.