Local sightings
Return to the list of reports
August 2017
1st

two of the local Roe progeny were again seen well. A pipistrelle sp. was active about Woodlands back gardens post-dusk, a pair of Dunnock in Two Gate Meadow gardens earlier in the day. The first Bullfinch of the month were seen in David's Wood. A Buzzard was at the southern end of Straight Lane, Red Admiral further north about the hedgerows. To the east, a Grey Heron was about The Source of The Test, a female Brimstone in a nearby hedgerow, as were Meadow Brown, Small and Large White. The Wheat crop to the west of here held several Wren. Another Buzzard was seen early evening, circling over Town Meadow. Later still a female Tawny Owl was heard vocalising in the same area.

2nd

the crops between Overton and Lower Ashe drew in c.50 Swallow and House Martin, several Roe Deer, Yellowhammer, Goldfinch and Wren. Further Roe Deer were seen in the David's Wood area. A Brimstone Moth was on a Poyntz Road flat wall. The Red-legged Partridge was again seen foraging on footpaths in Lordsfield Gardens. Also noted in gardens, coming to feeders, were Great and Blue Tit and Dunnock.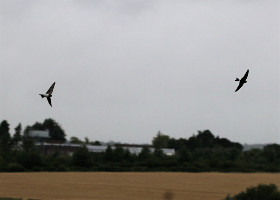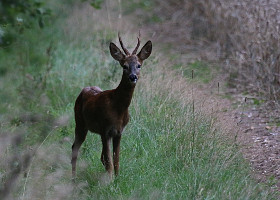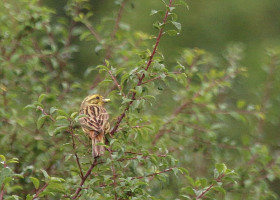 From left to right: House Martin, Delichon urbicum. Just two of many still about the village, though this summertime invasion won't last for too much longer
Roe Deer, Capreolus capreolus. This an obvious buck, the least regularly seen of the sexes / ages about the Parish
Yellowhammer, Emberiza citrinella. This a female, carrying either a parcel of food or faecal sac - both indicative of successful breeding - Pictures: Deb Heath
3rd

a Stoat in a hurry over Straight Lane was seen to be carrying baby Hedgehog. The unharvested Wheat continued to provide refuge for local deer, several Roe and a Muntjac being seen there today. At The Source of The Test up to four Swallow were in flight low over the water and surrounding grassland.

4th

a Painted Lady headed west through Glebe Meadow gardens. A Green Woodpecker was vocal early morning, when a Buzzard was again on the fence line by the Burley Lane floods. A Red Kite was over Winchester Street mid-morning. The Red-legged Partridge continues its stay in Lordsfield Gardens, where a Bullfinch was in the hedgerow flanking the school grounds and a further Red Kite was seen overhead. A Swift was seen over Lion Close, moving low west. Nearby a further Red Kite was seen, over Woodlands, before two were noted lingering over the Town Meadow area. The day finished with a further three Swift and a Swallow over the village.

5th

a flock of Linnet visited one garden whilst Goldfinch continued to visit several others, these perhaps yet to make the most of the burgeoning thistle 'fluff'.

6th

the quiet of the early hours was broken by a pair of Tawny Owl. The Wheat favouring Roe Deer had several Wren for company today. Bullfinch were seen about the hedgerows at Lower Ashe, Goldfinch again visiting village gardens. Up to three Swift were seen over the village during the evening.

7th

a Hedgehog was seen visiting Glebe Meadow gardens. The Tawny Owl were again vocal in the early hours, a Stock Dove in song at Court Farm House mid-afternoon. A Sparrowhawk south through Southington upset many of the currently resident House Martin. Half-a-dozen Swallow were seeking invertebrate prey over Wheat off Straight Lane, Swift, further Swallow and further House Martin being seen over the village. Moths found roosting during the day included Lesser Broad-bordered Yellow Underwing and Shuttle-shaped Dart. 'Giant mushrooms' were seen good numbers at Lower Ashe. The Red-legged Partridge was still in Lordsfield Gardens.

8th

eight+ Swift were high over Harveys Field early afternoon, two over the village centre mid-evening. An unexpected garden visitor came in the form of a Hornet, one of very few noted locally this summer / year. Many Wren were seen foraging in the Wheat today, Bullfinch being nearby at the Berrydown crossroads. Red Kite, Sparrowhawk and Buzzard were all seen about the Parish during the day. A Brown House-moth was found, appropriately, inside a village house. An ornamental Rowan in Woodlands provided a nest site for Collared Dove.

Right: Silver-washed Fritillary, Argynnis paphia - Picture: Deb Heath. These being seen at 'The Chalkies'

9th

the "Torrential" rain whilst several Parishioners were out didn't stop three Brown Hare, a Muntjac, several Roe Deer and single Red-legged Partridge and Pheasant being active / seen. A male Kingfisher showed extremely well on the trees overhanging The Test off Bridge Street during the evening. At least three Gadwall were seen moving west over Town Meadow early afternoon. A tailless Chiffchaff was in the hedgerows of Northington House. A Tawny Owl was again vocal late evening, again about the Town Meadow area.

10th

Common Blue, Red Admiral, Brimstone, Speckled Wood, Gatekeeper, Meadow Brown and Small White were seen on the wing during morning and afternoon walks. The fields and hedgerows about The Harrow Way / Court Drove held an acrobatic pair of Kestrel in pursuit of one another, two Red Kite and a Buzzard, a buck Roe Deer, Brown Hare, many hedgerow-hugging Yellowhammer and a charm of Goldfinch. A singing Stock Dove, Chiffchaff, Grey Heron and Buzzard were at Lower Ashe mid-morning. A further Red Kite was seen atop fencing at Court Farm.

11th

the lingering fog didn't provide enough cover for Brown Hare or Red Kite to remain hidden, these being seen about fields north of the village. A Green Woodpecker was another to fields, close to the Dog Field. A large party of Long-tailed Tit was visiting Two Gate Meadow gardens mid-morning. Also visiting gardens, in Silk Mill Lane, was a Common Darter. A Chiffchaff was nearby, at The Lynch. Up to five Buzzard were about Southington / Turrill Hill late morning. Peacock, Small Tortoiseshell, Red Admiral and Large White were visiting Vinn's Lane buddleia.

Right: Long-tailed Tit, Aegithalos caudatus - Picture: Deb Heath. This an adult and one of a party 'tutting' their way through Parish gardens

12th

a Golden-ringed Dragonfly seen was reported as "Enormous", this understandable as the female is the longest of the odonata to be seen in Britain, and still a very rare local sighting. A pair of Raven was about the fields off Turrill Hill late afternoon; this probably still the best place to encounter this species. Further Swallow were joined by House Martin over the Wheat crop between Lower Ashe and Straight Lane. Late evening and a female Tawny Owl was heard about Two Gate Meadow. Bullfinch were also vocal, earlier in the day, with their gentle 'hooting' being heard about Lower Ashe. A Buzzard was over Harveys Field late afternoon. Other invertebrates noted during the day included Ringlet, Dark Bush-cricket, Green-veined White, Small Tortoiseshell, Roesel's Bush-cricket, a male Vapourer Moth, Painted Lady, Scorpion Fly and Speckled Wood.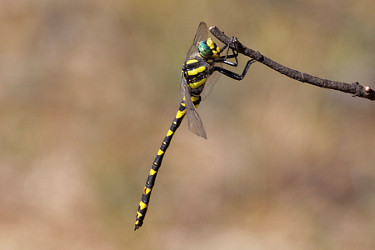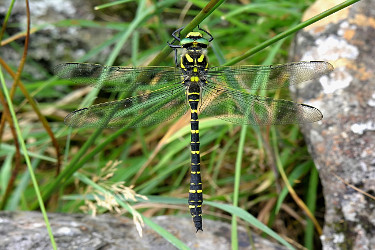 Golden-ringed Dragonfly, Cordulegaster boltonii. A truly stunning dragonfly to encounter, unless you're a smaller invertebrate!
13th

the dog walking area high on Overton Hill drew in an active Kestrel. Also low over fields were the Swallow to the east of here, these over cover crop closer to The Source of The Test; Bullfinch again being heard about the hedgerows here.

14th

a Kingfisher was active about The Test in Southington late morning. Bullfinch were again heard, this time in Two Gate Meadow gardens / hedgerows. To the north of here a Red Kite was seen over the Overton Hill estate, with one over Ashe Hill mid-afternoon.

15th

two Hobby, a Kestrel and Sparrowhawk were seen over the disused cressbeds at Quidhampton, Red Kite and Buzzard being nearby. Two possible Southern Hawker were seen, and heard, as they hit a lounge window in Woodlands; the observer commenting "I have never seen anything like this before. They look quite tropical - Global Warming!!!!". A Hedgehog was again seen visiting gardens in Glebe Meadow. Common Blue were seen about the Community Orchard, both Large and Small White about The Harrow Way, as were Speckled Wood. A Comma roosted in a garden conifer in Woodlands some time prior to dusk. A Large Ranunculus at Turrill Hill Far House was the first of the year noted locally. Red Kite were seen over Ashe, two, Vinn's Lane, The Lynch, Overton Hill and Woodlands. Three Buzzard were seen over St. Mary's Church, one over The Lynch. Several Lesser Black-backed Gull were seen circling over the village, perhaps attracted in by continued ploughing locally.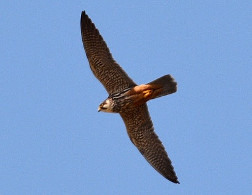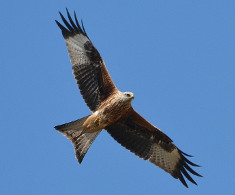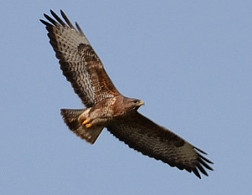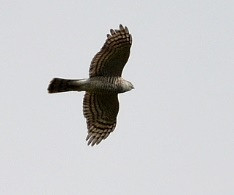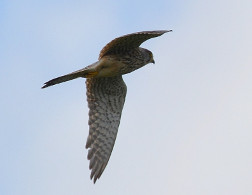 From left to right: Hobby, Red Kite, Buzzard, Sparrowhawk and Kestrel — Pictures: Dave Levy. Five raptor species seen - five photographed!
The Sparrowhawk and Kestrel were seen to 'team up' to mob a Buzzard
16th

the cock Indian Peafowl, two, were seen in Sapley Lane and Dellands. A flock of 19+ House Martin was over the village mid-evening.

Right: Buzzard, Buteo buteo — Picture: Deb Heath. One of the most regularly seen of Parish raptors, often on the ground like this as they forage for invertebrates

17th

Common Blue and Red Admiral were nectaring on blooms in Vinn's Lane, the former also again being seen in the Community Orchard. Up to three Red Kite were seen over Southington, one over Woodlands. Speckled Wood, Meadow Brown and Small White were still to be seen about The Harrow Way.

18th

the Red Arrows flew low south-east over the village late morning. Late morning also saw a Sparrowhawk passing low west through the Overton Hill estate. House Martin were seen to be in reduced numbers compared with previous days. Another Brown House-moth was found in a residential bathroom.

19th

three Green Woodpecker were about the lawns of one Vinn's Lane property, Red Admiral on nearby buddleia. Saxon Wasp were attracted in to cream tea-covered fingers at Southley Farm. A Red Kite moved low over Overton Hill late morning, a further six sightings of these being made late afternoon / early evening, when a Swift, Swallow and five House Martin were seen moving over the village; the Swift one of the latest ever noted in the Parish.

20th

a small Hedgehog was seen in a Two Gate Meadow garden. A 'V' of 13 Cormorant headed north-east over the village early morning.

21st

a Beautiful Demoiselle was on buddleia by The Test in Southington. A hint of autumn came in the form of a Coal Tit seen visiting Parish gardens.

22nd

both Little Egret and Kingfisher were seen about The Test early afternoon, either side of the Southington Lane bridge. A Swift lingered briefly over the village pre-dusk, before moving on to the south-west, Swallow and 160+ corvids also noted moving over. Common Blue again put in a presence in the Community Orchard, both Speckled Wood and Small White being seen at David's Wood.

Right: Swift, Apus apus

23rd

Robin continued to be amongst the first and last birds to be heard every day, ever increasing numbers of them being heard in song at these times.

24th

a further, very late for the Parish, Swift was seen over the village, as were both passage Swallow and House Martin. A pair of Raven was again seen about the stock fields at Turrill Hill. A Little Egret was again in The Test at Southington, Brown Trout also present and Gadwall on the nearby 'garden ponds'. Two Comma were visiting garden brambles by The Test. Purple Loosestrife was still in flower at Parsonage Farmhouse, Fox and Cubs in Silk Mill Lane and Ivy-leaved Toadflax at Dellands House. Opposite the latter the 'pair' of Alpaca was still among the sheep off Dellands Lane. Canada Geese again moved over the village after dusk.

Right: Ivy-leaved Toadflax, Cymbalaria muralis

25th

three Red Kite were seen close to The Source of The Test, as were Bullfinch, with another over Glebe Meadow. Nearby Brimstone, Speckled Wood and Small White were about Straight Lane hedgerows and blooms. Green Woodpecker was / were being seen daily on the grasses of Two Gate Meadow. A Tawny Owl called several times in the Town Meadow area post-dusk.

26th

the Community Orchard proved to be the final resting place for a young Hedgehog. Both Swallow and House Martin remained on the move over the village in to the evening. At the other end of the day, pre-dawn, Red-legged Partridge were seen gathering grit off the B3051.

27th

the fields, hedgerows and copses about Turrill Hill produced, amongst other wildlife, a Raven, a Clouded Yellow over flowering Chicory, dozens of white butterflies over Tansy-leaved Phacelia, up to five male Vapourer Moth, the first Meadow Pipit, two, of the late year period, singing Tawny Owl, several Red Kite and Buzzard, a female Common Darter, Southern Hawker, Roesel's Bush-cricket, calling Blackcap, singing Chiffchaff and flocks of 14+ Linnet and 35+ Goldfinch. Also new for the 'autumn' was a Yellow Wagtail migrating overhead later in the evening.

28th

late in the day ten+ House Martin were still high over the village, several Swallow were seen moving west and Canada Geese were then heard moving low overhead after dark. Three Red Kite and a Buzzard were seen circling over The Source of The Test. Somewhat less obvious was a Wren seen in the building site edge scrub on Overton Hill.

Right: Wren, Troglodytes troglodytes — Picture: Deb Heath

29th

a Grey Wagtail over Town Meadow mid-evening was the first reported for some weeks. A House Martin was also seen heading west during the evening, a flock of 16+ however lingering high over the village. A further flock, of c.50 birds, was seen foraging in stubble, these perhaps either Linnet or Goldfinch. A Tawny Owl about Town Meadow, the now regular female, was again heard late evening.

30th

House Martin remained evident over the village during the evening, a flock of seven+ being seen in the pre-dusk gloom.

31st

both Swallow and House Martin were seen about the village in to the evening, the former however all moving over rather than lingering. A Red Kite was low over the Town Meadow area late morning.
Contributors: Nancy Cathcart-Jones, Brian Elkins, Margaret Elkins, Deb Heath, Alison Hutchins, Peter E. Hutchins & Dave Levy.
September offers...
More migration!
Birds will continue to move through the Parish, warblers, chats, the Swallows and House Martin evident early in the month whilst, as the month closes, the first thrushes from Scandinavia that will overwinter here will arrive - Redwing 'hissing' in the night skies the first hint at the winter!
Waders in the form of Common and Green Sandpiper may drop in to the muddier edges of Parish pools to refuel whereas the leggier species, shanks and godwits, may only be heard as they pass over; the calmer evenings pre-dusk a good time to listen for these.
Both migrant moths and butterflies will appear, over and about the decreasing blooms and perhaps drawn in to the overnight lighting; Ivy flowers will continue to provide a reliable food source for both for many weeks to come. Clouded Yellow will brighten the clouds of 'cabbage' whites, Red Admiral and Painted Lady the aforementioned blooms and, perhaps, Hummingbird Hawk-moth the dwindling buddleia spikes.
Autumn sees deer in rut and so more 'barking' will be heard and further deer will venture in to the busier areas about the Parish - so, please be careful on the roads, especially early and late in the day!
As well as these possible near-misses, Badger, Fox and the mustellids, Weasel and Stoat, will be more active about dawn and dusk; lots to miss as they scuttle from one roadside hedgerow to another.
The Test will continue to provide wildlife in abundance, Brown Trout to be seen off the road bridges, Kingfisher about the overhanging foliage and, perhaps for a lucky one or two, an Otter moving along the banks. Little Egret will appear with ever-increasing frequency and it won't be long before regular reports are once again being received of their presence.
Woodland trees will begin to drop their foliage, the floors to be then covered in leaf litter that will only encourage fungi to increased growth. 'Toadstools' in a variety of colour, shapes and smells will provide extra food for many of the smaller animals, and insects, as well as perhaps for a few of the more knowledgeable locals! The hordes of Sulphur Tuft emanating from the ground / rotting timber may prove very obvious, Stinkhorn less so, though their 'fragrance' may accompany you for some time on your woodland walk!
Even though the days are shortening and the weather being more autumnal there will still be much to see, and hear, so do make the most of that offered by the late summer locally.
As always, enjoy all that there is to be seen, and don't forget to let us, the OBS, know what you've encountered. We look forward to hearing of your sightings, many of which continue to help to brighten the monthly summary.
Peter.