Local sightings
Return to the list of reports
August 2016
1st

a Muntjac was seen in a roadside field at Ashe at 02:42! The same time also saw a Hedgehog near Berrydown, this thankfully being veered past rather than over! Four Pied Wagtail were seen on the Overton Hill cricket pitch, possibly a family group at this time of year.

Right: Pied Wagtail, Motacilla (alba) yarrellii. This a slightly scruffy male! This 'species' is the British version / subspecies of the continental White Wagtail, Motacilla alba

2nd

another grey, dull and drizzly day, but butterflies were still on the wing; Red Admiral, Meadow Brown and two white sp. being about village gardens! An Orange Footman was found in Harveys Field, the first recorded locally this year.

3rd

a Kestrel was seen hunting over the Test Valley Golf Course. One Station Hill garden attracted good numbers of butterfly: Brimstone, Meadow Brown and many Large White being seen there. A Red Kite was over Charledown Road mid-afternoon.

4th

a Raven lingering about the Dellands House rookery late morning was unusual in that local birds generally keep to the more rural areas of the Parish, or are only noted flying over the residential areas. A Fox crossing the B3400 at Ashe Hill early morning almost became a non-Fox! Three larval Cinnabar, on Ragwort in Waltham Court, were the first seen / reported locally this year. Also on the wing were a Red Kite, moving west over Pound Road, and two Buzzard circling over Papermakers mid-morning; one of the latter having a particularly threadbare-looking tail.

Right: The Cinnabar, Tyria jacobaeae. The striking larva, of which few seem to have been seen locally this year

5th

a White-letter Hairstreak, on Ragwort in a Station Hill garden, was the first record of this species in the Parish for several years and so both unexpected and exciting. A Swallow heading south over Two Gate Meadow mid-morning might well have been the first of the autumnal passage birds, unlike at least seven Swift that remained about the village. A Red Kite also lingered, about The Green / Papermakers area during the latter part of the morning. Butterflies were again more evident, Small, Large and Green-veined White, Brimstone, Red Admiral, Peacock, Meadow Brown, Gatekeeper and Small Tortoiseshell being present in gardens. It was far quieter on the moth front, a single Orange Swift being seen as a left-over from the previous night. 20 House Sparrow was a notable gathering, this being in Station Hill gardens where Garden and Red-tailed Bumble-bee and Common Carder Bee were also visiting.

Right: White-letter Hairstreak, Satyrium w-album. A species very much dependent on Elm, which grows in fair numbers on Station Hill

6th

a Kingfisher was about the Filtration Pools early afternoon. Swift were still about Dellands, 11, with a further bird seen moving west over Woodlands late evening. A Buzzard thermalling over Foxdown was 'joined' by seven gliders, another being seen over Ashe woodlands. Roosting moth included Orange Swift, Willow Beauty, Riband Wave and Agriphilla straminella.

7th

of a little more note at one house were a Brown House Moth and fly-over Canada Geese.

8th

Waltham Road provided flowering Enchanter's Nightshade and a Yellow Shell, the latter one of the many day-flying moth to be seen about the Parish during the 'summer' months. Other moths noted, these being generally nocturnal, were Riband Wave and Agriphila inquinatella; the latter one of the 'grass moths' so often disturbed from rank vegetation about the village edges. Red Kite were seen over Two Gate Lane, Winchester Street, on several occasions, and Dellands whilst two Kestrel flew low north over Crawts Road early afternoon, a Sparrowhawk being nearby shortly before. Swift were seen over Dellands and Foxdown, these presumably now migrants as no 'local' birds have been seen for several days. House Martin however still lingered in post-breeding gatherings, though numbers of these were dwindling, excluding the c.100 seen on wires and over crops off Overton hill during the morning. A Blackcap in Elderberry off Dellands, one of their favoured autumnal sources of food, may have been local but was possibly a migrant taking a break for food.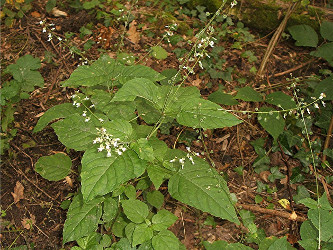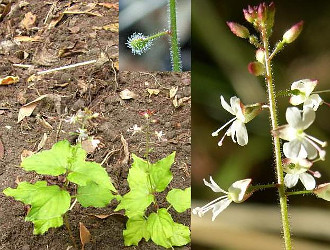 Enchanter's Nightshade, Circaea lutetiana
10th

a Hobby circling high over Dellands late morning was a further sign of the autumnal passage of birds already under way. Other raptors seen today included Red Kite over Papermakers, Charledown Close and Dellands and a Kestrel over Harveys Field. Speckled Bush-cricket, two, were seen in Mede Close where Orange Swift, Riband Wave and August Thorn had been attracted to overnight lighting. A Swift was seen over Woodlands mid-evening - perhaps the last of the year?

11th

two Red Kite were seen over Hazelcombe early afternoon, a Buzzard over Foxdown at noon. One of the Indian Peafowl reappeared, back on the grass banks in Dellands. A Tiger Moth caterpillar was found clinging to a wall in The Green whilst other moth records included the Dusky Thorn, Riband Wave and Orange Swift still in place with a further Orange Swift and singles of Emmelina monodactyla and Agriphila straminella also having appeared overnight.

13th

a Hedgehog was a surprise find in one back garden. A gathering of 45+ House Martin was over The Green during mid-morning. Nuthatch were heard in trees off Winchester Street and Dellands Lane, both unexpected sites for this species, and an Orange Swift was at roost in Charledown Close. A Greylag was heard moving over the village early in the day whilst in the evening a Swift headed rapidly south-east, a further three then being seen on a somewhat less hurried passage over the village.

Right: Hedgehog, Erinaceus europaeus. All too often seen as a victim of traffic this however remains one of the most loved of the British animals

14th

amongst that seen from / in a village back garden today were ...... a Hobby, four+ Red Kite, male Kestrel, female Sparrowhawk, three+ Buzzard, small numbers of migrating / lingering Swallow and House Martin, eggs of both Large and Small White, a female Steatoda grossa ('False Widow'), three Leopard Slug, Gatekeeper, Marmalade Hoverfly and, mid-afternoon, a circling flock of 230+ Rook and Jackdaw.

15th

a Blackbird was the first noted in song post-summer, this early morning. c.15 House Martin were still about Overton Hill whereas Green Woodpecker appeared here-and-there, being particularly obvious in recent days. An Emperor Dragonfly was seen quartering the hedgerow between Pond Close and the Turrill Hill fields. Other invertebrates included several Orange Swift and single Riband Wave and Agriphila tristella. Butterflies were again more obvious, particularly Brimstone. A Buzzard low over Sapley Lane was the best of the birds recorded by one Parishioner.

Right: Brimstone, Goneptryx rhamni. Thought to be the source for the name 'butterfly', this "Butter-coloured fly"

16th

a Red Kite moved low north over Winchester Street late morning, two Buzzard being seen nearby as they circled high on thermals. Two Kite were then seen late afternoon over the Northington Farm area. Butterflies continued to be ever more obvious with Brimstone again being the most frequently seen. Orange Swift, Riband Wave, Garden Carpet and Emmelina monodactyla were all found at roost. Another very warm / hot day.

17th

a Bullfinch was seen at the top of Straight Lane.

18th

a Mistle Thrush was about the conifers at Dellands House, one of very few seen locally for many months. A further Bullfinch was noted, being heard in the woods beyond Overton Hill. Goldfinch were in the dog-walking field on Overton Hill. Robin were now being heard in song on a regular basis, many having 'their' Robin back in their gardens. A Mouse Moth was the 'best' of the lepidoptera recorded, a Roesel's Bush-cricket stridulating in a Woodlands garden being the first ever recorded there.

19th

a Speckled Bush-cricket was seen in Mede Close, other invertebrates noted settled including Yellow Shell, Willow Beauty, Lesser Yellow Underwing, Orange Swift and Riband Wave. A further active Woodpigeon nest was found, this in Two Gate Meadow.

20th

a Common Footman found in Mede Close had unfortunately made the acquaintance of one of the local spiders!

21st

a Bullfinch was seen in the woodland off Overton Hill.

Right: Bullfinch, Pyrrhula pyrrhula. This one of the resplendent males

22nd

a Muntjac was in fields off Court Drove during the afternoon. A charm of c.15 Goldfinch was seen over Overton hill. A Red Kite was nearby, hunting low over the playing fields. Further kite were seen over The Green and Pound Road. A Harlequin Ladybird was on Sedum in The Green. Flounced Rustic, Willow Beauty, Double-striped Pug, Orange Swift and Riband Wave were all found at roost.

23rd

a swarm of Honey-bee in Dellands early afternoon was 'exciting', particularly for the individual that walked through it! A Hedgehog in a Two Gate Meadow garden was the first seen there for five years! Tawny Owl were vocal early morning whereas Goldfinch remained equally as vocal later in the day.

25th

30+ House Martin were feeding over oats on Overton Hill, again possibly including both local and passage birds.

Right: House Martin, Delichon urbica. All too soon to once again have departed the Parish

26th

a Greenshank heading north over The Green mid-morning was possibly the first ever recorded in the Parish. A Speckled Wood was the most unexpected of the butterflies seen today within the village, this as they're usually not seen in the more residential areas of the Parish, favouring woodland edges and rides. Red Kite and Buzzard were making the most of the warmer air currents, as were the many occupants of Popham Airfield - noisy buzzy little 'planes' often seemingly in swarms overhead!

27th

the initial flight over the village by the Red Arrows flushed many pigeon and crow from their feeding / resting places. An Indian Peafowl was again seen in Dellands, atop its favoured fence. Moths found at roost included Old Lady (!), Square-spot Rustic, Orange Swift, Double-striped Pug and the migrant Rusty-dot Pearl.

28th

the Collared Dove nest on the traffic lights was seen to be still occupied and seemingly faring well. A Silver Y was seen to visit a conservatory late morning; a further hint of autumnal migration from across the waters.

Right: Collared Dove, Streptopelia decaocto - Picture: Mike Duffy. On the traffic lights at the High Street / London Road junction

29th

a Large Yellow Underwing visited a conservatory post-dusk. A Red Kite over the High Street late afternoon moved off south-east.

30th

a Small Tortoiseshell in a Station Hill garden was one of few noted recently. Moths noted included Angle Shades, Double-striped Pug and Orange Swift.

31st

two Cormorant moved west over the village early morning. A Red Kite were over Poultons Road / Close early afternoon. Moths found at roost included Square-spot Rustic, Double-striped Pug, Orange Swift and Light Brown Apple Moth, the latter an invader from Australia!
Contributors: Mike Duffy, Deb Heath, Alison Hutchins, Peter E. Hutchins & Margaret Rainford.