Local sightings
Return to the list of reports
August 2015
1st

local Swift made it in to August, being seen over the village centre mid-afternoon.

2nd

a day 'at home' for one saw, amongst others, the following species recorded in, over or from their gardens: Canada Goose, Gatekeeper, Swallow, House Martin, Marmalade Hoverfly, Lesser Black-backed Gull, Swift, Large and Small White, Linnet, Red Kite, Buzzard, 14-spot Ladybird, Holly Blue, Seven-spot Ladybird, Red Admiral, Speckled Bush-cricket, Sparrowhawk, Peacock, Brimstone, Harlequin Ladybird and, a first for the garden, an all too brief Silver-washed Fritillary!

3rd

up to four Red Kite were over the northern, higher, parts of the village early / mid-afternoon.

4th

early morning saw Lesser Black-backed Gull flighting over the village. Later a Blackcap was heard and Red Kite seen about Lordsfield Gardens / Court Drove.

5th

a pipistrelle sp. was on the wing at Berrydown early morning. Also on the wing about the village were nine+ Swift and 30+ House Martin, during the evening, and 120+ Cameraria ohridella; the latter lingering about a single doorway in Foxdown!

Right: Cameraria ohridella - Picture: mike Wall. www.hantsmoths.org.uk. This micro-moth was first recorded in Britain as recently as 2002

6th

late evening had nine+ Swift still feeding, vocally, over the village, smaller numbers having been present / on the move during the day. Insects noted in one garden during the day included Gatekeeper, Large White, Marmalade Hoverfly and Seven-spot Ladybird. A gathering of circling raptors north of the village mid-evening was made up of three Red Kite and five Buzzard.

7th

five Greylag moved low over the village towards dusk, their ringing calls a perhaps pleasant change from the far more expected Canada Geese.

8th

Swift were still present in small numbers over the village during the evening whereas House Martin gathering about the Overton Hill estate during the afternoon numbered in excess of 50, the largest congregation of this species recorded in the Parish this year. A Red Kite drifted west over Winchester Street early afternoon.

9th

the 37,711th submission to the Big Butterfly Count this year saw four+ Large White and a male Common Blue visiting a Woodlands garden, the latter an unexpected visitant there but eventually lingering for 40 minutes! Later Holly Blue, Meadow Brown and Gatekeeper visited, as did a battered Hummingbird Hawk-moth and a huge Hornet! The continuing warmer skies saw two Sparrowhawk, Red Kite, five+, and Buzzard, four+, over the village, as well as small numbers of Lesser Black-backed Gull moving to and fro. Swift were still evident, albeit in diminishing numbers, amongst the Swallow and House Martin.

10th

the skies were dramatically coloured towards dusk, both to the east and west. The latter part of the day also saw Hobby, Stock Dove, Swift, Red Kite, Buzzard, Swallow and House Martin brightening the Parish skies.

11th

another stunning sunset! A Red Kite was over the village early afternoon, being seen from Lordsfield Gardens where Gatekeeper were still visiting garden herbs. The small and attractive geometer Treble Brown Spot was found in Dallence House.

Right: Treble Brown Spot, Idaea trigeminata - Picture: mike Wall. www.hantsmoths.org.uk

12th

Fox and Cubs was still flowering in Pond Close, a Red Kite being seen overhead there.

13th

a lingering Green Shield-bug was seen in Vinn's Lane. A Swift was with House Martin over the Court Farmhouse area during the evening. House Martin were still attending a nest at the HSBC. A Red Kite was over fields at Berrydown.

14th

migrants noted over one garden were Willow Warbler, Sand Martin, Swift, Swallow and House Martin, Red Kite and Cormorant also moving over during the afternoon / evening. A Large White unexpectedly roosted on a Magnolia grandiflora, the latter already suffering from rain damage. A cock Blue Peafowl, currently without its striking train, roamed about the Lion Close area during the day, being seen in Sapley Lane close to dusk. Dark Bush-cricket were 'chirping' post-rain / pre-dusk in Dellands Lane hedgerows.

15th

Small Teasel were in flower at Station Hill. A Red Kite was seen circling over the 'dog field'.

Right: Small Teasel, Dipsacus pilosus. Small Teasel is a very local plant of damp, fairly open woods, especially on calcareous soils, throughout England and Wales. It is absent from Ireland, Scotland and the far south-west of England.

16th

a Swift was again seen over the village, perhaps a fortnight later than might be expected.

17th

a Swift moved north (!) early afternoon. Elm was found growing in small numbers by Waltham Road. Moths seen to be attracted to overnight lighting included Orange Swift and Emmelina monodactyla whilst a day-flying Yellow Shell was seen in Crawts Road.

18th

a Greenfinch seen in one garden was the first there this year; a worrying sign for this species yet again. A single Red Kite broke the Overton airspace for a while. A migrant Chiffchaff was in Dellands. A Willow Beauty and further Orange Swift had been attracted to overnight lights.

19th

a Swift moved south over Winchester Street late morning, a very late local record. Further moth encounters included Flounced Rustic seen in Highfields and a male Vapourer on the wing in Winchester Street.

20th

a Red Kite was over the village early evening, a Grey Wagtail over Winchester Street late morning. The 'mint moth' Pyrausta aurata was seen within flats at Mede Close, a Riband Wave in Harveys Field and a number of Orange Swift in Charledown Close. The cock Blue Peafowl was seen in Pond Close.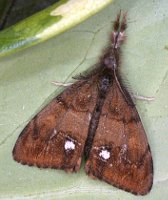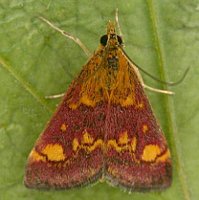 Left: Vapourer, Orgyia antiqua. Also known as the Rusty Tussock Moth - Right: Pyrausta aurata
Pictures: mike Wall. www.hantsmoths.org.uk.
21st

a, perhaps 'the', Red Kite was over the village early afternoon.

21st/22nd

the 'Creatures of the Twilight' event at Polhampton was well attented, both by Parishioners, and those from further afield, and wildlife. Daubenton's, Common and Soprano Pipistrelle were seen and heard, via bat detectors, about The Test and the disused cressbeds whilst the light placed to attract moths in a field near the farm worked well, drawing in a wide variety of invertebrates. Of the latter Rosy Footman, Six-striped Rustic, Swallow Prominent, Garden Pebble, Mother of Pearl, Straw Underwing and White-point were notable amongst the moths whilst water boatmen arrived in numbers and Red-legged Shieldbug, Common Water Strider, the ichneumon Yellow Ophion, several beetle, caddis and mayfly added to the mix of aerial plankton drawn in. Nearby both Speckled and Dark Bush-cricket were in 'song' and prior to dusk 50+ Swallow gathered over the farmland and Canada Geese headed to roost, both male and female Tawny Owl being heard post-dusk.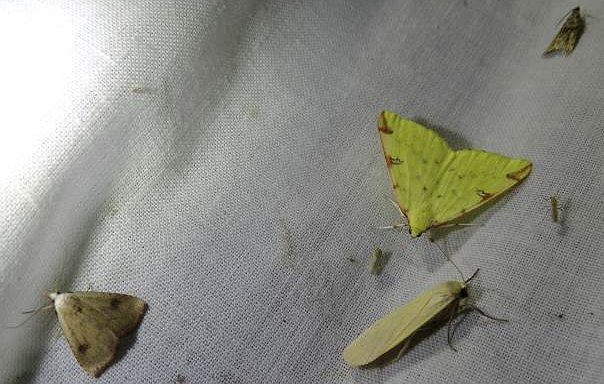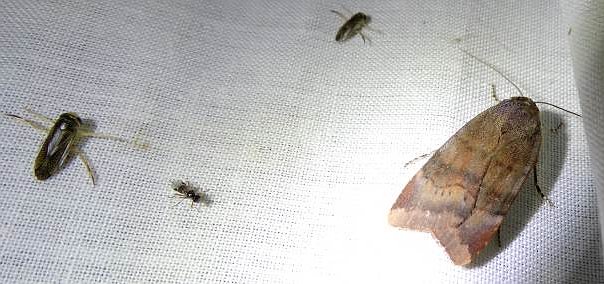 Us, them and White-point, Mythimna albipuncta and Rosy Footman, Miltochrista miniata - Pictures:Doug Kelson
22nd

a Hummingbird Hawk-moth visited gardens towards dusk, a Swift moving south overhead just prior to this being seen. Further moth about village residences included Orange Swift, Agriphila geniculea and Brown House Moth.

23rd

a roadkill Polecat was seen close to the entrance of Ashe Park, so a mustellid worth looking out for; the other recent local record being just over a month ago to the north of the village.

Right: Polecat, Mustela putorius

24th

a Hummingbird Hawk-moth was disturbed from roost in Waltham Court.

25th

mid-afternoon saw a Kingfisher heading rapidly along The Test westwards from Kingsclere Road. A Chiffchaff was in song about the Filtration Pools, perhaps the last to be heard doing this locally this year. Flounced Rustic, Orange Swift and Agriphila straminella were amongst moths left over from the night about village housing.

26th

not exactly 'wildlife' but Chris Evans' 'Dirty Dozen' attracted many to the centre of the village early evening: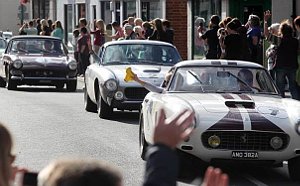 THE MAGNIFICENT SEVEN
1963 FERRARI 250 SWB
1964 FERRARI 250 LUSSO
1965 FERRARI 275 GTS
1966 FERRARI 275 GTB 6C 'ALLOY'
1971 FERRARI 365 GTB4 SPYDER
1973 FERRAI 365 GTB4 COUPE
1989 FERRARI 328 GTS
THE DROPHEAD DROP DEAD GORGEOUS FIVE:
1964 ASTON MARTIN DB5 CONVERTIBLE
1964 DAIMLER SP250 DART
1967 JAGUAR XKSS9
1970 MERCEDES 280 SL PAGODA
1978 ROLLS ROYCE CORNICHE CONVERTIBLE
27th

during the latter part of the morning a Yellow Wagtail, two+ Siskin, Swallow and House Martin were noted moving over the village; the autumnal passage of birds had started! A further migrant in the form of a Painted Lady was seen in Mede Close, attending the heady flowers of a buddleia. Less migratory was the Blue Peafowl, again about gardens / grassed areas in the south of the village.

28th

several Aerial Atom 'buzzed' about the Parish roads! Red Kite were seen over Waltham Road and Sapley Lane. A Garden Carpet was seen in Dellands, another 'stray' from the previous night.

30th

both 14-spot and Seven-spot Ladybird were seen on Fennel flowers, as were Common Wasp, Marmalade Hoverfly and a plethora of smaller winged invertebrates. Three Red Kite low over the Town Meadow / High Street / Woodlands area mid-morning included two birds of the year; the other being a very ragged individual. A Buzzard was on the move low north / north-west over the Town Meadow area late morning.

31st

the August Bank Holiday - rain, of course! The fronts affected the local Swallow and House Martin still present, their foraging confined to lower levels today. A Hummingbird Hawk-moth visited Woodlands gardens on the weather clearing, where both Small and Large White caterpillar were still making the most of Nasturtiums.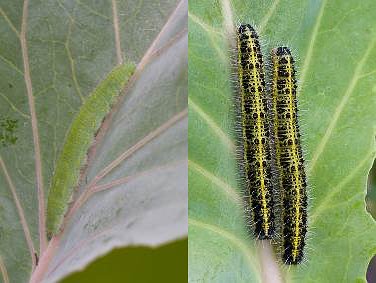 Small White, Pieris rapae & Large White, Pieris brassicae. Look over your Nasturtiums for these 'beauties'!
Contributors: Deborah Heath, Mike Duffy, Rachel Hart, Alison J. Hutchins, Peter E. Hutchins, Doug Kelson, Mike Wall, & Tamsin Williams.