Local sightings
Return to the list of reports
July 2017
1st

three adult and two young Roe Deer were seen in Wheat off Straight Lane, at least one of the doe still present later in the day; "Back end disappearing into Wheat!". Nearby four Red Kite were over The Source of The Test, Kestrel and Yellowhammer were about the Straight Lane hedgerows and fields and a Blackcap was in a hedgerow on Overton Hill. A Hedgehog was visiting Woodlands gardens during the evening. A Chiffchaff was in song at Parsonage Farmhouse, a Blackcap off Silk Mill Lane. Further Red Kite were seen over Bell Meadow and Overton Hill. A Grey Squirrel was also reported from near the Source of The Test — perhaps one of the most regularly noted of Parish animals, but least reported.

Right: Roe Deer, Capreolus capreolus - Picture: Deb Heath. One of the doe frequenting the fields towards the eastern edge of the Parish

2nd

very early morning had an Elephant Hawk-moth visiting a bathroom window. A pair of Coot on The Test off Glebe Meadow had four active young. Up to three Red Kite were reported over the village. One of the Indian Peafowl remained vocal, being heard late evening.

3rd

Silver-washed Fritillary and mating Small Tortoiseshell and Ringlet were seen about Station Road whilst butterfly at David's Wood included Marbled White, Comma, Ringlet and Meadow Brown, a Dunnock being in song there. The / a Blackcap was again seen in the Overton Hill hedgerows. Honeysuckle on Straight Lane hedgerows was in bloom, as evidenced by the increased scent noted; Yellowhammer also again being seen there, as was a Chiffchaff. Two Roe Deer doe were again seen in the Wheat off Straight Lane, as were Skylark. Three Buzzard circled over Two Gate Meadow, another over the Berrydown crossroads. Again, up to three Red Kite were seen over the village. A charm of Goldfinch was seen in Station Road.

Right: Small Tortoiseshell, Aglais urticae - Picture: Deb Heath

5th

late evening saw a Hedgehog visiting Glebe Meadow gardens, another being seen, again after dark, in Dellands. Also nocturnal was the Tawny Owl visiting woodlands tv aerials. Roe Deer, Blackcap, Yellowhammer, Skylark and Song Thrush, Marbled White, Comma, Ringlet and many Meadow Brown were about the fields and hedgerows off Straight Lane. Red Admiral were on the wing on The Harrow Way whilst Meadow Brown and Small White were seen at Little Meadow. The 'annexe' on Overton Hill drew in c.20 House Martin to forage. A Green Woodpecker remained about Two Gate Meadow during the day.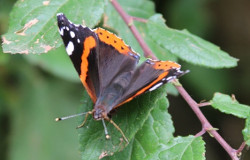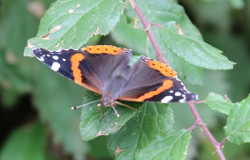 Red Admiral, Vanessa atalanta - Pictures: Deb Heath
6th

a further late evening sighting was of a Muntjac, this in St. Mary's Churchyard. Also during the evening Swift were seen very high over Two Gate Meadow.

7th

the churchyard held many Gatekeeper, Comma and Red Admiral being present about the hedgerows flanking Straight Lane, where two juvenile partridge were found. Perhaps 30 Swift were over the eastern side of the village during the evening, once again remaining high overhead, with two Buzzard noted there earlier in the day, as were calling Bullfinch.

Right: Gatekeeper, Pyronia tithonus - Picture: Deb Heath

8th

the OBS surveying of Cut-leaved Germander at Micheldever Spoil Heaps found less than 100 small plants present. On a more positive note Silver-washed Fritillary and many grasshopper were also recorded there. Two Green Woodpecker, Holly Blue and Red Admiral all visited a Glebe Meadow back Garden, further Red Admiral being seen about one of the Dog Field hedgerows. One garden received its first Gatekeeper of the year.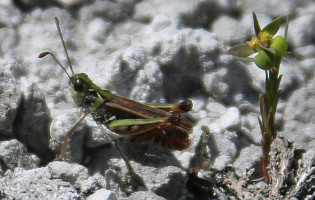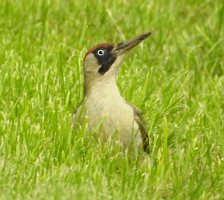 Left: Mottled Grasshopper, Myrmeleotettix maculates - Picture: Deb Heath
Right: Green Woodpecker, Picus viridis - Picture: Doug Kelson. This one frequenting the grassland at The Vyne NT
9th

butterfly were, pleasingly, evident with Essex Skipper, Marbled White, Red Admiral, Gatekeeper, Ringlet, Meadow Brown and Common Blue being reported — though one of the latter made a 'meal' for one of the parishioner's dogs! A Buzzard was seen over the Dog Field. A family party of Pied Wagtail was active about the Polhampton Farm ford, as was a charm of Goldfinch. Nearby a Grey Heron was on the disused cressbeds, a family party of Long-tailed Tit foraging about the waterside vegetation. A Brimstone, the first reported for a while, six Goldfinch and about a dozen House Martin were about the higher reaches of Overton Hill later in the day.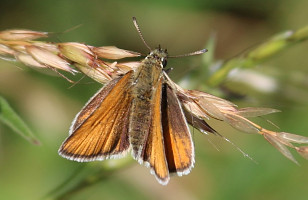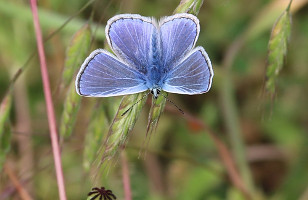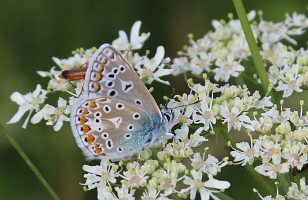 Left: Essex Skipper, Thymelicus lineola. Note the diagnostic 'black' tips to the antenna - this a female and so not showing the further diagnostic feature, the sex brand being short and running parallel to the leading edge of the forewing! Center and Right: Common Blue, Polyommatus icarus - Pictures: Deb Heath
10th

Red Admiral was seen briefly visiting two gardens, Comma another. The fields and hedgerows about Polhampton adding Small Tortoiseshell and Meadow Brown and those off Straight Lane Common Blue. The latter area also held Yellowhammer, Skylark and Bullfinch.

12th

a Kestrel was seen harassing a settled Red Kite at Turrill Hill, the latter eventually moving off.

13th

a Grey Heron flew low east through Town Meadow early morning.

14th

another Grey Heron sighting today, this of one on the pools at Quidhampton. A Big Butterfly Count in one garden produced ?? no butterflies! Red Kite, Swift and House Martin were however on the wing during this butterfly dearth.

15th

both Dark Mullein and Lucerne were in flower about the dog field, Southley Farm.

16th

a Hobby circled eastwards over the village late morning, at least the second seen over the village this year. Red Kite were over both Overton and Hill Woodlands, both late morning.

17th

the hedgerows about the Hop fields south of the village attracted Marbled White, Gatekeeper, Meadow Brown and Small White. A male Kestrel moved east over the village late morning, this or another being heard at Town Meadow pre-dusk.

18th

late evening produced a garden-visiting Hedgehog whilst earlier in the day both Red Admiral and Comma were again visiting gardens. A Red Kite was seen over the Great North Field; one of relatively few recent sightings reported.

Right: Comma, Polygonia c-album — Deb Heath. One of the most striking of local butterfly, especially when seen on the wing in bright sunlight

19th

a Buzzard was on a telegraph post off Dellands Lane. A Green Woodpecker was again vocal about the Town Meadow area early morning.

20th

a / the Clouded Yellow was again seen on the edge of Jackson's Copse. Two Green Woodpecker were in the fields at Turill Hill, a Great Spotted seen visiting a garden apple tree in Glebe Meadow. A Buzzard was flushed from the woodland / hedgerows off Dellands Track.

21st

a Red-legged Partridge was seen foraging on a roadside verge in Lordsfield Gardens, a Red Kite being nearby, low over Glebe Meadow late morning. Several Gatekeeper were seen roosting on Court Drove vegetation in the grey and windy conditions, this also during the late morning. The Collared Dove nest on the traffic lights remained occupied and busy.

22nd

a Buzzard was on the eastern Parish boundary fencing mid-morning.

23rd

walking the fields and lanes towards the eastern Parish edge during the morning saw Marbled White, Common Blue, Ringlet and Meadow Brown on the wing, a Kestrel and Yellowhammer seen and Bullfinch heard.

24th

the 120+ species found about Little Meadow, Overton in an hour's wander mid-afternoon, included Small Teasel, Common Frog, Comma, Roesel's Bush-cricket, a prey-carrying Sparrowhawk, Volucella zonaria, Harlequin Ladybird, Oedema nobilis, Pyrausta aurata and Common Blue. Comma, Common Blue, Speckled Wood, Gatekeeper, Meadow Brown and Small White were on the wing about the fields and hedgerows about Straight Lane, as were Kestrel, Buzzard and Red Kite. And from further afield, one OBS Member having recently returned from Germany: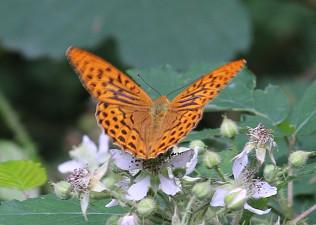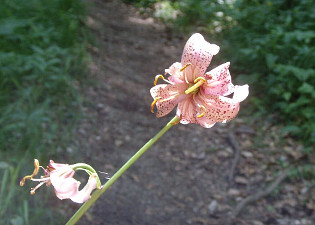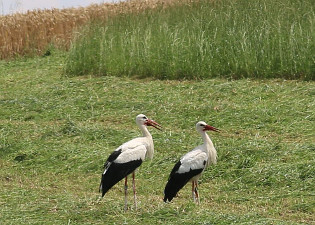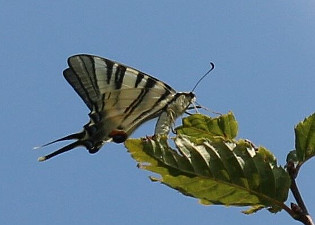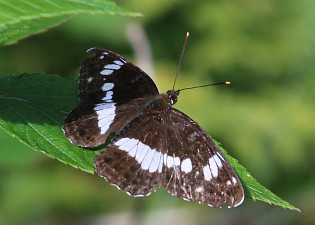 From left to right: Silver-washed Fritillary, Argynnis paphia; Martagon / Turk's Cap Lily, Lilium martagon; White Stork, Ciconia ciconia; Scarce Swallowtail, Iphiclides podalirius and White Admiral, Limenitis camilla — Pitures: Deb Heath
25th

both adult and juvenile Spotted Flycatcher were in vegetation by The Test at Town Mill; the first of this ever-decreasing species being noted in the Parish this year. A Beautiful Demoiselle was on the wing there, less rare, but certainly more extravagantly 'plumaged'! The hedgerows bordering the footpath north from Overton Mill drew in Comma, Gatekeeper, Meadow Brown, Small and Large White. Also there were Brown Hare, Yellowhammer and Swallow. Elsewhere Peacock, Red Admiral, Ringlet and Brimstone were also flying, the latter the first of the late year for the observer. An Old Lady (!) was found in a Glebe Meadow porch. 23+ Swift were over the Lion Close / Dellands area early afternoon when Red Kite were over Kingsclere Road and The Green / Waltham Road, another over Overton Hill mid-afternoon. Two Gate Meadow continued to be visited by charms of Goldfinch. The Buzzard was again on the eastern Parish boundary fencing, this time being noted early morning. The Red-legged Partridge also put in a further appearance in Lordsfield Gardens.

Right: Old Lady, Mormo maura — Picture: Mike Wall www.hantsmoths.org.uk

26th

up to three Tawny Owl were vocal about Two Gate Meadow.

27th

Kestrel and Yellowhammer were seen off the footpath north from Overton Mill, Speckled Wood, Small Tortoiseshell, Red Admiral and Small White off the one leading north from the school. Glebe Meadow gardens were once again being visited by a Green Woodpecker, Bullfinch being nearby, at the school. Also nearby, the Red-legged Partridge was again seen in Lordsfield Gardens. Later in the day at least seven Swift moved south-west over the village.

28th

three Kestrel were about the Dog Field, Turrill Hill. Speckled Wood and Gatekeeper continued to visit Glebe Meadow gardens.

29th

several Red Admiral were seen about village gardens, buddleia again coming in to its own as other garden blooms began to go over.

30th

a pair of Roe Deer was seen in Rut! A Red Kite and two Buzzard were seen over the Great North Field. The / a Buzzard was again on fencing east of Burley Lane mid-morning. Meadow Brown and Small White were also seen on the wing about the village.

Right: Roe Deer, Capreolus capreolus - Picture: Deb Heath. "Have fab pics but probably not for open viewing!"

31st

a Swift moved west over the High Street mid-evening. Further Red Admiral were seen visiting gardens, as were lesser numbers of both Gatekeeper and Meadow Brown. Bullfinch again appeared, this time at David's Wood.
Contributors: Brian Elkins, Margaret Elkins, Deb Heath, Alison Hutchins, Peter E. Hutchins & Doug Kelson.
August offers...
Movement — of birds moving off to the south, both those that have spent the 'summer' about the Parish and those from further north that are passing through towards their wintering grounds, perhaps as far distant as South Africa!
Birds to look out for carrying out this amazing journey include the anticipated Swallow, House Martin and Swift - don't forget to note down when you see the last of these. Joining them may be birds such as the closely-related Sand Martin and others such as Spotted Flycatcher, Willow and Garden Warbler, Whinchat and Stonechat that will frequent the scrub and shrubs, Common and Green Sandpiper, about the muddier edges of local watering holes, and, overhead, Osprey, other raptors and gulls. The more open areas of water could attract in the bizarrely named Garganey and it won't be too long before the wintering duck also being to appear!
The latter, the larids, will also become more evident about Parish fields, especially those being worked upon. As they wait for titbits kite, Buzzard and even Kestrel may join them in their foraging.
About the Parish farmland and waters watch out for the activities, often nocturnal, of the likes of Brown Hare, Red Fox, Water Vole and both Stoat and Weasel. All too often the 'animals' about the Parish remain hidden, but with the lengthening nights, less clement weather and the young of the year moving away from their natal areas the opportunity to connect with these increases.
Both blooms and butterflies will continue to colour the verges, pasture, meadows and gardens, though numbers of the former will once more drop-off towards as the month progresses; though we may well be seeing some of the species well in to the coming autumn. Did you carry out your Big Butterfly County in the last fortnight or so? If yes, do let us know how it went, particularly as so many are reporting low numbers, once again.
Look out for the heads of broomrape poking out from the going-over roadside grasses —a plant lacking chlorophyll that obtains its nutrition from the roots of the plant it's parasitizing. Knapweed remain more than evident, their striking blooms drawing in many invertebrates, as do the umbels of such plants as Fennel, Cow and Wild Parsley and Wild Carrot; a good place to look for Thick-legged Flower Beetles!
Further invertebrates will be obvious after dark, the moths particularly so. The latter attract in numbers of bat about the village, The Test about Southington Lane an exceptional place to see several species of these, as will be proven yet again on the Basingstoke Watch Group visiting for evening activities.
If you'd be interested in seeing what moths, and other invertebrates, visit your gardens as the summer wanes do let us know, as there are both traps and people out there available to help you with this.
As always, enjoy all that there is to be seen, and don't forget to let us, the OBS, know what you've encountered. We look forward to hearing of your sightings, many of which continue to help to brighten the monthly summary.
Peter.