Local sightings
Return to the list of reports
July 2014
1st

a Grey Heron was on the water meadows south of Ashe.

2nd

a dozen+ House Martin were over Lordsfield Gardens early morning, one of just two sites in the Parish where 'colonies' are to be found this year. Have you had any take up residence in your area this year? The lowest temperature of the month was recorded early morning, just 7.1°C.

3rd

Great Spotted Woodpecker were paying daily visits to one lucky local's garden.

Right: Great Spotted Woodpecker, Dendrocopus major - Picture: Deborah Heath. An adult female superbly captured here

4th

a Common Blue visited gardens in Woodlands.

5th

good numbers of Marmalade Hoverfly were to be seen about flowering brambles, between showers. A Red Kite lingered over the village north of Town Meadow mid-morning. Green Woodpecker remained vocal about Dellands, Kerchers Field and Oak Park, Great Spotted Woodpecker being heard nearby. Moorhen, Coot and Mallard young were evident on and about the pools off Southington Lane. Red Currant were seen to be developing well in the Dellands Lane hedgerow. The lack of Tree Bees was noted by one, the cotoneasters they were favouring now having moved on to berry-bearing, rather than flowering.

6th

a larval Vapourer in Tamarisk in Dellands became the second 'exotic-looking' caterpillar found in the village in a week or so. A Red Kite lingered low over the village early evening, this individual looking a little ragged about the tail and wings as the post-breeding moult kicked in. A Garden Carpet visited one bathroom late in the evening.

Right: The Vapourer, Orgyia antiqua. Also known as the Rusty Tussock Moth

7th

a Ringlet was an unexpected visitor to one conservatory.

8th

a Stone-curlew was seen to still be on site north of the village.

Right: Ringlet, Aphantopus hyperantus. Appropriately named! At present most likely to be confused with the much more frequently recorded Meadow Brown

10th

at least four Glow Worm were seen in the churchyard.

12th

eight attended the annual Cut-leaved Germander Survey at 'The Chalkies' when just 69 plants were found to be present, a dramatic decline compared to the surveying carried out two years previously; the count being called off due to inclement weather last year. It is initially thought that the heavy rains earlier in the year washed away the seeds and seedlings, leaving few to progress as the spring continued. The majority, 62+%, were found on the more sheltered and more even gradients of the disused car park! Also noted during the time on site, amongst others, were Red Hemp-nettle, Scarlet Tiger, Pyrausta nigrata, Mottled and Woodland Grasshopper, Dark Bush-cricket, Six-spot Burnet, Cinnabar, Silver-washed Fritillary, Viper's Bugloss and Marbled White. A Nightingale was reported singing from Waltham Road towards dusk.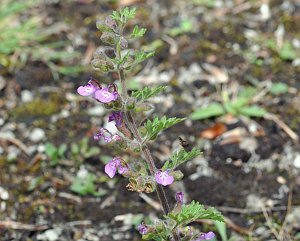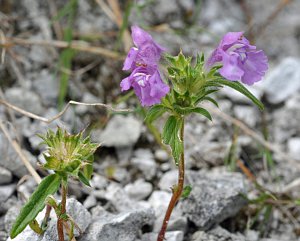 Left: Cut-leaved Germander, Teucrium botrys. Classified as Vulnerable in Great Britain and fully protected under Schedule 8 of the Wildlife and Countryside Act, 1981.
Right: Red Hemp-nettle, Galeopsis angustifolia
Pictures: Dave Pearson.
13th

although Swift were still being seen regularly over the village it'll only be a matter of a fortnight before they all move on.

Right: Swift, Apus apus - Picture: Barry Stalker. "What I did find interesting was the number of swifts in the Overton area — by far my highest count of the year with upwards of 25 screaming birds in the sky at any one time". http://www.surfbirds.com/community-blogs/Basingstokebirding/

14th

the evening saw gatherings of both House Martin, ten+, and Swift, eight+, over the village. There was no sight or sound of the Waltham Road Nightingale, just Blue Peafowl and Woodpigeon heard 'singing' as darkness fell, their musical renditions presumably not appreciated by the bats already on the wing. A Comma visited at least one Woodlands garden.

15th

a Small Copper was seen in the 'dog field'. Flying ants were seen erupting from lawns.

16th

a further Scarlet Tiger was seen in a village garden. A party of eight Linnet moved south over Town Meadow mid-evening.

Right: Scarlet Tiger, Callimorpha dominula - Picture: Deborah Heat. Now looking just a little worn!

17th

the hottest day of the year to date — the 'weather station' at Mallards recording a high of 33.1°C late afternoon.

18th

House Martin were heard about Dellands House / Lane, the first noted there this year.

19th

a male Kestrel was again hunting over fields near Jackson's Copse, the more regular haunt of both Buzzard and Red Kite. The Big Butterfly Count started — did you?

20th

roadside verges north of the village were heavily coloured with purples, blues and pinks; willowherb, scabious and campion being amongst the colour providers.

23rd

c.50 'caterpillar' making the most of garden roses were possibly larval sawfly. Four+ Red Kite were seen over fields to the north of the village, the total noted perhaps being as high as nine.

24th

a Large White was the latest butterfly to be recorded inside a house, a Gatekeeper taking its place a little later, as did a Small White even later! Another 'real' summer day!

25th

a probable Magpie Moth was seen on walking Court Drove. A Brown Hare was seen off Court Drove whilst both Red Kite and Kestrel were seen nearby; the latter by far the least commonly encountered of the raptors in the Parish at present. The House Martin 'colonies' were still active in Lordsfield Gardens, a dozen+ birds being seen on the wing there. Rain!!!

26th

a much appreciated barbecue at Mulberry Cottage was enlivened by a Kingfisher passing by several times, a Sparrowhawk hunting down Southington Lane and the Black Mulberry in the garden, already developing its blackberry-like fruits. Both Swallow and Great Spotted Woodpecker were also present on a number of occasions.

27th

late night had one of the local Little Owl becoming vocal once again.

28th

a Red Kite was already on the moved at Frost Hill by 05:20. Later in the day a Green Woodpecker was vocal near Town Meadow and Robin were again heard in song.

29th

early morning again saw Red Kite active, two being over the fields by The Harrow Way 'crossroads' whilst a bird was over fields north of Berrydown early evening.

30th

early evening had two Red Kite over the fields north of the Kingsclere Road railway bridge.

31st

the verges north of the village were beginning to dull, dock, umbellifers and others going over and adding an autumnal shade to the roadside.
Contributors: Nancy Cathcart-Jones, David Cluett, Graham Dennis, David Fee, Deborah Heath, Alison Hutchins, Peter E. Hutchins, Veronique Kerguelen, Adrian Lewis, Liz Lewis, Ken MacKenzie, Mallards Weather Station, Dave Pearson, Margaret Rossiter, Jean Scrivener, Barry Stalker & Simon Yates.