Local sightings
Return to the list of reports
June 2016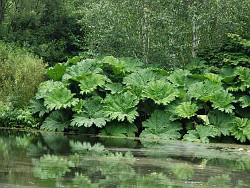 1st

Green Woodpecker were seen in Two Gate Meadow and Kerchers Field. A Wren was in song, nothing unusual in this, but it was atop a TV aerial! Both Blackcap and Chiffchaff were in song at Riverside Close where Gunnera was evident about the banks of The Test. A pair of Grey Wagtail was active about Glebe Meadow where a further Chiffchaff, and a Goldcrest, was in song. A Kestrel was over Town Meadow mid-afternoon, a Red Kite over Lion Close a little earlier.

Right: Gunnera sp.

2nd

an immature Blue Tit had to be rescued from the road at Nightingale Rise, eventually 'flying' off in to nearby garden shrubs. Both Blackcap and Chiffchaff were in song at Two Gate Meadow, a further Blackcap in song at Smith's Field / Waltham Road. Red Kite were noted over Sapley Lane, Pond Close and Winchester Street. A Buzzard was over Town Meadow late afternoon. The Indian Peafowl were in Sapley Lane and Dellands.

3rd

nine+ Red Kite over the Crawts Road area constituted the largest gathering about the Parish for some time, four having lingered over the village late morning. A Blackcap was singing in Waltham Road scrub. Gold Swift and Pale Tussock were found at roost on Mede Close flats. A Buzzard was over Hyde Hill Plantation late afternoon. A displaying Indian Peafowl was in Dellands, somewhat vocal and extravagant compared to the birds about it.

4th

Gold Swift, Pale Tussock, White Ermine and Garden Carpet were amongst the night-flying moths seen roosting during the day. A Green Shield-bug was not as well camouflaged as it seemed to believe on Charledown Road garden vegetation. A Nuthatch was heard in the Town Meadow area, this still remaining an infrequently recorded bird about the village. A Green Woodpecker was seen probing for invertebrates amongst paving stones in Glebe Meadow. The Two Gate Meadow Chiffchaff was still singing, a Blackcap nearby, also in song, in Waltham Road scrub. Red Kite were seen over The Green, Waltham Road, Pound Road / Winchester Street, Winchester Street, Sapley Lane and Alexander Road, four+ late morning, Woodlands and Berrydown Court; two Buzzard with the Sapley Lane bird early afternoon. The cock Indian Peafowl was seen displaying in Dellands, the local Woodpigeon however not appearing to be too impressed, or perhaps just a little overawed!

Right: Blackcap, Sylvia atricapilla. One of the more appropriately named warblers, although the females and young have chestnut caps!

5th

Peacock, butterfly that is, was seen in hedgerows at Overton Hill. Ivy-leaved Toadflax was spreading widely, now in flower, about the upper surfaces of the walls surrounding Dellands House. Nearby the verges of Dellands Lane held Hedge Woundwort, Cow Parsley, Herb Bennet, Herb Robert, Greater Stitchwort, Common Nettle, bramble, White Dead-nettle, Ivy, White Bryony, Cleavers* and the remnants of the earlier flowering Daffodils.
* Also being known as Clivers, Goosegrass, Catchweed, Stickyweed, Sticky Willy, Sticky Willow, Stickyjack, Grip Grass, the more recent Velcro Grass and the more bizarre Robin-run-the-hedge!

6th

a Painted Lady moved over Pound Road early afternoon. Other invertebrates of note included a Cinnabar trapped within flats at Charledown Close, released of course, and Salticus scenicus still evident about door frames in several areas. A Kestrel was circling over the near-rural end of Waltham Road early afternoon. Four Blue Tit fledged from a garden nestbox over the weekend, House Martin being seen still prospecting for sites later in the day. Red Kite were over Waltham Road, Winchester Street, two, Highfields / Winchester Street, four and Dellands, two, whilst Buzzard were airborne over The Green and Dellands.

Right: Painted Lady, Vanessa cardui - Picture: Mike Duffy. This a further worn individual found on Crookham / Greenham Common early in July.

7th

ten+ Swift were over Mede Close, the largest local gathering to date this year, where a Common Marbled Carpet was the first recorded of the year. A male Kestrel chased a Red Kite southwards over Woodlands late afternoon, it then moving off westwards as two further kite moved north, before returning to mob a further kite shortly afterwards; a Buzzard also in the air over the houses at this time. Further Red Kite were seen about Two Gate Meadow, Winchester Street, Pound Road, two with three Buzzard, Dellands, north of Dellands, Winchester Street and Berrydown Court, Buzzard also being over Ashe Hill and Two Gate Meadow. The two cock Indian Peafowl were at either end of the residential parts of Sapley Lane early afternoon.

8th

a Ghost Moth, in Charledown Close, was presumed to have come from nearby fields; the lengthier grass there a suitable habitat for them; Pale Tussock and Common Plume also being found on residential roost sites during the day. A Grey Heron moved over the village during the evening. A Garden Chafer adorned Harvey's Field garden blooms. The Chiffchaff was still in residence at Two Gate Meadow, still seeking a mate. Red Kite were seen over Waltham Road, Sapley Lane, Dellands, Woodlands and Town Meadow.

9th

recent sightings from Station Road, where some of the gardens abut The Test, included two Water Vole and an Eel. A telegraph pole at Bell Meadow was being used as a nest site for Great Spotted Woodpecker. A Blood-vein in Charledown Close was one of the first noted locally this year. Two Red Kite were over Winchester Street early afternoon, two Buzzard over Pound Road late morning. Further kite being seen later in the day over Poulton's Close and again over Winchester Street.

10th

a family party of Linnet eventually left their nest site in a somewhat forlorn looking Woodlands garden conifer. Three Chiffchaff were singing off Dellands track where Bullfinch were also heard. A Grey Heron moved slowly east early evening. Red Kite were seen over Southington and Woodlands. A Buzzard circled over Hyde Hill Plantation mid-afternoon. The micro-moth Anthophila fabriciana was seen on Common Nettle, hence its colloquial name, Nettle-tap.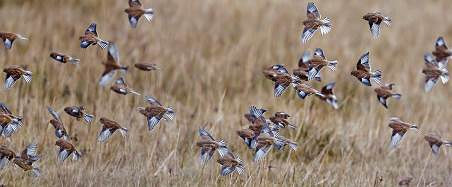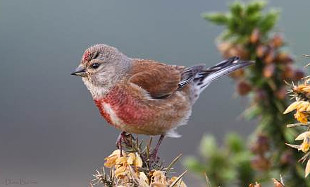 Linnet, Cardeulis cannabina.
The flock captured here now far less likely to be encountered, this one of many farmland species whose numbers have plummeted in recent decades. The singleton is a male.
11th

a recently seen Roach in The Test near Town Mill was notable, being the first reported from this area of the river; a shoal of c.20 having previously been reported from the next beat upstream. Chiffchaff were in song at Two Gate Meadow and Dellands track. Although butterflies remained rarely seen moths were growing in numbers, Scarlet Tiger, Small Magpie, Gold Swift, Brimstone, Yellow Shell, Treble Brown Spot, Small Dusty Wave and Scoparia ambigualis amongst those seen during the daylight hours. Fox and Cubs were flowering in huge numbers on the 'wilder' parts of Overton Hill. Red Kite were seen over Two Gate Meadow, Dellands, two, Charledown Close and the High Street.

Right: Roach, Rutilus rutilus. The roach, also known as the Common Roach, is a fresh and brackish water fish of the Cyprinidae family, native to most of Europe and western Asia.

12th

a Stoat was seen by the Test Valley Golf Club during the evening; the first report of this species in the Parish this year, though there must be many 'hiding' locally. Another raptor was seen harassing local Red Kites, this time a Sparrowhawk over Glebe Meadow. The family of Linnet in Woodlands were becoming ever more active, the young, at least three, moving to and from their nest to other nearby gardens and remaining very vocal. A Red Kite was over Station Road mid-afternoon, one over the Town Meadow area soon after.

13th

a Volucella pelucens was seen sheltering from the early afternoon rain in Charledown Close. A Kestrel was hunting over Sapley Lane gardens. Red Kite were seen over Two Gate Meadow, two, Pound Road, Winchester Street, two, Dellands, Pond Close / Sapley Lane, two, and Sapley Lane Playing Field by early afternoon. Overnight lighting attracted in Treble Brown Spot and Small Magpie to flats in Mede Close. Fox and Cubs were found flowering in a further site, Harvey's Field. Goldfinch remained vocal in Two Gate Meadow, a Song Thrush in Flashetts. Greenfinch were seen in the hedgerows by the school.

Right: Volucella pelucens. One of the more easily identifiable of the local hoverfly.

14th

several Small Magpie were found at post-dawn roost sites. Red Kite were noted over Pound Road, two+, Pond Close and Town Meadow. 9 / 11 Dellands remained the favoured spot for one of the Indian Peafowl.

15th

sad news received today was of an Otter found as a roadkill during the past week; the first confirmed record within the Parish for some time, though there was evidence of Otter activity during the winter about at least one garden pond. On a slightly more cheerful note a Speckled Wood, the first in the village this year, was seen in Two Gate Lane, a Small Tortoiseshell in Waltham Court. Fox and Cubs was seen in flower in Winchester Street and Harvey's Field. Pale Tussock, Small Magpie and White Ermine were the 'best' of the moths seen clinging to outside walls. A Chiffchaff was singing in the roadside scrub off Waltham Road.

Right: Otter, Lutra lutra. Something to look out for!

16th

Small Tortoiseshell and Large White were feeding in Pound Road gardens, a Red Kite overhead there, as they were over Winchester Street and Pond Close. Both Blackcap and Chiffchaff were obvious about the hedgerows leading from Polhampton towards David's Wood. Moths lingering after dawn included Large Yellow Underwing, Small Dusty Wave and Chrysoteuchia culmella; the latter one of the 'grass moths'.

17th

Red Kite were seen over Overton Hill Waltham Road, Hazelcombe / Pound Road, Winchester Street and Woodlands. Treble Brown Spot and Celypha striana were still present after coming in to lights overnight. Two partridge sp. were on the track between Kingsclere Road and Court Drove. Moorhen were seen to have two young in Flashetts.

18th

Skylark were strongly in song, the heavy clouding seemingly not dampening their 'spirits'. Also still in song was the Town Meadow Chiffchaff. A Sparrowhawk circled low over Woodlands early evening, as did a Red Kite.

19th

a Muntjac was seen in cereals, both Skylark and Yellowhammer being in song nearby. House Martin were feeding over The Test at Lower Ashe, the houses here A Great Spotted Woodpecker was about the trees off Silk Mill Lane. One of the peafowl remained vocal after dark.

20th

a pair of Spotted Flycatcher was present in woodland off The Harroway; this now a very rare summer visitor to the Parish / Borough. The dramatic drop in their numbers, and not just locally, being highlighted by a local birder, Barry Stalker, twitching these from Basingstoke! In the early morning inclement weather Swift were seen moving low overhead, groups of 65+ and 25+ being noteworthy. Further migrants were however still on territory, both Blackcap and Chiffchaff continuing to sing. Nettles alongside the footpath past the mill held the first Peacock caterpillar noted this year, five gatherings of these totalling perhaps in excess of 200 immature butterfly. A pair of Grey Wagtail was seen about the pools at the mill mid-morning, a further bird about The Test at Kingsclere Road later in the day.

Right: Spotted Flycatcher, Muscicapa striata. Only spotted as youngsters!

21st

a Common Spotted Orchid was found flowering in a Dellands front garden. The first Meadow Brown of the year was seen, unexpectedly in a front garden at Crawts Road. White Ermine and Riband Wave, both moths, were found on Mede Close flats. Red Kite remained obvious about the village, singletons being seen over many of the residential areas. Even more obvious were the two cock Indian Peafowl, still without partners, and letting everybody know this!

22nd

a Fox was seen at the end of Berrydown Lane. A Ringlet was the first to be seen locally this year. A Sparrowhawk moved off towards Ashe over Hazelcombe. Red Kite were seen over Two Gate Meadow, where the Chiffchaff was still in song, Poultons Road and, two, the Alexander Road / Pound Road area. Another Chiffchaff sang at Town Meadow, the Indian Peafowl about the roads, verges and gardens south of Dellands. Moths brought in to residential outside walls by night lighting included White Ermine, Bee Moth, Riband Wave, Small Dusty Wave and Celypha striana.

23rd

a Sparrowhawk drifted low over Two Gate Meadow where the Chiffchaff continued to serenade the residents, presumably still however to attract a 'friend', as was also the case for a bird off the Dellands track. A pair of House Sparrow was still attending young in a nest box; their second brood of the year. Red Kite were seen over Pound Road / Highfields, two, Kings Meadow, Dellands, Poulton's Road and Ashe.

Right: House Sparrow, Passer domesticus. Taken far too much for granted, another species that's become seriously depleted in numbers in recent times - this immature with a Wren, Troglodytes troglodytes.

24th

a small moth found in The Green had the impressive name of Choristoneura hebenstreitella! Other moths seen included Bee Moth, Treble Brown Spot, Double-striped Pug and Small Dusty Wave, no butterfly again being seen / reported. A Scarlet Tiger favoured Astilbe in a Woodlands garden. A Red Kite was over Two Gate Meadow mid-morning, another at Poulton's Road early afternoon. A Chiffchaff was holding territory about the vegetated edges of Town Meadow.

Right: Variegated Yellow Archangel, Lamiastrum galeobdolon subsp. Argentatum

25th

two Scarlet Tiger were in thick garden vegetation in Woodlands. Riband Wave and Treble Brown Spot were found after being attracted to walls by overnight lighting. A Red Kite lingered about Waltham Road late morning. Blackcap, Chiffchaff and Song Thrush were in song about David's Wood and Flashetts.

26th

a larval Vapourer was found feeding on Alchemilla mollis in a Woodlands garden where a Scarlet Tiger lingered. Several Red Kite were on the wing over the village during the morning, a male Sparrowhawk being seen later in the day, hunting low through gardens, and a Buzzard over the fields at Ashe at midday. A Chiffchaff was singing about the Town Meadow area.

27th

Scarlet Tiger were found in Woodlands and Alexander Road gardens. A male Sparrowhawk was also using gardens, as its chosen hunting area towards the southern extremes of the village. Three Small Tortoiseshell were seen about further gardens. Other lepidoptera seen today included Large Yellow Underwing, Buff Ermine and Treble Brown Spot. Yellowhammer were still to be seen about Straight Lane, even though their favourite song post / tree had gone for some time now. A further roadkill occurred overnight, a Fox at Ashe Hill, with, somewhat perhaps less notable, a Brown Rat coming to the same end in Waltham Court. Red Kite were over Greyhound Lane and Nightingale Gardens, obviously yet to discover the ill-fated Parish resident already noted! The Chiffchaff was still singing strongly at Two Gate Meadow where a Great Spotted Woodpecker was visiting garden feeders.

28th

a male Kestrel was again seen to harass Red Kites, this time over the Town Meadow area, before moving off to hang in the air 00's of feet above the village.

29th

a Ringlet, flying in the rain, at Papermakers was only the second to be noted locally. A Scarlet Tiger was in Dellands, a Buff Ermine in Mede Close. Red Kite were on the wing over Frost Hill and Straight Lane. The Chiffchaff remained on territory at Two Gate Meadow.

30th

as many as 23 Glow Worm were, appropriately, glowing in St. Mary's Churchyard late in the evening. Nearby Daubenton's Bat were detected hunting over The Test off Bridge Street. A Hedgehog was seen crossing Winchester Street, between Pound Road and Highfields, also late in the day. The Chiffchaff at Two Gate Meadow finished the month as it had started, in song; others being heard, also in song, at the railway station, Flashetts and Station Road filtration pools. Further Ringlet were seen, in David's Wood. Two Small Tortoiseshell were seen in a Foxdown garden. Moths noted about the village included up to three Scarlet Tiger, Small Dusty Wave and Common Plume. Red Kite were seen at Upper Whitehill, Winchester Street, Station Road, Station Hill and Hill Meadow, the latter area also attracting three Buzzard.
Contributors: David Cluett, Joy Cluett, Brian Elkins, Margaret Elkins, Deborah Heath, Alison Hutchins, Peter E. Hutchins, Cynthia Morris, Nick Parnell-Smith, Barry Stalker & Rob Taylor.