Local sightings
Return to the list of reports
May 2017
1st

a flock of nine+ House Martin fed over the village late afternoon; the largest such gathering yet noted this spring. A single Swallow moved low north over the village, also late afternoon. A Speckled Wood was on the wing about the 'ride' at Dellands Track. An Early Grey was the latest moth to be seen on continued 'trapping' in one garden. Roadside verges about the village were becoming blanketed in a white froth of Cow Parsley. A little colour was added to several verges in the form of Greater Celandine, a duller and later flowering plant than its more regularly noted namesake, Lesser Celandine. Both Blackcap and Chiffchaff were still in song about the quieter parts of the village, though one of the former was about the scrub between Kings Meadow and Harveys Field. A Kestrel lingered about the St. Mary's Church area whilst Red Kite and Buzzard were seen over a wider range, a Grey Heron thermalling upwards and eastwards later in the afternoon.

2nd

Orange-tip and Speckled Wood were about the woodland edges at Dellands Track, as were singing Blackcap and Chiffchaff. Nearby a pair of Swallow appeared settled about the stables off Vinns Lane. A Scalloped Hazel was the only moth to appear during overnight moth trapping. A Mistle Thrush was seen about the Parsonage Farmhouse Rookery, before dropping towards the Turrill Hill fields. Red Kite, Sparrowhawk and Buzzard were all seen over the village.

Right: Mistle Thrush, Turdus viscivorus. Note the much 'colder' plumage tones compared with Song Thrush

3rd

a doe Muntjac was seen at Two Gate Lane. A Kestrel was seen hunting at Southley Farm, both late morning and mid-afternoon. Poplar Hawk-moth, a male Muslin Moth, Hebrew Character and Shuttle-shaped Dart were trapped overnight, as was yet another Cockchafer. Yellowhammer, Skylark and Song Thrush were all in song about / off Straight Lane.

4th

a Cuckoo was in song off Southington Lane early evening, Blackcap and Goldcrest about Town Meadow earlier in the day. The Cuckoo was also heard in the Lordsfield Gardens / Glebe Meadow area. A Grey Heron was about the waters at the bottom of Straight Lane. One of the Indian Peafowl was seen by the Sapley Lane Spar.

7th

both Orange-tip and Peacock were seen about the Kingsclere Road hedgerows. Both Mistle Thrush and Red Kite were seen about Two Gate Meadow / Lane, the thrush much rarer locally than the raptor!

8th

a Swift and two House Martin over the village were presumably newly-arrived migrants, unlike the singing Blackcap at Town Meadow. Seraphim and Scalloped Hazel were the best from the overnight mothing, an Orange-tip being seen about The Harroway. Red Kite were seen over Woodlands and Overton Hill, a Buzzard over the Overton Hill pavilion. Goldfinch were evident about Court Drove.

9th

12+ Swift and a Red Kite, not together, were circling over the village early evening. Two Shuttle-shaped Dart and a Cockchafer were trapped overnight. Skylark were voluble over fields either side of Straight Lane, where Orange-tip, Small Tortoiseshell and Large White were also on the wing.

Right: Common Cockchafer, Melolontha melolontha. Hello!

10th

three Swift were over the village centre mid-morning, this number building to five by midday.

11th

a female Cuckoo was heard 'bubbling' off Southington Lane mid-morning. Further signs of spring were two Red Admiral, seen near The Test.

12th

a Great Spotted Woodpecker was seen in the dog-walking area on Overton Hill.

13th

a Greenfinch was by the ford at Polhampton, perhaps taking advantage of the clear and shallow waters there.

14th

a Lapwing, perhaps four+ Red Kite, handfuls of Swift and House Martin and a Buzzard were seen over the village during a further day of spring-like weather. The weather also encouraged Chiffchaff, Yellowhammer, Skylark and Song Thrush in to song about the fields and hedgerows of the Straight Lane area, Long-tailed Tit also being seen in the latter there. Poplar Hawk-moth, Orange Footman, Bright-line Brown-eye and Scalloped Hazel were attracted to a garden-based moth-trap overnight. The pustules caused by the mite Aceria macrorhynchus were seen on Sycamore flanking Town Meadow.

Right: Aceria macrorhynchus on Sycamore, Acer pseudoplatanus

15th

a mixed flock of Swift and House Martin was feeding over the village in deteriorating weather mid-afternoon. An Orange-tip visited Glebe Meadow gardens. Three broods of Mallard were seen on the disused cressbeds at Polhampton. A Red Kite was seen to be harassed by corvids over the dog field. At least one of the Indian Peafowl continued to voice its need for a 'friend'.

16th

Garden Pebble, Common Marbled Carpet, Codling Moth, Treble Lines and Notocelia cynosbatella were all new for the year in the only moth trap being run in the village, Poplar Hawk-moth and Cockchafer again putting in overnight appearances. A Red Kite was circling low over the Court Farm area late morning.

Right: Garden Pebble, Evergestis forficalis - Picture: Mike Wall. www.hantsmoths.org.uk

18th

an Angle Shades was found roosting on a front garden fence. A Buzzard was atop a dead tree in the Overton Hill dog-walking area. One of the Indian Peafowl was, as usual, vocal before most left the house for the day.

19th

a Cuckoo was again heard at Polhampton. Swift and House Martin remained over the village, in small numbers, with Skylark still evident about the crops off Straight Lane. Nearby both Chiffchaff and Song Thrush remained in song. A Bullfinch was also heard, this by the football fields atop Overton Hill, whilst Yellowhammer were still "A little bit of bread and no cheese"-ing east of here, also off Straight Lane.

20th

Fox and Cubs were flowering large numbers about the Overton Hill estate grasslands, Woody Nightshade, 'Bittersweet', by The Test by the tennis courts. The Town Meadow Blackcap remained in song, as did Indian Peafowl further south in the village. Six Mallard duckling were on The Test off Kingsclere Road.

Right: Woody Nightshade, Solanum dulcamara. Also known as 'Bittersweet', this due to the taste of the bright red and very toxic fruiting bodies

22nd

a Sparrowhawk lingered in the trees in Two Gate Meadow during the evening. Three Swift were over the village centre early evening.

Right: Hobby, Falco subbbuteo

23rd

numbers of bees were evident on garden Rosemary in Glebe Meadow. A Red Kite drifted westwards over Town Meadow late afternoon.

24th

a Painted Lady was among butterflies seen about the Burley Lane area, though no 'whites' were recorded there, Brimstone excluded. Late afternoon saw a gathering of at least 12 Swift over the village. A male Bullfinch graced Two Gate Meadow gardens - always a spectacular bird when seen well. Males of Orange-tip and Blackcap were seen / heard close to the church at Lower Ashe, Nuthatch being noted nearby. Later still one of the Indian Peafowl continued to 'sing' until the day finished i.e. just short of midnight!

25th

a Small Phoenix was attracted to light late in the evening. Earlier a Red Kite had been seen over Overton Hill and a Chiffchaff was again in song at Town Meadow.

Right: Small Phoenix, Ecliptopera silaceata - Picture: Mike Wall. www.hantsmoths.org.uk

26th

overnight mothing produced Buff Tip, Pale Tussock, Small Magpie, Heart & Dart, Straw Dot, Garden Carpet, Brown House-moth, Notocelia cynostbatella and Teleiodes lucelella. A Chiffchaff was still singing about the Town Meadow hedgerows. Indian Peafowl remained 'active' towards the southern extremities of the village.

27th

the Chiffchaff continued to proclaim its ownership of the grounds of Southington House. A Red Kite moved south over the village mid-afternoon. the evening peace was again 'broken' by one of the Indian Peafowl.

28th

a Cuckoo was heard in song at Polhampton, the first of the year locally for the observer. Four Red Kite were circling together over the village about noon, the first such gathering noted for some time. At about the same time a Buzzard drifted south-east.

29th

during the storm that took place later in the day a Kestrel was seen to 'roost' under the eaves of a house. A Salticus scenicus was found hunting in a conservatory. Early afternoon had a Red Kite circling over the northern parts of the village, a Buzzard then seen heading south over Sapley Barn. A further kite was reported, this over Southley Farm late afternoon.

Right: Salticus scenicus. Close up!

30th

an all too briefly seen falcon headed north-east over the village early evening. Off Straight Lane the fields and hedgerows held singing Chiffchaff, Skylark and Song Thrush.

31st

a Kestrel visited Two Gate Meadow, perhaps as it had done over recent days and possibly the bird seen over / about the Overton Hill building site. The continuing summer-like warmth drew scent from the Elderberry and various wild roses about Parish hedgerows. Fox and Cubs were seen in flower in The Orchard. Good numbers of Swift were seen over the arable farmland on the eastern side of Overton Hill. A Salticus scenicus was about the entrance area of Court Barn. Both Red Kite and Buzzard were seen over the higher reaches of Overton Hill. The emptied eggshell of a Blackbird was found in Court Drove, a Blackcap being in song nearby at Court Farm House / The Old Rectory with a Chiffchaff still in the school grounds.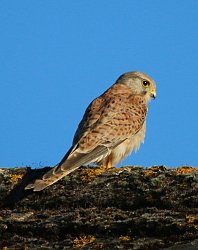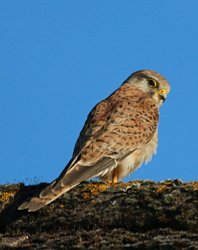 Kestrel, Falco tinnnunculus - Picture: Deb Heath. A female
Contributors: Deb Heath, Alison Hutchins, Peter E. Hutchins, Ken MacKenzie & Mike Wall.
June offers...
Flora in abundance! Look out for orchids, both in the roadside verges as you head out towards Kingsclere and in the orchard off Southington Lane. The former also hold a wealth of other species and are truly worthy of investigation, as are the invertebrates that flock to the burgeoning growth.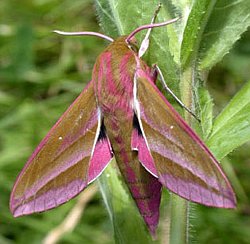 Both butterflies and their generally nocturnal companions, the moths, will become ever more evident. Although it appears to have been a slow start for many species the recent more clement weather will hopefully have played a big part in bringing greater numbers to the attention of Parishioners. If you get the opportunity try to attend a mothing evening - you'll be surprised at how much activity there is during the darker hours and the colours of some of the rarely seen moth, the Elephant Hawk-moth below a good example of this.
Right: Deilephila elpenor - Picture: Mike Wall. www.hantsmoths.org.uk
Although we have only seemingly just received 'our' summer migrants birds that have completed their breeding for the year will be moving back south during the month, wading birds particularly. So, keep an eye on any floods and the more permanent areas of water for these as they drop in to feed, tidy themselves and perhaps rest before moving on to their winter quarters in Africa.
Many of the migrants recently arrived will still be very busy with young and so the song that has been breaking the silence, both early and late in the day, will diminish, though resident Robin and Blackbird will be evident, as I'm sure will the Indian Peafowl!
Late comers locally could include Spotted Flycatcher - an increasingly rare woodland edge or churchyard visitant. Once taken for granted locally i.e. at Lower Ashe they've become ever less frequently recorded. So, something to look out for, among the many other wildlife 'experiences' that will undoubtedly be out in the Parish waiting to be experienced.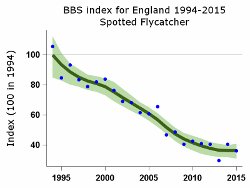 An indication of just how badly Spotted Flycatcher are doing 'locally'. This graph showing the trend noted through the BTO's Breeding Bird Survey work
Enjoy as much as you can and don't forget to let us all know how your wildlife encounters played out as the month progressed.
Peter.