Local sightings
Return to the list of reports
May 2008
1st

the month started with a large group of mammals all congregating in one place, the Family Fun Day at Little Meadow!

4th

International Dawn Chorus Day had two walks about the village providing 50+ species for those attending, the highlight being a male Black Redstart all too briefly seen on a roof behind the vets.; a first for the Parish. Other migrants recorded were Swift, Swallow, House Martin, Chiffchaff, Blackcap and Sedge Warbler whilst Skylark were amongst the others in song. A Fox at the filtration pools, several pipistrelle sp. on the wing, Waterstrong> and Common Shrews, a moth larvae and ever burgeoning numbers of flowers providing further interest during the wanderings. Wood Millet was very noticeable at the southern end of the Vinns Lane track.

5th

a big raptor day!!! A Black Kite over the Sapley Lane / Greyhound Lane area early afternoon was the first for the Parish, dropping off south-east and eluding all followers until late afternoon when it was seen from south of the village, though by now heading out of the Parish. This bird saw Red Kites being found at Ashe crossroads, Rotten Hill (2), the Southley Farm area (2) and Woodlands, as well as Laverstoke, Twinley and Oakley Hall - the Woodlands bird being the second species of kite to be seen from the observers' garden that day! Buzzard, Sparrowhawk and Kestrel were also seen and late news received during the 'chase' was of a Goshawk and two Peregrine having been seen by a local gamekeeper recently. A Cuckoo was heard near Parsonage Farmhouse. 35+ Brown Trout were off the bridge at Bridge Street, 27+ Eels in the filtration pools. Greater Celandine was found flowering by the Kingsclere Road allotments, this being only the second site known of for this in the Parish.

Montagu's Harrier Circus pygargus at Turrill Hill- Photo: Mike Duffy

6th

the Black Kite was reported late morning over the Rotten Hill area, as was a Red Kite and several Buzzard. The search for the former saw a male Montagu's Harrier being seen over Turrill Hill, the search for this then providing an Osprey flying low over the village, eventually heading off north-east over Polhampton.

9th

single Sparrowhawk, Buzzard and Red Kite shared a thermal late afternoon. Mothing included eight Clouded Drab being attracted to light in Station Road.

12th

a Light Brown Apple Moth was attracted to house lights in Woodlands.

Right: Perennial Cornflower Centaurea nontana at Whitehill - Photo: Mike Duffy

15th

Perennial Cornflower was in flower on Whitehill. Two immature Grey Wagtail were seen from the bridge at Kingsclere Road .

16th

Leopardbane was again in full flower by the B3400 in Southington.

17th

a Cuckoo was singing in the Polhampton area.

18th

a Cuckoo was heard in song from Woodlands mid-afternoon.

19th

the temperature dipped down to around freezing during the early part of the day.

20th

a light air frost this morning.

22nd

Canada Geese were on the move over the village early morning.

24th

a Great Spotted Woodpecker was again coming to peanuts in Station Road.

25th

a Red Kite was over Waltham Road late morning and a pair of Tawny Owl were calling to one another about Town Meadow late evening.

26th

a peak count of 22+ Swift was noted over the village on what must have been the wettest Bank Holiday Monday for years.

27th

a Red Kite lingered over Woodlands mid-afternoon.

28th

the RSPB Group walk from Ashe through to Overton, and back, produced 42 species of bird including a few less frequent birds such as Nuthatch, Stock Dove and Little Grebe; a pair of 'active' Roe Deer also being seen in the poor weather encountered.

29th

a Grey Heron moved north-east over the village mid-evening and the first immature Starling of the year were noted.

31st

during the month three Slow Worm were found in Silk Mill Lane, all dead unfortunately, whilst those noted in compost in Southington fared somewhat better.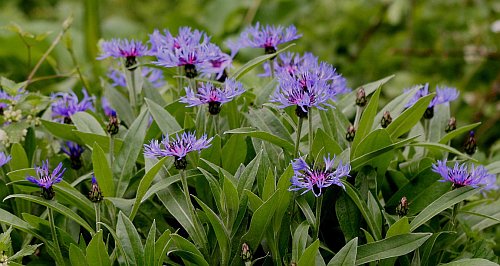 Perennial Cornflower Centaurea nontana - Photo: Mike Duffy
Contributors: James Andrews, Alison Cross, Barbara Duffy, Mike Duffy, Alison Hutchins, Bryher Hutchins, Jay Hutchins, Peter E. Hutchins, Alan Lewis, Mindy Noble, Margaret Rainford, Tim Lawman & Adam Trickett.