Local sightings
Return to the list of reports
April 2017
1st

a Fieldfare in trees by Turrill Hill Bungalow mid-morning proved to be the last of these winter visitants to be seen locally, a singing Blackcap there more than hinting that it should have left some time previously. Both Stock Dove and Buzzard were seen on the wing over the 'wilder' areas by Parsonage Farmhouse; the former far rarer than the raptor locally. Rarer still, a Kestrel was seen hovering high over the village early afternoon. A Large Bee-fly was seen in one garden, the first of the year noted locally. Two Chiffchaff were in song at The Lynch / Silk Mill Lane, another by the Doctor's Surgery.

3rd

a Stone-curlew was seen on a regular site north of the village. Field edge and wall-covering flowers seen in bloom included Common Field Speedwell, Ivy-leaved Toadflax, Greater Stitchwort, Wood Anemone, Dog's Mercury, Primrose and Moschatel. One of the regular pair of Buzzard was seen over Hide Hill Plantation. Three Red Kite were over fields being rolled north of the village later in the day, eight+ Lapwing being nearby and the hedgerows there holding calling Blackcap and singing Chiffchaff. Less welcome was a Leopard Slug found in a visit to a back garden late evening.

Stone-curlew, Burhinus oedicnemus. One of the rarer of the summering migrants the Parish is blessed with - the large eyes helping in their often nocturnal activities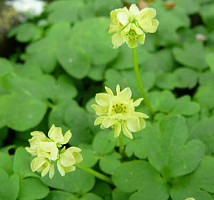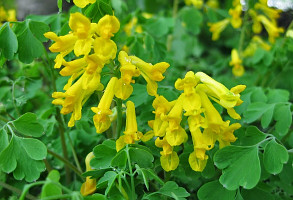 Left: Moschatel, Adoxa moschatellina. Also known as Town Hall Clock, due to the blooms facing in all four directions - in warmer conditions the rich honey-like scent of these is quite distinct
Right: Yellow Corydalis, Corydalis lutea. Originally from alpine foothills this is now to be found naturalised in many parts of Britain, more often as a garden escapee
5th

a Red Kite on a fence post at Court Farm was unable to make the most of its rest, a Rook actively dive-bombing it.

6th

a Hedgehog, one of very few reported this year, was seen in Glebe Meadow.

7th

Comma and Small Tortoiseshell visited a Glebe Meadow back garden.

9th

Orange-tip were seen in both Glebe Meadow and David's Wood. The Great Spotted Woodpecker was again drumming at Court Farm House.

10th

a drake Pintail was an unexpected spring visitor to the lagoons, a pair of Shelduck, 55 Gadwall, four Teal and a brood of 18 Mallard also being notable there. Yellow Corydalis was in flower in Winchester Street. A Holly Blue brightened Woodlands gardens. A Chiffchaff was in song at Riverside Close. A Sparrowhawk, perhaps two, was seen over Woodlands, Red Kite over Lordsfield Gardens, Red Lion Lane and Woodlands and Buzzards over Court Drove and Woodlands. A Fox was seen to be the latest victim of Parish traffic, having been taken out of the local population overnight by Hide Hill Plantation.

11th

the drake Pintail was still on the lagoons early morning, as were 58 Gadwall, nine Teal, a Grey Heron and a singing Blackcap. Newly arrived was a singing Willow Warbler in the hedgerow between Kings Meadow and Harveys Field. A Red Admiral was seen in the garden of The Old Rectory. Chiffchaff were in song off Bridge Street, at the lagoons and by The Test close to Quidhampton Mill. A good day for raptors saw four Buzzard moving north over Poyntz Road, two north and one north-east over Woodlands and Red Kite over Woodlands, up to four, Poyntz Road and Lower Whitehill.

12th

Hairy-footed Flower-bee and Drone Fly visited at least one village back garden, pulmonaria the favoured source of energy for the former. A Kestrel, Sparrowhawk, two Buzzard and up to five Red Kite were seen on the wing over the village during the early / mid-afternoon.

Right: Lungwort sp., Pulmonaria sp. A strikingly coloured border plant that has in the past been used to treat respiratory ailments

13th

the drake Pintail was still present early morning, on the fog-shrouded lagoons where a prey-carrying Fox was also seen. Walking The Harrow Way saw Brown Hare, Skylark, Lapwing and Red-legged Partridge in the adjacent fields, Buzzard overhead and Chiffchaff, Great Spotted Woodpecker and Song Thrush in the hedgerows and trees. Two Red Kite, two Buzzard and six Lapwing were over fields north of the village late afternoon, a further kite being seen to be waiting to drop to carrion at Frost Hill. A Sparrowhawk, two Red Kite, two Buzzard and a Swallow were seen over the Woodlands area late afternoon / early evening.

14th

a Raven moving over Southington Lane late morning was 'accompanied' by two of the local Rook. Two Willow Warbler were in song in the garden of Southington Mill. Up to seven Swallow were seen moving over the village during the afternoon, single Sand and House Martin and a further two Swallow being seen on migration later, as was a Meadow Pipit. The gardens and hedgerows of Two Gate Meadow drew in a charm of Goldfinch and singing Blackcap and Chiffchaff. Chiffchaff were also in song at Dellands Track, Town Meadow and Glebe Meadow, Blackcap at The Old Rectory, the lagoons, Flashetts and the Bridge Street allotments. Of the 'spring' blooms to be seen Moschatel, Lesser Periwinkle, Wood Anemone, Greater Celandine and ?? Spanish Bluebell. Up to four Red Kite moved over Woodlands late morning with further raptors seen on the wing including a Kestrel over Town Meadow, two Buzzard and a further four Red Kite.

15th

early morning had a vocal Tawny Owl heard at Two Gate Meadow / Lane. Later in the day the drake Pintail was seen still to be resident on the lagoons, both Blackcap and Chiffchaff being in song there. Bluebell were evident in the woodlands of Burley Lane, where Nuthatch were also noted, as they were at Berrydown Lane. The pair of Grey Wagtail was still about Town Mill. Red Kite were seen, or heard, over Winchester Street, Poyntz Road and Town Meadow, Buzzard also noted over Poyntz Road.

16th

the flowering Oilseed Rape off Straight Lane attracted two Small Tortoiseshell and several Small White, an Orange-tip keeping to the hedgerow blooms. Nearby Bullfinch were in the hedgerow close to the junction of Straight Lane / the B3400. Up to five Red Kite and a Buzzard were seen over the village. The Court Drove Great Spotted Woodpecker was once again drumming.

17th

a dead Slow Worm on Two Gate Lane was, unfortunately, the first reported this year. Livelier were the Roe Deer off Burley Lane, the woodland there holding Nuthatch and 'whining' Greenfinch. Of the other finch recorded Bullfinch at the top of Two Gate Meadow / Lane were most notable.

18th

the Pintail at the lagoons was joined by 77 Gadwall, nine Teal, a Little Grebe, a pair of Grey Wagtail and singing Willow Warbler and Chiffchaff. Three Sand Martin and two Swallow moved northwards on migration as the day progressed. Also on the move, though presumably more locally, were single Red Kite and Buzzard. A Small Tortoiseshell was seen in fields at Polhampton.

19th

a Speckled Wood and three Orange-tip were about the Straight Lane hedgerows, where both Blackcap and Chiffchaff were in song. The Elm on Station Hill were coming in to leaf, unlike the nearby Small Teasel. Both House Martin and Swallow passed over the village late afternoon. The afternoon saw Holly Blue, Small Tortoiseshell, Small White and Brimstone about The Source of The Test. A further sign of spring was the duck Mallard and her eight duckling seen on a driveway in Glebe Meadow. Moth trapping produced Powdered Quaker, Early Grey and White-shouldered House-moth. Later, Yellowhammer were about the extremities of the Overton Hill dog-walking area whilst a Buzzard over the Great North Field attracted harassing corvids. A further Chiffchaff was in song off Bridge Street, another at the disused cressbeds at Polhampton, a Blackcap near Quidhampton Farm House. At least one of the Indian Peafowl remained vocal about the southern side of the village, being heard late at night.

20th

a Little Egret was seen about The Test. A male Pale Tussock and a Powdered Quaker were the sum of overnight trapping in Woodlands. Two Alpaca were unexpected additions to Parish 'wildlife', now being present in fields off Dellands Lane. A Skylark, up to nine Red Kite and a Buzzard were noted moving over the village. Field Madder was beginning to appear about footpath edges in Woodlands. A pair of Goldfinch was seen to be nesting high in a flowering acer. House Martin seen over nearby Oakley reminded locals that were still none to be seen about the Parish.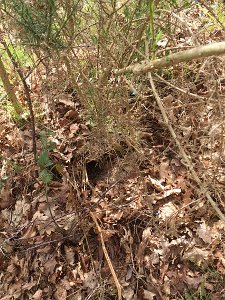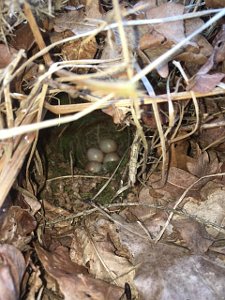 Robin, Erithacus rubecula - Picture: Alistair MacKenzie. One of our most familiar birds, but rarely seen attending a nest
21st

a pair of Shelduck was seen heading off west from the lagoons early afternoon, a Lapwing being seen over Foxdown. An Orange-tip again visited Glebe Meadow gardens. The woods and fields about the Overton Hill build produced Nuthatch, Song Thrush and Skylark. Blackcap were in song at Flashetts, Hilltop Road and Station Hill, a Chiffchaff also at the latter site, as was a Red Kite. Another kite was seen drifting north over Waltham Road.

22nd

an adult Hobby moved rapidly eastwards over Woodlands late afternoon, where two House Martin, two Mistle Thrush, a Red Kite, Buzzard and the nest-building Goldfinch were also seen. Both Willow Warbler and Chiffchaff were in song in the scrub on Overton Hill, a Blackcap, also in song, was in the woodland at Ashe Hill. Moths attracted to light overnight included Muslin Moth, Hebrew Character, Shuttle-shaped Dart and Light Brown Apple Moth whilst a Peacock, butterfly, was seen on the wing during the day, a Cockchafer visiting a Glebe Meadow garden the first noted this year. Later, a pair of House Martin was seen lingering about the buildings by the High Street traffic-lights; perhaps returning birds looking to settle back in the village. Also appearing settled were the two pairs of Gadwall seen on the disused cressbeds at Polhampton.

Right: Hobby, Falco subbbuteo

23rd

the annual Birds & Breakfast day!!! A summary of this is on the website, highlights noted however including single Red Kite and Cormorant moving over in the fog, a pair of Swallow, singing Willow Warbler, Blackcap, Chiffchaff and Stock Dove, nest-building Long-tailed Tit and ?? the breakfast!!! A Grey Heron, perhaps that seen earlier in the grounds of Southington House, was seen on the wing over Glebe Meadow.

Right: Swallow, Hirundo rustica - Picture: Doug Kelson.
One of the pair that settled above the group; becoming the first seen this year by several of the latter

24th

Spectacle and Muslin Moth were trapped overnight.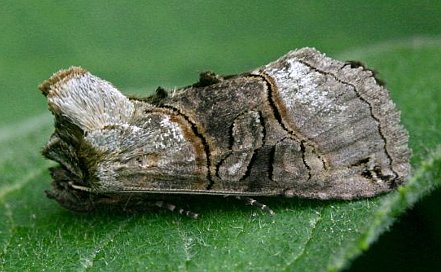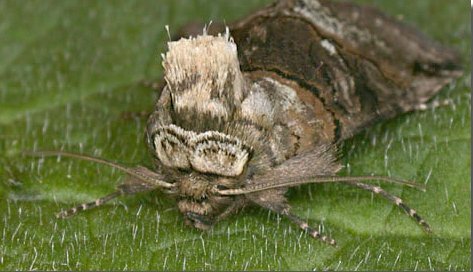 Spectacle, Abrostola tripartite - Picture: Mike Wall. The right image showing the 'spectacles'. www.hantsmoths.org.uk
26th

Lapwing were seen in fields off The Harrow Way, where Blackcap and Chiffchaff were in song; many Song Thrush also being seen here. A light 'spring' frost was evident post-dawn, as were two Red Kite over Frost Hill.

27th

a stronger frost started the day, for those up early enough to notice it! Canada Geese were on the move over the village shortly after dawn.

28th

a Goshawk was seen in flight along the hedge line of David's Wood, this constituting possibly the first record for the Parish of this species. Putative Yellow Azalea was seen flowering in woodland off the more rural parts of Waltham Road. For the second year running Pied Wagtail were seen to be nesting under rooftop solar panels. A Red Kite was over the village early afternoon. One of the Indian Peafowl was again vocal late evening.

29th

an immature Robin being fed in Glebe Meadow was the first offspring of this species recorded within the Parish this year. A Lapwing moved over Turrill Hill where a Blackcap was in song. A Swallow was about Vinns Lane, the stables here one of the few regular breeding sites within the village boundaries. A Red Kite drifted north over Bell Meadow where the as yet to be grazed grasses were gaining height, another being seen over Overton Hill as it moved towards The Green / Two Gate Meadow, another over Winchester Street. Both Blackcap and Chiffchaff, two of each, were in song in Southington, a Grey Wagtail there lingering about The Test / Southington Mill.

30th

a Brown Hare was on the Great North Field, a Buzzard overhead there. Three Red Kite and four Buzzard were over the village later in the afternoon.
Contributors: Brian Elkins, Margaret Elkins, Deb Heath, Alison Hutchins, Peter E. Hutchins, Doug Kelson, Alistair MacKenzie & Mike Wall.
May offers...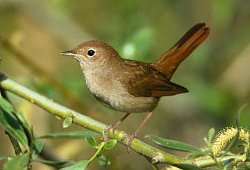 Continued passage of migrants from the south, perhaps even including a Nightingale or two; we can but hope!
Right: Nightingale, Luscinia megarhynchos.
The Swallow and House Martin should be nesting, Swift soon to join them.
The verges will become blanketed with blooms, the first orchids sure to be amongst that breaking the 'boring' sward. Meadows about the Parish will again be turned golden, by further buttercup, whilst wetter areas will hold such colourful species as the speedwell, comfrey and campions.
The warmer (!) days should allow more reptiles and amphibians to be found / seen - be aware of those that might just make the most of your piled grass-cuttings, discarded garden implements and wood piles to shelter and even lay their eggs in! As you wait for your commuter train keep an eye open for sunning lizard along the platform edges and on the barer patches of the flanking walls of earth.
A slow start to the butterfly year will hopefully give way to a recovery as those such as Green Hairstreak, Silver-washed Fritillary, Dingy Skipper and White Admiral brighten the hedgerows, joined by striking day-flying moths such as Scarlet and Wood Tiger. Be prepared for White-letter Hairstreak if you've Elm growing close to your gardens. Moth trapping will move up several notches, the first of the hawk-moths perhaps to invade gardens, though likely to be seen by all too few.
So, as ever, there's plenty to look forward to and I / we look forward to hearing of all that you find / see. Enjoy the continuing spring!
Peter.