Local sightings
Return to the list of reports
April 2016
1st

a Grey Heron was on the floods at Ashe crossroads, where numbers of duck were increasing, albeit sporadically. Red Kite were seen over Winchester Street, Pound Road, Waltham Road, Greyhound Lane and Overton Hill, Sparrowhawk at Crawts Road and Buzzard at Harveys Field. More vocal was one of the Blue Peafowl in Dellands.

2nd

a Little Egret was again on the rising Test at Ashe, a Red Kite being overhead there, another near the Ashe crossroads. Comma, Small Tortoiseshell migrant Chiffchaff was in song at Polhampton where a Green Woodpecker was also heard 'yaffling'. A Buzzard was seen over the Station Road Filtration Pools, Song Thrush being in song nearby

3rd

gardening in Two Gate Meadow found two overwintering larvae amongst the vegetation. Newly arrived Chiffchaff were in song in Two Gate Meadow and the Woodlands area, a Tawny Owl vocal at the former in the "Early hours". A Red Kite circled over the Court Farm area mid-morning. A pair of House Sparrow was seen taking advantage of a recently repositioned nest box.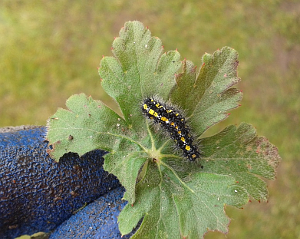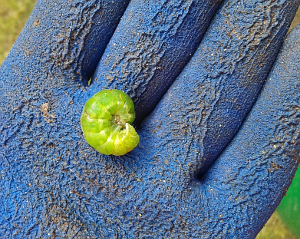 Scarlet Tiger Callimorpha dominula & Noctuid sp. perhaps Angle Shades Phlogophora meticulosa - Pictures Deb. Heath
4th

the Chiffchaff was still in song at Two Gate Meadow, one of the Blue Peafowl still displaying in Dellands gardens. A Sparrowhawk moved west through The Green, a Buzzard higher east and a Red Kite south over Paultons Close. An Emmelina monodactyla was found at roost in Mede Close.

5th

a migrant male Wheatear was on Turrill Hill early evening, as were a pair of Grey Partridge. Birds noted over the village today included up to five Red Kite and six Buzzard, Sparrowhawk, Kestrel, Lesser Redpoll, eight House and five+ Sand Martin and a Swallow. Both Blackcap and Chiffchaff were singing off of Dellands Track.

6th

the male Wheatear was still on fields at Turrill Hill. An unexpected garden sighting was of a pair of Siskin briefly to feeders mid-afternoon. A Chiffchaff was in song about the higher reaches of Two Gate Meadow. A Red Kite was over The Green late morning, further birds being seen mid-afternoon over Woodlands and to the south-east of here.

Right: Wheatear, Oenanthe oenanthe. Here showing the white rump from which it obtained its name: the name being a 16th-century linguistic corruption of "white" and "arse", referring to the prominent white rump found in most species!

7th

a Brambling was still about The Harrow Way where Red Kite, Yellowhammer, Lapwing and Brown Hare were all noted in numbers, along with three Roe Deer. The Little Egret was still about The Test between Lower Ashe and Polhampton. A Siskin was in trees off Sprents Lane late morning. The Chiffchaff was still in song at Two Gate Meadow; the only one of this species seemingly lingering about the village. An Emmelina monodactyla, a 'plume moth', was at roost on a Mede Close outer wall. Both Blue Peafowl were still about the southernmost areas of the village.

8th

two Siskin moved low west over Harveys Field. A singing Chiffchaff at Two Gate Meadow had a Grey Heron move north-east over its preferred song post. Two Red Kite spent some time circling over Winchester Street, with a Buzzard, others being seen over Waltham Road and Harveys Field. One of the Blue Peafowl was atop a fence in Dellands about noon.

9th

the Bluebell in woodland opposite Berrydown Garage were almost glowing violet-blue in certain light. The Chiffchaff was still singing at Two Gate Meadow, another off Waltham Road. Red Kite were seen over Berrydown and The Green.

10th

Wood Anemones added a bright splash of colour to the verges in the woods on the Waltham Road. Another hedgerow species, Greater Stitchwort, was also brightening the Parish, albeit in not quite such a dramatic fashion.

Right: Wood Anemone, Anemone nemorosa

11th

Willow Warbler, Blackcap and Chiffchaff were in song at the Filtration Pools, further Chiffchaff at the Quidhampton Business Units and Station Hill. A male Blackcap was seen at Flashetts. A Grey Heron moved slowly east over the village just after sunrise, a Red Kite over the more rural parts of Sapley Lane mid-afternoon.

12th

a 'swarm' of 30+ solitary bees was paying special attention to a recently dug and watered flower bed in Charledown Close. Both Angle Shades and Early Grey were seen at roost. Male Brimstone were seen over Dellands, Charledown Close, Poultons Road, Pond Close and the fields west of Pond Close. Late evening had the insistent calls of the Blue Peafowl breaking the silence. The Chiffchaff continued in song at Two Gate Meadow.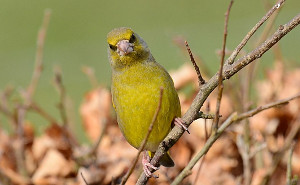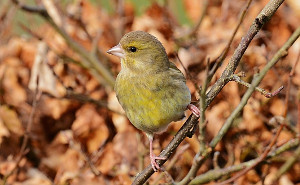 Greenfinch, Chloris chloris. A male, a female! - Pictures Stewart Woolley
13th

nesting Greenfinch were seen going to a nest hidden in an ornamental conifer. Both Hairy-footed Flower-bee and Common Wasp were seen in one garden. Red Kite were over the village both late morning and early afternoon.

14th

an Angle Shades was found at roost on a Mede Close flat, a male Brimstone seen on the wing over Winchester Street. Both Blackcap and Chiffchaff were in song in Two Gate Meadow, one of the latter on the western side of Bell Meadow. Both cock Blue Peafowl remained about the southern half of the village.

15th

a further roosting Angle Shades was found, in Battens Avenue. The Two Gate Meadow Chiffchaff continued to proclaim its territory.

17th

Hairy-footed Flower-bee, Honey-bee, Buff-tailed and White-tailed Bumble-bee visited one garden during the afternoon. Several Brimstone, all male, were seen about various parts of the village. A Siskin moved east through the village late morning, perhaps the last of the winter. Flowering Primrose were very evident in the copse by Court Drove / Great North Field. Perhaps ten+ Red Kite, a Sparrowhawk and two Buzzard were seen over the village, the accipiter hunting garden birds about Kerchers Field / Dellands Lane. Both Fieldfare and Redwing were still about fields north of the village as dusk fell.

16th

early morning migrants at the Filtration Pools included Common Sandpiper, Siskin, Teal, Willow Warbler, Blackcap and Chiffchaff, a pair of Mute Swan nesting and Marsh Marigold being in flower there. A Stock Dove was in song nearby, in the small copse opposite Quidhampton Mill. A Willow Warbler and two Chiffchaff were in song at 'The Chalkies' where there was as yet little evidence of flora on the chalk heaps.

17th

the annual Dawn Chorus & Breakfast took place today, 14 attending and 34 species of bird, and one fish, being recorded before the important business of the day commenced - breakfast! This was the first of these walks that did not record either House Martin or Swallow, the only migrants noted being warblers - Willow Warbler, Blackcap and Chiffchaff; all in song. A male Grey Wagtail lingered about the faster waters at Quidhampton Mill whilst other songsters nearby included Skylark, Song Thrush and Little Grebe! Watching and listening from one garden from mid-morning saw two Yellow Wagtail, a male Kestrel, a Lesser Redpoll, both male and female Sparrowhawk, up to 14 Red Kite, ten Swallow, a Siskin, up to 18 Buzzard, ten Linnet and two Grey Heron on the move over the village.

Right: Yellow Wagtail, Motacilla flava flavissima. A male - unfortunately this not a view often seen locally

18th

both Angle Shades and Early Grey were found at roost on the exterior of village houses, a Peacock butterfly being 'rescued' on being found on a Kerchers Field pavement. A Yellow Wagtail moved over Crawts Road early afternoon, two+ Swallow nearby also heading that way. Both of the male Blue Peafowl still called forlornly for a 'friend'!

19th

a Yellow Wagtail was heard moving north over Dellands, a Blackcap singing in Two Gate Meadow. Two House Martin were seen over the Court Farmhouse area. A Red Kite was drifting seemingly aimlessly over the lower stretches of Kingsclere Road late morning.

20th

Peacock, Small Tortoiseshell and Brimstone were seen on the wing during the morning. A Blackcap was in Greyhound Lane, the Chiffchaff still singing in Two Gate Meadow. The Blue Peafowl continued to be more than vocal!

21st

House Martin were again seen over the Court Farmhouse area, just two; presumably wandering from Overton Hill. A Red Kite drifted south / south-east over the village mid-afternoon.

Right: House Martin, Delichon urbicum. An increasingly rare sight, and not just locally.

22nd

a Red Kite was low over the Overton Hill playing field mid-morning, a Sparrowhawk hunting nearby, through The Green. The territorial Chiffchaff continued to sing in Two Gate Meadow hedgerows / trees.

23rd

a Sparrowhawk was hunting over Harveys Field whilst Red Kite were even more apparent, being seen over Winchester Street, Town Meadow and Charledown Close. The Chiffchaff remained in song at Two Gate Meadow, a Blue Peafowl just as vocal in Dellands. An immature Grey Heron was about the floods at Ashe.

24th

Variegated Yellow Archangel was flowering, invading, in Red Lion Lane.

Right: Variegated Yellow Archangel, Lamiastrum galeobdolon subsp. Argentatum
Contributors: Mike Duffy, Deborah Heath, Peter E. Hutchins, Nick. Montegriffo & Stewart Woolley.