Local sightings
Return to the list of reports
April 2008
1st

an adult Cormorant flew south-west over the village early evening, buffeted by the strong north-westerlies.

2nd

a Great Spotted Woodpecker was heard drumming.

3rd

a Fox was seen by Two Gate Meadow during the day whilst another was off Sapley Lane during the evening. The final Brambling of the winter was noted in Two Gate Meadow gardens. A Chiffchaff was singing west of Bridge Street in the evening, a single Brown Trout being seen from the bridge there.

4th

a Stoat was in a hurry, luckily, as it crossed Straight Lane. A Kingfisher was at Southington Mill whilst the pools about there continued to hold both Gadwall and Tufted Duck. It was warm and spring-like from later in the morning.

5th

a Siskin was with Greenfinch by the doctor's surgery, one of their favoured sites in the Parish.

Right: Siskin, Carduelis spinus

This small finch, the male shown here, is an irregular winter visitor, sometimes visiting garden feeding stations, particularly for peanuts in red nylon bags, but most often likely to be encountered feeding on riverside Alder cones.

6th

a mega fall of snow early morning meant that many awoke to a thick blanket of the white stuff. A Little Egret was again at the filtration pools, where three Chiffchaff sang, three Blackcap made the most of the sun, Mute Swan were already on eggs and an Eel remained in residence. On the wintry theme 50+ Fieldfare were at the southern end of Turrill Hill, as was a flock of 200+ Woodpigeon and a single acrobatic Lapwing, 160+ of the pigeons also being seen in flight north of Northington Farm. A Brown Hare was back in the field south of Southington Close, one of their favoured local spots.

7th

two Chiffchaff were singing in Flashetts. Two Brown Trout were off the bridge on Kingsclere Road. Butterbur were beginning to flower at the northern end of Station Road. Dog's Mercury in many places though relieved of the snowy embrace was yet to stand up straight again.

8th

?

9th

a Red Kite was over The Harroway / Northington Farm early evening where a Red-legged Partridge nest held 19 eggs! 16 Fieldfare were on plough north of the village, perhaps the last of our winter visitors to be noted? Moschatel and Great Stitchwort were amongst the latest plants to be noted in flower. These on Court Dove and The Harroway.

10th

a Red Kite, very pale and yellow wing-tagged, flew low over Harveys Field late afternoon. Field Cuckoo Bees were coming to flowers in Woodlands gardens.

11th

the spring continued with a nice fall of hail late morning!

12th

a further sighting of Red Kite was noted, this drifting low south-west over Woodlands early afternoon whilst another was by the southernmost part of the Parish, near Roundwood. A pair of Red-legged Partridge was 'joined' by a Brown Hare and four Rabbit on plough south of Southington Close.

Right: Common / Vivaparous Lizard Zootoca vivipara - Photo: Mike Duffy

Have you seen any of these locally? The only known sites, currently, for this reptile in the Parish being the railway station and Northdown Orchard. Can you improve our knowledge of this sometimes elusive beastie?

13th

a Skylark was singing over Overton Hill whilst a Goldcrest serenaded in the Pound Road / Highfields area.

14th

another very quiet day it would seem, again nothing being reported.

15th

a Skylark was again singing over Woodlands. Both Comma and Peacock butterflies were seen in Station Road gardens.

16th

a pair of Shelduck appeared newly arrived at the filtration pools, unlike the immature Grey Heron also present, and two Swallow moved north over Overton Hill early evening. A Buzzard was close to the Source of The Test early evening. A dead 'Polecat' was found at the top of Overton Hill. This was by far the mistiest morning so far this year.

20th

a Short-eared Owl was seen flying over the road north of Frost Hill mid-morning. Obvious diurnal migration taking place locally included seven+ Swallow, two House Martin and a Sand Martin at the filtration pools and three Swallow over Woodlands. The former site also held a Kingfisher and 86+ Eel, the latter count surely by far the largest ever noted there.

21st

a Swift seen at the golf course must constitute one of the earliest records of this migrant locally. Swallow, Blackcap and Chiffchaff, also incoming migrants, were noted about the village and Skylark were vocal on the farmed and disused land close by.

22nd

the temperature rose to 20°C today.

23rd

the warmer temperatures saw an increase in invertebrate activity.

24th

the pair of Red-legged Partridge continued to commute about the fields south of Southington Close, as did at least four Brown Hare. Canada Geese were on Southngton Lane pools and at the source of The Test.

27th

a Scorched Carpet was new for the year locally.

28th

a Buzzard was over the school late morning. Five Brown Hare were in Southington fields.

29th

a buck Roe Deer was on Rotten Hill early morning. Ten+ House Martin, 15+ Swallow, singing Reed Warbler, Chiffchaff and Blackcap at the filtration pools were evidence of continuing northbound migration. This backed up by the first Swift over the village this year mid-evening.

30th

a much cooler start to the day gave rise to what must have been the loudest dawn chorus so far this year. The Swift of 29th remained over the village, being joined by a further two as the evening progressed. Perennial Cornflower was found on White Hill, a site holding several 'exotics'.

31st

the month ended quietly - two Great Spotted Woodpecker were however again back in gardens on Station Hill, as were two Song Thrush.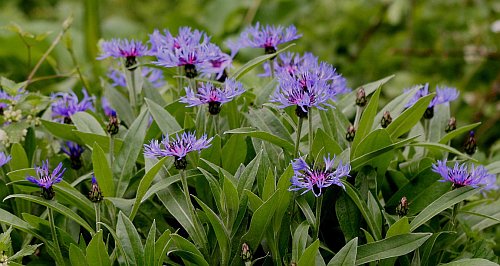 Perennial Cornflower Centaurea nontana - Photo: Mike Duffy
Contributors: Mike Duffy, Alison Hutchins, Bryher Hutchins, Jay Hutchins, Peter E. Hutchins, Jane MacKenzie, Fenella Swinscoe, Hannah Swinscoe, Janet Wigney & Simon Yates.