Local sightings
Return to the list of reports
March 2018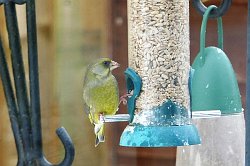 1st

Greenfinch, Goldfinch and Chaffinch were seen coming to garden feeders, Song Thrush also visiting gardens.

Right: Greenfinch, Chloris chloris — Picture: Deb Heath. A pleasing number of these are being seen, after so many Parishioners have reported a dearth in recent years - let's hope for more positive news of these as the breeding season commences, watch out for their 'butterfly' display flight

2nd

Redwing were seen coming in to the village later in the day, their more familiar cousins, Blackbird, visiting garden feeders earlier, as did Great Spotted Woodpecker, Long-tailed Tit, Robin and Greenfinch. A cock Pheasant crowing wasn't that unusual, until you know that it was doing this at c.23:00! The temperature didn't manage to reach the balmy heights of zero today!

3rd

the thaw commenced! Hints of winter wildlife were however still apparent, including Fieldfare in Two Gate Meadow and four Redwing joining the resident thrushes about Town Meadow. Nearby a Red Kite was low over the High Street mid-afternoon. A pair of Mistle Thrush continued to protect 'their' ornamental sorbus in Lion Close.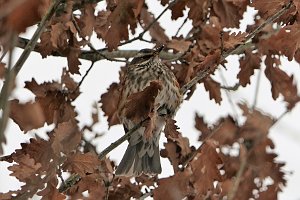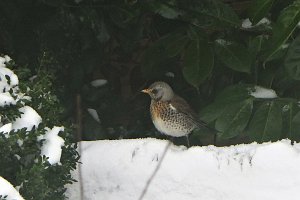 Left: Redwing, Turdus iliacus — Picture: Deb Heath. Note the strong supercilium, eyebrow, on this smallest of the regular thrushes
Right: Fieldfare, Turdus pilaris — Picture: Deb Heath. This one an unexpected garden visitor
4th

crocus were now flowering, following on the theme of early-flowering yellow-bloomed plants. Two Hawfinch, ten Raven, 66+ Lapwing and a gathering of 12+ Red Kite and 11+ Buzzard were most notable of a visit to Tidgrove Warren. Redwing continued to be seen about Overton Hill, the Skylark singing over fields nearby somewhat more reminiscent of spring than winter. A Goldcrest was found in a garden conifer whilst both Goldfinch and Chaffinch were more obvious that this smallest of British birds as they visited gardens.

5th

Fieldfare joined Redwing on Overton Hill, Skylark still being in song nearby, whilst both Mistle Thrush and Nuthatch closer to The Test here were more unusual, at least locally. One of the many territorial Robin about the Parish was seen to chase a Dunnock about flowerbeds. Red Kite continued to sail over the Parish, often over the more residential areas.

6th

footprints in the snow of Straight Lane were identified by several as ?.. several species! What do you think made them? (see picture right) A presumed Waxwing was seen on the northern side of Overton Hill, this one of only a handful, at most, seen locally this winter with none, unfortunately, lingering for the masses or cameras. Nearby the Fieldfare lingered and both Mistle Thrush and Skylark were in song.

Right: Woodpigeon, Columba palumbus — Picture: Deb Heath

7th

Red-legged Partridge and Pheasant were both visiting gardens on the outskirts of the village, a 'bonus' not afforded to many. Song Thrush joined increased numbers of Goldfinch and Chaffinch on Overton Hill, both finches also seen to still attend garden feeders regularly.

Right: Pheasant, Phasianus colchicus — Picture: Stewart Woolley. Surely one of the most striking of Parish birds

8th

a drake Wigeon was at The Source of The Test. Up to five Red Kite were in the air together over Highfields where a Red Admiral was also on the wing. Frog spawn was newly seen in a ford at Polhampton, some frozen from the previous inclement weather. Nearby the swelling Test attracted in a female Grey Wagtail to forage along its borders. Coal Tit was the 'best' of one's garden visitants reported today. The Blue Peafowl were again active, even if only vocally!

9th

a Red Kite was over one garden where Magpie, Long-tailed Tit and Blackbird were included in the list of the day's visitors.

10th

frog spawn was again seen in large drifts in one of the fords at Polhampton. Much earlier in the day a Tawny Owl had been heard whilst later a singing Mistle Thrush was near The Test, Overton Hill, Skylark serenading about Straight Lane. Garden visitors included a female Great Spotted Woodpecker and increased numbers of Starling. Both Red Kite and Buzzard were seen throughout the day.

11th

a less than expected visitor to one garden's feeders was a Nuthatch, Goldfinch and Chaffinch still obvious there.

12th

the drake Wigeon was again at The Source of The Test, as were five roosting Teal, a Grey Heron, four Greylag and 29 Canada Geese, a Stock Dove again in song in adjacent woodland. Two Red Kite were seen over Berrydown, one over Hide Hill Plantation. A, possible, pair of Buzzard was over the Vinn's Lane area early afternoon.

13th

'naturalised' lungwort, Greater and Lesser Periwinkle were now in flower, adding to the Lesser Celandine, Self Heal and Daisy already enhancing the roadside verges. A bumble-bee seen visiting gardens was another suggestion of the, allegedly, impending spring. Red Kite were seen over Highfields, Town Meadow and Southington, four Buzzard circling over St. Mary's Church late morning. Pairs of Teal and Gadwall were on the pools in Southington.

Right: Greater, Periwinkle Vinca major. Note the hairy leaf edges, distinguishing this from Lesser Periwinkle, V. minor

14th

two Red Kite were again over Highfield gardens, Magpie again amongst the birds being closer to hand there.

15th

a Stoat / Weasel was seen rapidly travelling across a Parish road, too distant and too quickly to confirm which mustelid it was; both still very rarely reported locally. Male Brimstone were seen about Southington, two, Station Road and Polhampton, a Red Admiral on Station Hill. Other invertebrates recorded included a mass exodus of ants from their over-wintering 'homes'. Red Kite continued to be seen helping to clear the more rural roads of their overnight offerings!

16th

a male Brimstone, Seven-spot Ladybird and ants about one garden provided further indications of spring.

17th

the 'Mini Beast from the East' reached the Parish, dropping further snow. Kestrel and Green Woodpecker were both less than usual sightings at Highfields whilst two Roe Deer in the '100 field' were almost expected.

18th

the reappearing drake Wigeon joined c.40 Gadwall at The Source of The Test. A Little Egret moved rapidly west over Town Meadow late afternoon, where at least three Red Kite lingered, the latter often moving out and over the adjacent residential areas. The Canada Geese remained at The Source of The Test, the most evident of wildfowl there for anybody looking that way on driving past.

19th

the field over the railway line from the solar farm held five Brown Hare and ten Lapwing, the '100 field' five Roe Deer. A Grey Heron was seen on the wing over Glebe Meadow.

20th

the drake Wigeon was still / again at The Source of The Test where a Grey Heron also loitered ? with intent! Nearby trees held 18 Fieldfare and a Redwing, up to four Stock Dove, a hunting male Kestrel, two Buzzard and two Red Kite being over the fields between here and the Polhampton fords. Nearby a Brown Hare was in Straight Lane fields and a Chiffchaff was seen, but not heard, in flanking hedgerows / trees.

Right: Brown Hare, Lepus europaeus Picture: Deb Heath. Surprisingly, perhaps worryingly, little 'Mad March Hare' activity has been noted during the month

21st

a larval Scarlet Tiger was the first caterpillar reported this year. A male Brimstone was again gracing Highfield gardens, bumble-bees being seen to visit other village gardens. About the outskirts of the village a Kestrel, Mistle and Song Thrush, Skylark and a velvet-shedding Roe Deer were seen, all apart from the deer still of conservation concern, hinting at just how important 'taken-for-granted' Parish populations of these are.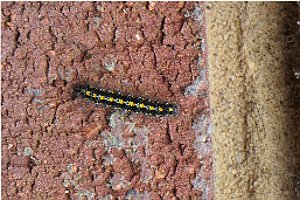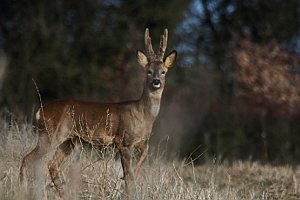 Left: Scarlet Tiger, Callimorpha dominula Picture: Deb Heath. This one found on a garage wall - not quite their usual source of food!
Right: Roe Deer, Capreolus capreolus Picture: Deb Heath. One of the decidedly more elegant members of the Parish fauna
22nd

of the songsters reported Skylark and Song Thrush were perhaps the most eloquent and strident. Long-tailed Tit continued to visit gardens, many yet to split up in to their pairings for the coming breeding season, as did Great Spotted Woodpecker.

23rd

a Green Woodpecker was visiting the shorter turf of the churchyard and adjacent paddocks. A pair of feeder-visiting Greenfinch was the day's highlight for one parishioner, Long-tailed Tit and Chaffinch also visiting. The fields off Straight Lane, both east and west, had Skylark singing over them.

24rd

Skylark were heard in song by one parishioner ?.. "Everywhere", a Mistle Thrush off Overton Hill joining in this lifting hint of spring. Yellowhammer were again seen about Straight Lane hedgerows, one of their 'hot-spots' in the Parish. Robin were also joining in with the spring antics, chasing their less bold garden companions, the Dunnock, about all too repeatedly it appeared.

25rd

Red Kite over one garden had, again, Magpie visiting below them.

26th

male Brimstone were seen about verges, hedgerows and gardens about some of the more oft-visited parts of the residential Parish. Nuthatch were seen at Ashe, one of the few areas where they might be found locally, often with more than a little effort needed! Easier to see were the Coal Tit and Goldfinch visiting garden feeders.

27th

a Green Woodpecker was off Straight Lane where Yellowhammer and Skylark were in song. Closer to the village centre many Starling were seen in gardens, along with the more anticipated Robin and their shyer companions, Dunnock. Overhead Red Kite were still often apparent, as were two Roe Deer in the '100 field'.

28th

a Sparrowhawk was reported over Flashetts, a site where they've bred in past years. Among the more regular avian visitors to one garden were Woodpigeon, Blackbird, Robin, Blue Tit and Magpie, the latter still a rare visitant to most, many still perhaps hoping it remains that way! Great Spotted Woodpecker remained a regular visitor to one garden and its feeders.

29th

a Stone-curlew was heard moving north over one back garden mid-evening, this perhaps the first of the returning Parish birds. Also noted moving over the village were two Cormorant, singletons mid-morning and late afternoon and both to the west. Five Goldfinch, including the one captured below, visited a Two Gate Meadow garden, as did three male and two female Chaffinch, Coal Tit and Goldcrest.

Right: Goldfinch, Carduelis carduelis — Picture: Deb Heath. This image being featured on South Today! Well done Deb!!!

30th

both Mistle Thrush and Bullfinch were off Straight Lane, both species remaining less than common about the Parish and so always noteworthy. More anticipated was Red Kite, these being seen low over gardens where other visitors noted included Goldcrest, Greenfinch, many Long-tailed Tit and a charm of five Goldfinch. Another Red Kite was seen in Southley Farm trees, prior to moving on with the onset of yet more heavy rain.

31st

Brown Hare were in roadside fields north of Hill Meadow / Hilltop Road. A Chiffchaff was in song at the lagoons early morning where a drake Shoveler and four+ Teal were the only winter visitors remaining. Other hints of spring there were the brood of six Mallard and nesting Mute Swan. Perceived spring activity was also seen in the shape of bumble-bees nectaring at garden pulmonaria. Three Red Kite were lingering over Oak Close mid-evening, a Buzzard having been seen on Hide Hill Plantation a little earlier. A Buzzard, perhaps the same, was seen at The Source of The Test during the morning, further Teal there plus both Fieldfare and Redwing being more lingering signs of the winter, 14+ Fieldfare also being seen to drop from a tree off Straight Lane in to the adjacent fields. Five Goldfinch again visited feeders in Two Gate Meadow. Another, less welcome, visitor to one garden was a Mole - the resulting 'hills' the first ever sign of their presence there.
Contributors: David Cluett, Brian Elkins, Margaret Elkins, Deb Heath, Alison Hutchins, Peter E. Hutchins, Jane MacKenzie, Ken MacKenzie, Stewart Woolley & Simon Yates.
April offers...
The spring, at last! *
April's perhaps one of the most dynamic months of the year — much growth in the flora about the Parish being backed up by a huge increase in the 'spring' activity of the resident fauna, this in turn being added to by the departure of avian winter visitors and the return of their summer visiting cousins.
Swallows are often valued as the harbingers of spring but their smaller and dowdier relatives, Sand Martin, are usually the first of their family to appear, lingering perhaps just briefly over Parish waters before moving on to their breeding grounds. House Martin will follow in their wing-beats, hopefully to settle once more on sites such as Overton Hill &madash; if allowed!
Cuckoo — will we see, or even hear, any locally this spring? Only time will tell, many of them already well on their way back northwards from their sub-Saharan wintering grounds. Nightingale - another 'possible' for the Parish as they move northwards, so ears open for their song, both day and, of course, at night. If you're unsure of their song, try this link for a taster.
Perhaps just a few of the incoming migrants will be heard on the Society's Dawn Chorus event on 29th - we look forward to seeing you there!
The yellows of the verge dandelions, celandines and crocus will soon be replaced by the stronger and more vibrant purples, pinks and reds of spring blooms — campions, currants and the first of the orchids soon to be brightening the gradually greening meadows and hedgerows. Hawthorn blooms will take the place of the Blackthorn and cherry whilst budding trees will soon have larval moth making the most of the newly formed leaves.
Butterflies will at last become regular, both to the gardens and 'wilder' areas about the Parish — the current Brimstone to be replaced with other whites, the over-wintering Red Admiral and Peacock numbers to be augmented by spring, and far tidier, additions. Comma, Holly Blue and the almost fluorescing Orange-tip will appear on the brighter and warmer days, soon hopefully.
For the more nocturnal of you both moths and bats will increase in numbers and activity. For an early evening wander try the bridges over The Test where the latter congregate to make the most of the initially waterborne mayfly and similar. For the former, if you'd like to find out what's visiting your garden there's a mobile moth trap available — just get in touch for a one-on-one mothing session!
The above's only a hint at what's likely to be new in the Parish as the month progresses, so enjoy both this, all that you can find and the, hopefully, more spring-like weather.
Peter.
* Hopefully!
PS don't forget, as always, we'd like to hear about what you're seeing, and hearing, especially the migrants, invertebrates and flowers that will become ever more obvious as the 'spring' continues, April one of the months of most positive change every year.