Local sightings
Return to the list of reports
March 2013
1st

early evening Barn Owl were seen at Sapley Farm House and Southley Farm, the lights of the Information Centre at the latter attracting in a Barred Umber.

2nd

three Bullfinch, two males, were seen well in the wintery sun at Foxdown, where a 'Yaffle' was also heard. Gulls were seen, and heard, lingering about the village during the morning before all moving off in one vocal group.

4th

c.50 Lapwing were on the wing near Jack's Copse.

5th

the warmest day of the year yet, 12°C, at least, being recorded. This encouraging a Brimstone out on to the wing – the first Parish butterfly reported this year.

6th

another warm day with 12°C once again being recorded.

7th

a Barn Owl was active early morning at Cannon Heath, just over the wooded Parish boundary.

10th

a Grey Wagtail was active about the village late morning.

11th

further frosts at both end of the day, the latter time also seeing a Red Kite moving north out of the Parish near Ropley Cottage.

12th

another noticeable frost this morning.

13th

a Red Kite was in a tree at Frost Hill early evening. A Barn Owl was once again active just over the northern Parish boundary, hunting roadside at Cannon Heath.

16th

ten+ Golden Plover were among 220+ Lapwing over fields north of Hill Meadow late afternoon, 35+ of the latter then being seen to head south-west over Town Meadow a little later.

17th

three Black-tailed Godwit on floods off Straight Lane may well have been the first ever to be recorded in the Parish. Further migrants were seen in the form of two Sand Martin passing high over the David's Wood area.

18th

a Buzzard moved north-west over the village late afternoon.

19th

single Buzzard were seen 'sat' in several fields between Frost Hill and The Harrow Way. Rain, sleet and snow all fell today.

23rd

more snow! The Barth Syndrome Quiz Night took place, raising c.£450 for the Foundation and seeing members of OBS represented in several teams, one of these, the 'Murmurations', taking second place.

24th

a Barn Owl was hunting, successfully, at Test Valley Golf Course early evening. One of the Peacock was tucked up under the canopy of the ???? in Sapley Lane, also early evening.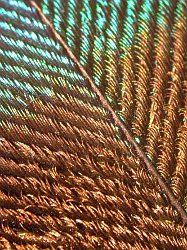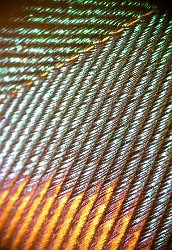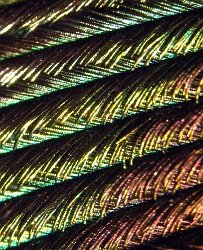 Blue Peafowl, Pavo cristatus - Pictures: Doug Kelson.
Detail of the 'eye' of the 'tail' feathers from our two colourful, and vocal, residents
Contributors: Alison Hutchins, Peter E. Hutchins, Doug Kelson, Tamsin Williams & Simon Yates.