Local sightings
Return to the list of reports
February 2018
1st

the bi-coloured Brown Trout was again off Kingsclere Road. A Buzzard moved east over Woodlands early afternoon whilst Red Kite were seen over the Greyhound Lane, Lion Close and Highfields areas.

2nd

late afternoon about Court Drove had 15 Brown Hare, a 'singing' Grey Partridge, mobile flock of 86+ Fieldfare and five Roe Deer in the flanking fields, a Hawfinch in The Peak, six Red Kite, three Buzzard and a Meadow Pipit on the wing and flowering White Dead-nettle and snowdrop under hedgerows. Grey Wagtail were seen about The Test off Kingsclere Road and Flashetts. Further Red Kite, two, were seen over the Great North Field.

Right: Grey Partridge, Perdix perdix. These remain far rarer locally than the introduced Red-legged Partridge, the latter often still referred to as "French Partridge" due to their perceived origins

3rd

half-a-dozen ventured out on to the Micheldever Spoil Heaps to help with scrub clearance. A Brown Rat was seen visiting one garden! Song Thrush were again evident, birds being noted off Overton Hill, Straight Lane and Two Gate Meadow; hopefully a positive sign for the future of this species, even if only locally. Goldfinch remained obvious, including a gathering about the path running from the school to Kingsclere Road. Garden visitants included flocks of Long-tailed Tit, yet to split in to their pairings for the spring.
Also of interest, this article on fish in our chalk streams on the BBC NEWS website today.

Right: One of our committee members hard at it at Chalkies! Well done Nick!

4th

five Red Kite and two Buzzard were seen over the fields flanking the northern edge of the village, two other kite being over the 'dog field'. The bi-coloured Brown Trout was still in The Test off Kingsclere Road. A Red Kite lingered over the Woodlands area late morning. Mistle Thrush continued to 'protect' ornamental sorbus, albeit the latter now having few berries to sustain the thrushes.

5th

three Red Kite were seen over Highfields with another mid-morning over the Quidhampton fields.

6th

a Barn Owl was in a roadside tree at Nutley Bottom early evening. A pair of Mute Swan narrowly missed one Parishioner, flying low past as they passed over a hedgerow. Garden birds included "Loved-up pigeons" and Long-tailed Tit, a hen Chaffinch more unexpected in one. Two Red Kite were again over the 'dog field'.

Right: Woodpigeon, Columba palumbus — Picture: Deb Heath

7th

Red Kite were seen in the Nutley Bottom Copse, two, the woodland about Frost Hill Farm and over Waltham Road / The Green. Brighter still were the Bullfinch seen at the top of Straight Lane. A Great Spotted Woodpecker about the Town Meadow trees was not seen, only heard drumming.

8th

a Barn Owl was again seen in a roadside tree at Nutley Bottom early evening. A Little Egret and four Red Kite were about The Source of The Test. A Red Kite was over Highfields where Robin continued to be ever-present. A Sparrowhawk had replaced the Bullfinch at the top of Straight Lane. Buzzard were seen about the cressbeds at Polhampton and atop Hyde Hill Plantation. Further woodland birds noted included Great Spotted Woodpecker and Song Thrush, both in the woodlands below 'Charters Hill'.

9th

the Barn Owl was replaced by a roosting Buzzard at Nutley Bottom. Primrose, Daisy and daffodil were seen to be blooming.

10th

a Stoat was seen attempting to cross the B3400 in Southington — hopefully it accomplished this successfully.

11th

both Brown Hare and Brown Rat (!) were to be seen in the fields north of the railway line / Hill Meadow. Mistle Thrush were heard below 'Charters Hill'; these an increasingly rare visitor locally. Two Red Kite were seen over Highfields, another over the village early morning, further birds then being seen over the High Street and Town Meadow early afternoon. A pair of Robin was seen investigating Honeysuckle for a presumed nest site. Greenfinch were heard at Overton Hill, another species seen ever less frequently, particularly as garden visitors.

12th

frost at both ends of the day, once again. A pair of Mistle Thrush was foraging on the football field on Overton Hill. More anticipated was the gathering of c.25 Canada Geese at The Source of The Test.

13th

a Long-eared Owl near Ashe Warren late evening continued the annual reports of this species in the Borough — the counties rarest breeding species. A 'pair' of Red Kite was acrobatically engaged over Hyde Hill Plantation late morning, in the unremitting drizzle. A Green Woodpecker at Highfields was the first reported locally for some time. A pair of Bullfinch, Song Thrush, large flocks of both Long-tailed Tit and Goldfinch were seen as one Parishioner walked in to the village centre from Two Gate Meadow.

Right: Long-eared, Owl Asio otus. This one appropriately looking more than a little surprised, as was presumably the local bird on its nocturnal wanderings

14th

garden birds noted included Long-tailed Tit, Goldfinch, Blackbird, Coal and Blue Tit, Robin and, of course, Woodpigeon.

15th

Red Kite were seen over Highfields, two, Woodlands, Kerchers Field, Waltham Road, Winchester Street and the school, Buzzard over Highfields, Woodlands and Kerchers Field.

16th

Great Spotted Woodpecker were heard drumming about Southington.

17th

the fields about / north of David's Wood provided a Woodcock, Brown Hare, Roe Deer, many Fieldfare and Scarlet Elf Cup. A Grey Heron was Test-side off Bridge Street. A Great Spotted Woodpecker was once again heard drumming, this time in the Flashetts trees. Long-tailed Tit were seen visiting a number of gardens, some of the latter habitats being seen to be very busy, finches being particularly evident.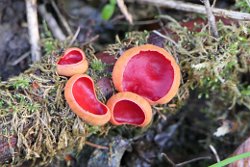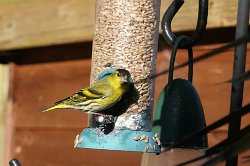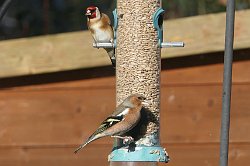 From Left to right: Scarlet Elf Cup, Sarcoscypha coccinea; Siskin, Spinus spinus; Goldfinch, Carduelis carduelis & Chaffinch, Fringilla coelebs — Pictures: Deb Heath.
This fungus has been found on all continents, excluding Antarctica
Siskin have been seen / reported in very low numbers in the Parish this winter, so a garden visitor is even more unusual, though the continuing colder weather may drive more to feeders
18th

Red Kite and Buzzard were over village gardens where Robin continued the winter theme, as did the weather. Other garden visitants included Coal, Great and Blue Tit, Green, Gold and Chaffinch, Starling and both Dunnock and Blackbird, the latter 'tidying-up' under the feeders other birds were taking advantage of.

19th

a pair of Magpie was regularly visiting at least one garden. A Red Kite was over another garden, where Gold and Chaffinch, Long-tailed Tit and Robin were seen.

20th

Skylark were in and over the fields off Straight Lane, a Kestrel also there, Fieldfare being nearby on the football field and Song Thrush in the flanking hedgerows.

Right: Skylark, Alauda arvensis — Picture: Deb Heath. One of the 'locals' that's always appreciated by those that come across them

21st

a cock Pheasant was an unexpected garden visitant! A Grey Heron was seen on the wing over the southern parts of the village. Green and Chaffinch visited feeders, Wren and Dunnock being seen below them.

Right: Pheasant, Phasianus colchicus. The species name 'colchicus' is Latin for 'of Colchicus', a country on the Black Sea where this bird first became known to Europeans

22nd

a Barn Owl was again about Nutley Bottom early evening, a Red Kite being seen over Highfields earlier with another, on a Brown Hare, near David's Wood; the latter area also holding singing Skylark. Two livelier hare were seen near Ashe, as were five Roe Deer, a Muntjac being about the Berrydown Garage area.

23rd

a Tawny Owl was vocal early morning. Later a Red Kite was over the fields north of David's Wood and Green and Goldfinch and Long-tailed Tit were still coming to garden feeders / gardens.

24rd

the Tawny Owl about the eastern outskirts of the village remained vocal, prior to dawn. A Muntjac and three Brown Hare were present late in the day near David's Wood, 11 Red Kite circling there the largest noted gathering recently. To add to the Parish kite count four were seen over the fields between Ashe and Polhampton. The cock Pheasant again visited a Highfields garden.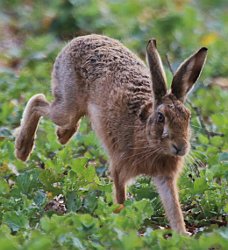 From Left to right: Brown Hare, Lepus europaeus & Red Kite, Milvus milvus — Pictures: Deb Heath. Two of the, often, most accessible of Parish wildlife forms
25rd

a gathering of 1000+ gulls in fields off Court Drove, enticed by easy pickings from ploughing, provided two new species for the Parish — Mediterranean and Yellow-legged Gull! The latter's becoming a more regular visitor to the Borough, perhaps a handful already noted this year, whereas the more exotically named gull may have been only the 2nd multi-observer record for the Borough — this bird a stunning adult in breeding plumage. The watching of the gulls also saw perhaps 31 Golden Plover, 130+ Lapwing, five+ Red Kite and six+ Buzzard about the fields early / mid-afternoon. A further two Red Kite were seen towards the southern end of the village, as were garden-frequenting Long-tailed Tit. Further Lapwing were seen over the fields north of David's Wood, as were Brown Hare.

Right: Mediterranean Gull, Ichthyaetus melanocephalus, Harrow Way, Overton © Barry Stalker. "Ringed bird in large flock comprising of six species of gull off Harrow Way". All six species are to be seen in this single image!

26th

snow! The weather, as might be anticipated, didn't stop the local Red kite in their activities, birds being seen about many parts of the Parish, including the residential areas. 'lbj's' recently seen in mobile flocks over fields north of David's Wood were presumed to be Linnet but this remains to be confirmed!

27th

three Red Kite were over roadside fields at Tidgrove Warren early morning, two over fields north of the mill and another over Highfields, later. A Great Spotted Woodpecker was seen, rather than just heard, today, visiting garden feeders.

28th

Red Kite again were over gardens off and about Winchester Street, Long-tailed Tit continuing to visit several gardens about the village.
Contributors: David Cluett, Brian Elkins, Margaret Elkins, Deb Heath, Alison Hutchins, Peter E. Hutchins, Jane MacKenzie, Ken MacKenzie & Barry Stalker.
March offers...
Real hints of spring, hopefully!
Although this March has started with "The Beast from the East" all too obvious we can but hope that spring soon kicks in, that temperatures creep up and over freezing and that the local wildlife is complemented by migrants from the south, increased blooming of Parish plants and ever-increasing signs of 'friendliness' amongst the flora and fauna.
With the latter in mind, Brown Hare are sure to be ever more active, their 'boxing' guaranteed to brighten walks about the more rural edges of the village. The same fields will hold diminishing numbers of Lapwing and Golden Plover whilst gulls will be drawn in by increased farming work — perhaps a repeat of last month's visits by Mediterranean and Yellow-legged Gull can be hoped for.
The hedgerow, scrub and copses off areas such as Court Drove will be, hopefully, enlivened by bird song and by mid-month the likes of early migrants, Blackcap and Chiffchaff, will be adding their voices to this.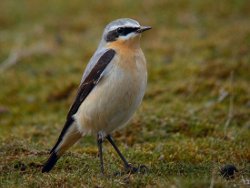 The downs and farmland will see the first of the Wheatear appearing and the wetter areas will encourage Sand Martin to linger, albeit perhaps briefly, before moving on further north to their increasingly non-operational colonies. The vagaries of the British weather hampering their breeding attempts all too regularly in recent years.
Right: Wheatear, Oenanthe oenanthe
Roadside verges, the less maintained areas under hedgerows and alongside both arable and stock fields and quieter patches of gardens will start to colour, Bluebell already pushing through winter's leaf-litter and daffodil, Lesser Celandine, dandelion and other 'yellow' locals anticipated to brighten the current pervading green.
During the day wildlife will be obviously more active but don't forget to watch and listen as darkness falls, bats will once again be on the wing over both village gardens and The Test and the love songs of owls will become ever more prevalent — the lengthening days will however make the sighting of the latter less likely. Moths will be making the most of the, hopefully, more clement conditions and night-time driving will see more of these attempting to finish their existence in an untimely manner!
Butterflies will at last be evident with the likes of Brimstone, Red Admiral, Small Tortoiseshell and Comma emerging from their winter slumbers, Holly Blue also adding further colour to Ivy-clad hedgerows and the first of garden blooms — brighter and warmer days will undoubtedly encourage them out on to the wing; yet another 'something' to look forward to as spring approaches.
Peter.
PS: don't forget, we'd like to hear about what you're seeing, and hearing, especially the first of your migrants and butterflies!