Local sightings
Return to the list of reports
February 2017
1st

both Snowdrop and Daffodil were already in flower. A Kingfisher was again seen from the Bridge Street bridge; a very regular spot for recent sightings. Two Red Kite came in to Lordsfield Gardens area from the north, others being seen over Hide Hill Plantation, two, and Kings Meadow. A Buzzard was in Hide Hill Plantation late morning and over it with two kite mid-afternoon, two there late in the day with another over Glebe Meadow earlier. The Great Spotted Woodpecker was still trying to attract a 'friend', drumming on trees in the grounds of Court Farm House. The milder weather also encouraged airborne 'plankton' on to the wing, so hopefully giving the insectivores something different to feast upon; nothing larger than 'midges' was however recorded.

2nd

Winter Aconite was flowering in Lordsfield Gardens, almost the only hint of winter / spring on an otherwise very autumnal day. 11 Redwing over Winchester Street appeared to have no purpose in their flights to and from the roadside and garden trees, a further two being seen elsewhere in the village. Red Kite were seen over Town Meadow and Greyhound Lane, a Buzzard about Hide Hill Plantation.

4th

both Grey Wagtail and Grey Heron were seen on the wing over the Lordsfield Gardens / Glebe Meadow area later in the morning. A Red Kite was seen over Poyntz Road. The trees at Court Farm House continued to be harassed by the local Great Spotted Woodpecker. A pair of Mute Swan was on Town Meadow, the Canada Goose flock again grazing at The Source of The Test. A Buzzard was again sat atop the fence line east of the Ashe crossroads, another seen to drop in to the fields between Frost Hill and The Harrow Way. A Red-legged Partridge at Frost Hill proved just how fast they can run, if a car's close enough to encourage them! A further early morning search for Long-eared Owl proved to be non-productive.

Right: A big thank you to everyone who helped clear the Chalkies

5th

the pair of Mute Swan was still on Town Meadow where a Buzzard moved over at noon.

6th

a Collared Dove nest was found, sited on the rear of a wall-mounted satellite dish! A Red Kite passed over the Mute Swan still on Town Meadow.

Right: Bullfinch, Pyrrhula pyrrhula - Picture: Deb Heath. "The bullfinches are back in our gardens, who else has been lucky enough to see these beautiful visitors?"

7th

crocus were coming in to flower. A Kestrel was about fields at Berrydown. A Buzzard moved over Bridge Street, another again being seen settled in Hide Hill Plantation.

Right: Crocus sp. The yellow blooms soon to be followed by the purple and less flamboyant striped white varieties

8th

mid-afternoon saw a flock of nine Lapwing gliding north towards the Overton Lagoons. Single Red Kite were over the School are on several occasions during the afternoon.

9th

a Kingfisher was vocal east of Bridge Street late morning. A Red Kite was over Dellands, also late morning, with this or another over Woodlands early afternoon.

10th

a Grey Wagtail by The Test was making the most of the quieter waters by #3, where both Little Egret and Water Rail had been seen earlier in the year. The Great Spotted Woodpecker was again heard drumming at Court Farm House. Red Kite were seen over the High Street, Dellands / Woodlands and Winchester Street.

11th

a Kestrel was again hunting over the fields between Berrydown and Polhampton. Red Kite were seen north of Willesley Warren, west over the northern Parish boundary near Polhampton Lodge Stud and Woodlands.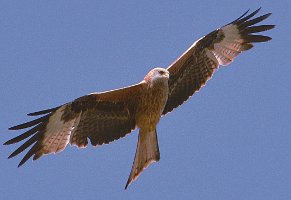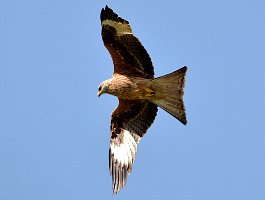 Red Kite, Milvus milvus - Picture: Dave Levy
13th

a male Blackcap in Woodlands gardens late morning heading off to the west. A Red Kite was also seen at Woodlands.

14th

late afternoon saw a flock of 30+ Linnet moving north over Silk Mill Lane, presumably to roost in the quieter hedgerows etc. north of the village. A further flock moving over late afternoon, of 22 Herring Gull, was another notable sighting for the Parish. The waters about Southington attracted Kingfisher, Grey Wagtail and Gadwall and, of course, Brown Trout. A Meadow Pipit was heard moving over Bridge Street. A tree on the edge of Bell Meadow held 160+ Jackdaw late afternoon. A small flock of Canada Geese at The Source of The Test contained a single Greylag.

15th

a Red Kite was at Frost Hill late afternoon, a Buzzard nearby over the fields to the south of the cottages.

16th

a Kingfisher was about The Test in Southington. A Mistle Thrush at Bell Meadow moved off to Dellands House, where the rookery was ever busier. A Red Kite was over fields south of Frost Hill, another over the Lordsfield Gardens area before moving off to the south. A Red-legged Partridge had left its more rural domain, being seen in a garden of Silk Mill Lane, a Red Kite lingering nearby.

Right: Red-legged Partridge, Alectoris rufa. Although evident in the Parish farmland it's more unusual for them to venture in to the more urban areas

17th

A Barn Owl was at Frost Hill early evening, becoming the 82nd bird species noted in the Borough by one during the day! Four Chiffchaff, a Little Egret, Grey Wagtail, a Nuthatch, three Shoveler, 22 of both Gadwall and Teal, a Grey Heron, a Herring, 36+ Lesser Black-backed and 75+ Black-headed Gull were about / on the Lagoons late morning. A Red Kite was seen being harassed by a crow over Glebe Meadow, another noted over Foxdown late morning.

18th

the first case of Myxamatosis this year was noted in a Rabbit at Turrill Hill. Both Kingfisher and Grey Wagtail were at Southington. A Kestrel circled over Lordsfield Gardens early afternoon, a Buzzard also there. A Red Admiral was seen in Lordsfield Gardens gardens. Two Red Kite and four Buzzard were over Woodlands mid-afternoon. A Red Kite was over Polhampton fields, others over Woodlands, Turrill Hill and Dellands. A further Buzzard was seen at Turrill Hill. Four Yellowhammer were gathered together at Turrill Hill, three being males. An Indian Peafowl was vocal from late afternoon, about the Dellands / Sapley Lane area.

Right: Red Admiral, Vanessa atalanta - Picture: Brian Chivers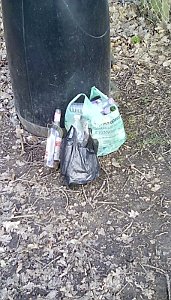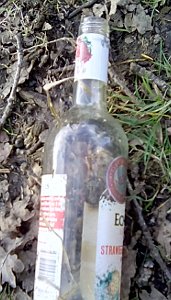 Left: The waste collected from a walk about the southern border of the village!
Right: Although not obvious in this image, there's a trapped, and now dead, rodent in this bottle that was tossed in to a local hedgerow!!!
20th

a Small Tortoiseshell was in Poyntz Road, two Brimstone in Bridge Street with singles in Red Lion Lane, Lordsfield Gardens, the school and Woodlands and a Light Brown Apple Moth at The Orchard. A Kingfisher was about The Test off Bridge Street. A Siskin moved north over Poyntz Road late morning. A Blackcap was heard about the track between Harveys Field and Kings Meadow. A spider on Woodlands housing proved to be Salticus scenicus. The Court Farm House trees were again being tested by a Great Spotted Woodpecker for their resonance, a Mistle Thrush in song nearby. At the school two Common Frog and a nultitude of Planorbis snails were found during work on the wildlife pond. Red Kite were seen over Kingsclere Road, two, Overton Hill, Woodlands, up to three, Town Meadow, The Green, three, Dellands, two singles, and Lordsfield Gardens. A Buzzard was over Glebe Meadow late morning, one being over Kingsclere Road, also late morning. A Grey Wagtail was heard at Norris House. The / one of the Indian Peafowl was seen settled at 20 Sapley Lane mid-afternoon.

Right: Zebra Spider, Salticus scenicus. The most frequnelty encountered arachnid outide of Parish residences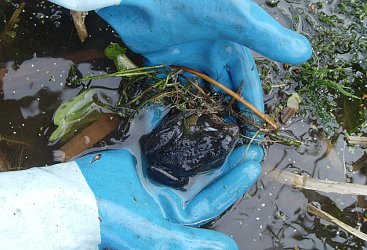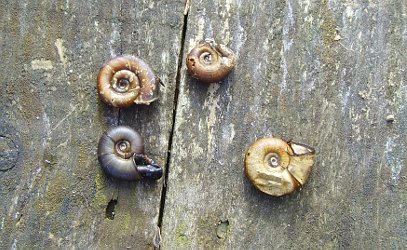 Left: Common Frog, Rana temporaria. Right: Planorbis planorbis - Picture: Deb Heath
21st

up to four Red Kite and a Grey Wagtail were seen / heard at / from Woodlands, a Buzzard being over the Dog Field. A pair of Bullfinch was again seen in Two Gate Meadow, as they had been the previous day.

22nd

a Red Kite was settled on wires east of Frost Hill Farm late afternoon. Red Kite were seen over Lion Close, two, Court Drove, Poyntz Road and Woodlands. A Grey Wagtail moved off westwards from The Test at Glebe Meadow.

Right: Chiffchaff, Phylloscpus collybita. "The usual wintering Chiffchaff could be found at Overton; this one was flitting about close the water during my monthly WeBS count"

23rd

Lesser Celandine were seen in flower at The Green / Waltham Road. Red Kite were recorded over Town Mill, Silk Mill Lane and Woodlands; twice including a bird battling in to the westerly wind late afternoon.

24th

early afternoon saw a Peregrine gliding south-west over Woodlands. Three Red Kite and four Buzzard were over the ORC late morning. A further three Red Kite were in the air further north, also late morning whilst one was over the High Street traffic lights mid-morning. Two were then over Woodlands early afternoon, these possibly accounting for the two over Southington a little later and the single over Bell Meadow mid-afternoon. Two were also seen over the Great North Field / Court Farm area. Four Buzzard were over Red Lion Lane at noon, two being seen over Hide Hill Plantation earlier. A Redwing was heard moving over pre-dawn, the first nocturnal movement note by the observer for some time.

25th

a Long-eared Owl was seen near Ashe Warren Cottage pre-dawn; the first local record this year. Nearby a Barn Owl was seen, also pre-dawn. The Kingfisher was again off Bridge Street, between the bridge and Kingsclere Road. Red Kite were seen over Lordsfield Garden, two, Hide Hill Plantation, The Green, Town Mill and Dellands. Three Redwing moving low over Glebe Meadow were the only real hint of winter noted today, with regard to wildlife that is! A Great Spotted Woodpecker was seen in a tree at The Old Rectory, presumably the bird usually heard drumming nearby.

Right: Long-eared Owl, Asio otus. One of the most spectacular of local owls, though also unfortunately one of the most elusive

26th

a pair of Long-tailed Tit visiting feeders in a Glebe Meadow garden was an unusual sight, they rarely being noted there.

27th

the Kingfisher was again present about The Test off Bridge Street, albeit once again only being heard. A Skylark singing over Winchester Street mid-morning was far less expected than the Red Kite seen there earlier. Yellowhammer were again noted about Straight Lane. A further two Red Kite were noted, moving separately south over Lordsfield Gardens. Other birds on the move included 'hundreds' of Starling over the High Street early evening. The latest victim reported from an RTC was a Common Frog, this initially having been wandering in Glebe Meadow.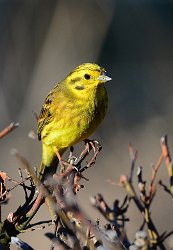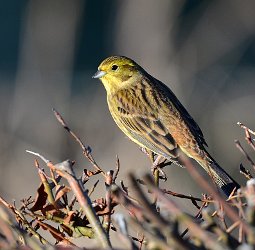 Yellowhammer, Emberiza citrinella. Picture: Stewart Woolley. Him & Her! These taken in Stewart's garden
28th

four Red Kite were 'together' over Glebe Meadow whilst two lingered over the Poyntz Road / Woodlands area late morning / early afternoon. A female Blackbird was seen with nesting material at Yield House. Other possible breeding behaviour noted as the month ended included a Great Tit 'pecking' at a nest box!
Contributors: James Andrews, Brian Chivers, Brian Elkins, Margaret Elkins, Helen Harden, Deb Heath, Alison Hutchins, Peter E. Hutchins, Shane King, Dave Levy, Jane Mackenzie, Ken Mackenzie & Stewart Woolley.
During March look out for the first of the migrant birds to arrive locally, these perhaps to include Sand Martin, Wheatear and the first of the warblers, both Blackcap and Chiffchaff likely to be about and in song by mid-month.
The local flora will hopefully be more evident, the roadside verges beginning to colour and the more open grasslands and woodland seeing Primrose breaking through the current all-green sward. Wood Anemones will also brighten the dowdier woodland floors, the canopies above them starting to break in to bud.
Watch where you walk and drive, amphibians and reptiles already on the move sure to become ever more obvious, though all too often suffering due to our inability to see them before it's too late.
As always, please do feel free to contact me about any local sightings, at any stage / time - I'm always available on 07895 - 388378 and mailable on fieldfare600@gmail.com