Local sightings
Return to the list of reports
February 2015
1st

three Red Kite were over the village early afternoon, one eventually moving to the west, the others to the south-east. Lesser Black-backed Gull moved over the village in small numbers, to and from their preferred feeding / loafing areas about Turrill Hill / Laverstoke Park Estate.

2nd

two Raven moved over woodland west of the village mid-afternoon. Two Little Egret were at The Source of The Test. Another fall of snow overnight, this time the residue lingering through the day. This however didn't stop, perhaps even encouraged a Nuthatch to visit a Lordsfield Gardens garden. A Buzzard was in a tree by Ashe crossroads late morning, a Red Kite being seen over Overton Hill. A Grey Wagtail was in the fields south of Southington Close late afternoon, the recent disturbance and continued presence of 'hay' there presumably ensuring trouble-free feeding was to be gained.

Right: Raven, Corvus corax - The most impressive of British corvids and, pleasingly, on the increase locally

3rd

two Little Egret were again spending time about The Source of The Test. The white-headed Blackbird was again seen at Quidhampton. Goldfinch were seen to be making the most of the Kingsclere Road allotments. 18 Canada Geese headed east over Town Meadow early evening.

4th

a Red Kite was over Overton Hill late afternoon. A pair of Blue Tit was seen in a Greyhound Lane garden, perhaps already prospecting for a nest site.

Right: Blue Tit, Cyanistes caeruleus - One of our most familiar garden birds - but have you ever really looked at their striking plumage?

5th

Red Kite were seen lingering over Bell Meadow and drifting east over the village, a Buzzard circling over the southern end of Vinn's Lane.

6th

17 Golden Plover flew over Overton Hill mid-afternoon, the first seen over the village this year. Two Little Egret dawdled at The Source of The Test, being seen mid-morning and mid-afternoon; the earlier sighting coinciding with a Red Kite over the adjacent fields.

7th

a further four Golden Plover moved rapidly north-east over Overton Hill early afternoon. Three Red Kite were seen together over Alexander Road, one over the High Street.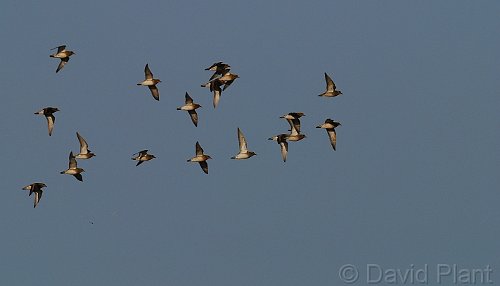 Golden Plover, Pluvialis apricaria - A once regular winter visitant to local farmland these are becoming increasing infrequent in their appearances
8th

three Mute Swan lingered to feed on Town Meadow, one moving off to the west pre-dusk.

9th

three+ Little Egret were seen at The Source of The Test. Late afternoon and a Kestrel was at the top of Straight Lane.

10th

a Peacock butterfly was found in Lordsfield Gardens, unfortunately perished. A Kestrel was seen about the Ashe crossroads area.

11th

three Collared Dove and single Blackbird and Blue Tit visited one garden - can you do better than this? If yes, why not let us know what's visiting yours? A Red Kite was over the lower reaches of Overton Hill mid-afternoon.

12th

a Little Egret moved south over Town Mill mid-morning, moving presumably from Flashetts / the Filtration Pools to ?. who knows where? Winter Aconite were flowering in Lordsfield Gardens where a Red Kite lingered late morning. A Buzzard was on the ground by the floods at Ashe mid-afternoon, perhaps looking for easy invertebrate prey. A Grey Wagtail was also seen in flight, heading east over Southington Lane. Two Mute Swan were still on Town Meadow.

13th

a Grey Wagtail was on the wing over the village late afternoon.

14th

a Little Egret was seen at The Source of The Test. House Sparrow, four, and Woodpigeon joined the more anticipated visiting Collared Dove and Blackbird in a Greyhound Lane garden.

15th

an HOS walk from Ashe to Overton and back had seven attending and three Little Egret, Kingfisher, three Red Kite, Sparrowhawk, Kestrel, Herring Gull, Buzzard, up to three Grey Wagtail, three Great Spotted Woodpecker, together, Little Grebe, Stock Dove, Skylark, Fieldfare and Yellowhammer as the most notable birds recorded. A further Kestrel was hovering over Sapley Lane Playing Field early morning, not yet disturbed by locals, with another at Southley Farm mid-morning. Two Dunnock were the latest 'new' species to be reported from a Greyhound Lane garden this month.

16th

a Buzzard was over the field south of Southington Close mid-afternoon, perhaps hoping to make the most of the farming actions there, these perhaps disturbing easily obtained food items.

17th

two Little Egret were at The Source of The Test. A Red Kite lingered over Southington mid-afternoon, the rookery there getting ever busier.

18th

two Little Egret were seen at The Source of The Test, lingering there to at least mid-afternoon. A Red Kite was seen over Lordsfield Gardens, two Buzzard over Hyde Hill Plantation.

19th

two Red-legged Partridge were seen on the wall of Laverstoke Park.

Right: Red-legged Partridge, Alectoris rufa

20th

a male Tawny Owl was vocal early morning, being heard in the west of the village / Southington. A Red Kite moved north-east over the High Street mid-morning.

21st

a Little Egret was seen at The Source of The Test. A Red Kite was seen over Sapley Lane, a Wren visiting a nearby garden in Greyhound Lane.

22nd

a Dunnock returned to a Greyhound Lane garden where two Blackbird now were seemingly resident. Red-legged Partridge were in a roadside field at Testbourne Golf Club.

23rd

a Little Egret was seen at The Source of The Test. Two Skylark were in song in fields off Straight Lane. A Red Kite was over Lordsfield Gardens early afternoon. The allotments off Kingsclere Road attracted both Song Thrush and Chaffinch in to feed.

24th

a Little Egret was seen at The Source of The Test mid-morning, two being there early afternoon. A Red Kite was seen over Woodlands.

25th

a Little Egret was seen at The Source of The Test mid-afternoon and early evening. House Sparrow once again graced a Greyhound Lane garden, where Woodpigeon were perhaps a less welcome visitor.

26th

Red Kite were seen over Glebe Meadow and Winchester Street.

27th

a Water Rail was seen in a roadside stream off Kingsclere Road. The first of the local orchids were found, Early Purple in a Silk Mill Lane garden. Both Red Admiral and Brimstone were on the wing in Pond Close, where a Red Kite drifted west. A Grey Wagtail was heard moving west over Foxdown.

Right: Water Rail, Rallus aquaticus - This shy and often elusive rail is a regular winter visitor to the wetter areas of the Parish, perhaps less than ½ the size of the more frequently seen Moorhen but far more vocal!

28th

a Red Kite was over the village centre early afternoon. Mid-morning and both drizzle and a Grey Heron were about the floods at Ashe.
Contributors: Jill Aburrow, Julian Aburrow, Nancy Cathcart-Jones, Deborah Heath, Alison Hutchins, Peter E. Hutchins, Adrian Lewis & Veronique Kerguelen.