Local sightings
Return to the list of reports
January 2017
1st

an HOS* walk from Overton Hill to The Source of The Test and back via Polhampton saw two Little Egret, up to six Red Kite, 75+ Redwing, two Greylag, two+ Buzzard, one+ Kestrel, 12+ Pied and a Grey Wagtail, seven Skylark, Green and Great Spotted Woodpecker amongst the bird species recorded with incoming rain curtailing the walk by early afternoon. c.100 Canada Geese were on the fields off Straight Lane. Reports from late 2016 included Water Rail being seen in the stream off Kingsclere Road and Flashetts.

Right: Pied Wagtail, Motacilla alba yarrellii. The British sub-species of the continental White Wagtail, this a male

2nd

Kestrel were seen at Flashetts and off Straight Lane, as were Bullfinch. A Buzzard moved over Town Meadow early afternoon with another, a regular, being seen on the eastern Parish boundary fencing later. Two Red Kite were over Woodlands later in the day when up to seven Pied Wagtail gathered pre-roost, none however roosting in the recently favoured eucalyptus. The Canada Goose flock was seen on fields off Straight Lane and at The Source of The Test.

3rd

a female Kestrel was on Berrydown Court mid-morning. A Grey Wagtail was about London Street, perhaps attracted in by the Pieds regularly feeding about the village roads and gardens. The 100-strong Canada Goose flock was again in the fields north of the football fields, a Wren noted nearby in the hedgerows lining Straight Lane.

Right: Grey Wagtail, Motacilla cinerea - Picture: Dave Levy

4th

a late morning Red Kite over Woodlands moved off to linger over Dellands where three were seen early afternoon, other birds then being seen later in the day over Station Road, Bridge Street, Lordsfield Gardens and, again, Woodlands; two. A Grey Wagtail was both vocal and mobile about Town Mill mid-morning. Bullfinch were heard 'hooting' in Two Gate Meadow. The regular perch on the Parish boundary was occupied by a Buzzard mid-afternoon. A Great Spotted Woodpecker visited a Glebe Meadow garden, perhaps the bird heard drumming nearby on several occasions.

5th

a flock of ten+ Fieldfare was seen in a berry-laden tree in a Highfields garden. Both Red Kite and Buzzard were seen over Bridge Street. Two Red Kite were seen over Woodlands, one over Lordsfield Gardens. A Grey Wagtail moved low through the same area, heading towards Southington and The Test. A recently killed male Blackbird in Glebe Meadow was the first indication of cat predation this year! The Canada Goose flock was again in fields on the eastern edge of the village, where Black-headed Gull and a mysterious hedgerow skulker were also seen.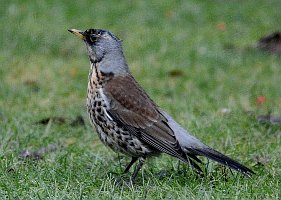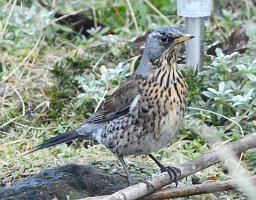 Fieldfare, Turdus pilaris - Picture: Dave Levy
6th

mid-morning saw a Waxwing over Winchester Street, the 2nd of this winter within the Parish; unlike the first it was not relocated. A Little Egret was in The Test off Straight Lane, a Kingfisher being seen downstream at Flashetts. Not quite as dramatic but notable was a Mottled Umber in Poyntz Road, the first moth recorded this year. A Blackcap was seen in Two Gate Meadow. The pair of Mistle Thrush was still on territory about the Lion Close Rowan. Red Kite were seen over Dellands, Southington, Lordsfield Gardens, two, Court Farm House, the High Street, Lion Close and Town Meadow. A Grey Heron dropped down over Glebe Meadow to The Test late morning, joining Coot, Moorhen and an assortment of 'Mallard' already in situ. The Canada Geese continued to feed on fields on the northern side of Overton Hill.

Right: Waxwing, Bombacilla garrulus - Picture: Dave Levy. This taken later in the month when a small flock lingered about Eastrop Park / Way

7th

a Little Egret over The Test was seen at Flashetts and then Straight Lane. The Buzzard was again seen on the fence line east of Ashe Floods. A mouse sp. in Bridge Street became the latest victim to local felines. The mist during the morning ensured that a Red Kite seen at Berrydown Court was moving low over the adjacent road. Another moved high west over the High Street late morning. The ornamental Rowan in Lion Close continued to attract at least one territorial Mistle Thrush.

8th

a Kingfisher was heard off Silk Mill Lane where clearance work continued alongside The Test, perhaps the same being somewhat more obliging off Bridge Street. A Little Egret was again at The Source of The Test. A male Kestrel used the surround of the eastern window at St. Mary's Church to shelter from the afternoon drizzle. A Red Kite lingered in a tree near here, in the increasing mist, during the late morning / early afternoon, this or another then settled in the trees at Town Meadow mid-afternoon, moving off to the west in the increasing rain. Nearby two groups of Moorhen, totalling 22 birds, were feeding out on the riverside grass; an unexpected and notable gathering. A Grey Wagtail was seen on Butcher's Cottage, Southington whilst nearby, three young Brown Trout were active in The Test off Southington Lane, unlike the Hedgehog in Red Lion Lane; the latter yet another seemingly unnecessary road casualty.

Right: Moorhen, Gallinula chloropus. Always present about the Parish but rarely noted

9th

a Barn Owl seen at dusk close to Frost Hill Farm was another excellent local sighting, it however being seen after being hit by a car! It flew off after 'flapping' across the road. A Little Egret was seen in The Lynch. The second moth of the year was found, another Mottled Umber, this again having been drawn in by overnight lighting to the outside of a building. Birds on the move included a Meadow Pipit over Lordsfield Gardens and a Grey Wagtail over Poyntz Road, both vocal, whilst a Red Kite was seen over the Lordsfield Gardens / Town Meadow area.

10th

a pair of Mute Swan was seen at the Source of The Test.

11th

a Little Egret was found foraging in Flashetts, a Tawny Owl being heard there very early in the morning. Eight Red Kite were seen on the wing between Quidhampton and Ashe Church. A further two were circling and lingering over Dellands late morning with a further bird then seen moving south over Town Meadow / Woodlands early afternoon. A vocal Fieldfare was in Winchester Street trees mid-morning, before leaving to the east / north-east. No Redwing, Mistle or Song Thrush were seen or heard today, though Blackbird were still very evident. Less happy news was of single vole and mice feline fatalities found, plus a Mottled Umber that had fallen foul to somebody's feet!

12th

snow!

13th

a Small Tortoiseshell became the first butterfly to be recorded this year, being found in a Woodlands residence. Several flocks of Canada Geese moving over the village included one heading low east mid-morning that had at least one Greylag within it. Single Red Kite were seen over Lordsfield Gardens, Bridge Street and Town Meadow and Buzzard over Lordsfield Gardens and the Berrydown Court area, a further two seen in Hide Hill Plantation. Bullfinch were evident in Winchester Street gardens, Green Woodpecker on Lordsfield Gardens lawns. Hints of snow late morning today, though there was still residue from the previous day through to dusk.

Right: Small Tortoiseshell, Aglais urticae - Picture: Pete Eeles

14th

a vocal pair of Peregrine over the village centre mid-morning eventually moved unhurriedly off to the south, quite a spectacular sighting for those lucky enough to witness it. Four Red Kite were over the Red Lion lane area late morning, a further two seen over the south of the village and singles being over Station Road and Foxdown.

15th

a male Blackcap visited a Woodlands garden mid-morning. Two Fieldfare moved west at Dellands late afternoon, Yellowhammer, Herring Gull and Gadwall also being noted on the move over the village at this time.

16th

a Little Egret moving north-east over Glebe Meadow late morning may have been aiming for Flashetts, though minutes later being seen to head back towards Southington. A Kingfisher, perhaps two, was heard to the west of Bridge Street, over The Test. A further moth was found, appropriately a Winter Moth on the exterior of The White Hart; presumably too young to be allowed in! A Red Kite was seen over Town Meadow late in the afternoon before moving off towards Northington Farm.

Right: Winter Moth, Operophtera brumata - Picture: Mike Wall, Hantsmoth

17th

both Little Egret and Grey Heron were in The Test between Polhampton and Lower Ashe. A / the Little Egret was again at The Source of The Test later in the day. A pair of Bullfinch was seen off 'Burfield Lane', a male again visiting Winchester Street gardens. Red Kite were seen over Glebe Meadow, Bridge Street, Town Meadow and Woodlands today with a Buzzard out of the trees on the northern perimeter of the school grounds, heading off towards the ORC. One Two Gate Meadow garden attracted two of both Dunnock and Chaffinch and a Wren, a charm of Goldfinch being nearby. The Canada Geese were again seen graxing fields east of the village. A far improved day for weather though frost at either end exasperated the wintry feel, bright blue and sunny for much of the time otherwise.

18th

a Song Thrush was off Station Road, more of these now breaking in to song about the village edges.

19th

Red Kite were seen over Court Drove, Lordsfield Gardens, Bridge Street and Town Meadow, a Buzzard over the latter moving off west to join another circling over Southington. A further Buzzard was seen on the Parish boundary fencing at Ashe; one of the most regular spots locally to see them settled for any length of time. Apart from the frost the only hint of winter was three Fieldfare in Lordsfield Gardens, though these soon moved off in to / over the school grounds.

21st

the Great Spotted Woodpecker was once again seen in a Glebe Meadow garden.

22nd

a Peacock was seen at St. Mary's Church, just the second butterfly reported in the Parish so far this year. Nearby the Great Spotted Woodpecker was heard, but not seen, at Court Farm House. Chiffchaff were seen to be more active in the improved weather conditions.

Right: Chiffchaff, Phylloscpus collybita. "The usual wintering Chiffchaff could be found at Overton; this one was flitting about close the water during my monthly WeBS count"

25th

a Little Egret was seen in The Test off Kingsclere Road. A Sparrowhawk moved over the fields north of Berrydown, Buzzard being seen over Town Meadow, two, and in Hide Hill Plantation / on the fencing near Ashe Park Lodge whilst Red Kite were noted over Winchester Street and Town Meadow. A Roe Deer was seen in the Hop field off Sapley Lane.

26th

a male Blackcap again visited Woodlands gardens over which six Linnet moved south and a Red Kite circled off to the north-east. One of the 'Ashe Buzzards' chose to cross the Parish boundary, being seen in a roadside tree north of Ashe Park.

Right: Blackcap, Sylvia atricapilla. Picture: Doug Kelson

27th

a male Peregrine flew east over Glebe Meadow late morning with a Great Spotted Woodpecker drumming nearby. Two Red Kite tangled acrobatically in the air over Lordsfield Gardens with others seen over the High Street and Woodlands. A Buzzard moved low east over the Court Farm House area late morning.

28th

a number of locals deserted the Parish for Basingstoke, a flock of up to eight Waxwing there lingering for all comers! The pair of Buzzard was still showing well about the eastern Parish boundary / Ashe crossroads with Red Kite being seen over the adjacent Ashe Park, Lordsfield Gardens, two, Bridge Street and Woodlands, also two. A vocal Blackcap was in Riverside Close hedgerows, a Kestrel on the wing over the nearby Court Farm House / Barn. A Grey Heron was on the bank of The Test off Southington Lane. A Grey Wagtail was about The Test at Town Mill, at times moving on to the higher points of the latter to call and flaunt its chrome yellow underparts. Also very vocal were Robin and Dunnock, many being in song and far more evident on exposed perches in the more clement weather.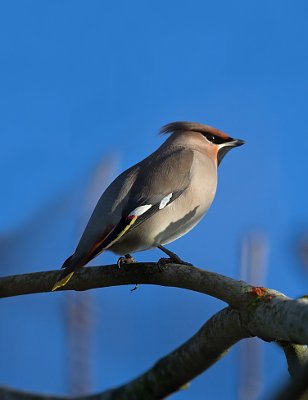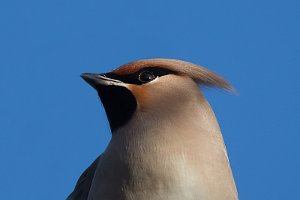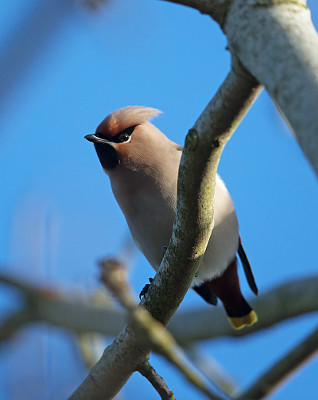 Waxwing, Bombycilla garrulus - Pictures: Barry Stalker. This species is now referred to as Bohemian Waxwing! "Sublime birds I think you'll agree"
29th

the Big Garden Birdwatch saw one garden receiving more than its fair share of birds:
Wren, Great Tit, Blue Tit (2), Goldfinch (4), Woodpigeon (2), Robin, Blackbird (3), Chaffinch (3), Dunnock, House Sparrow (4), Collared Dove (2), Long Tailed Tit (5), Starling, Pied Wagtail and Greenfinch. "We nearly had Jackdaw in the garden as well but I think it must have seen us at the last moment and didn't land". Elsewhere an hour watching the garden produced 11 species for another local completing the Big Garden Birdwatch - a shame that only three visited the garden! A pair of Dunnock, both male and female Blackbird and a Blue Tit the sum total for this effort! The best of the rest that didn't break the garden borders were a Red Kite, Goldfinch and Robin.

"The HOS* walk this morning was most notable for the rain that fell, and fell, and fell, until the walk finished!
Taking in Court Drove as far north as Willesley Warren the inclement weather didn't stop the 8 attendees finding a few things of interest.

Right: A bunch of HOS'ers! As can be seen here - not the most clement weather for a winter walk or birding!

On the rain easing Red Kite were, as might be anticipated, obvious with perhaps 10+ birds being seen, including a gathering of three and several tangling in mid-air. Buzzard were not so aerial, most being seen sat atop more distant trees. A Kestrel was the only other raptor seen, and this by perhaps just one person.
The hundreds of Woodpigeon recorded, often flushed by an unknown source, were joined by a handful of Stock Dove, a pair of Collared Dove and a party of 'racing pigeon'; the latter in many cases bright white against the all too grey backdrop.
Yellowhammer were joined by Reed Bunting in the cover crops, both Redwing and Fieldfare being seen in mobile flocks and a flock of Chaffinch dropping to feed in a 'farm yard' was joined by a vocal group of Linnet.
Marsh Tit were vocal in hedgerows where initially little moved, a pair being seen to within feet. The weather clearing brought out more birds, parties of Long-tailed Tit, several Goldcrest, one again to within feet of all present, and Bullfinches coming immediately to mind. Skylark rose in song and Meadow Pipit moved across the plough as they fed.
Overhead Lesser Black-backed Gull moved south-west whilst an erratic flock of Black-headed Gull was battered by the wind as it moved eastwards.
The 'mist' lifting from the fields allowed Pheasant to be seen, both Grey and Red-legged Partridge being all too short-stayers on being located. Brown Hare were more obliging, the first a water-logged individual being followed up by a 'pair' preparing for March! A further two more distantly were seen later, as were a pair of, apparent, coursers - not good and something that ought to be looked for and reported on any other locals wandering the farmland in the coming weeks.
Dunnock, Robin, Great Tit, Wren, Song Thrush and the aforementioned Skylark were in song, but a nesting Woodpigeon, at the school, was even further advanced in its spring-like activities.
So, for me disappointing because of the weather and the perceived lack of wildlife about the fields and woodland, though the morning was brightened considerably by those making the effort to attend - a big thank you to these."
Peter E. Hutchins

30th

two Red Kite moved south-west over Lordsfield Gardens late morning, the Great Spotted Woodpecker again drumming nearby at Court Farm House. A male Blackcap had been visiting a Kerchers Field garden during the last week of the month, even appearing for the Big Garden Birdwatch, as did a pair of Bullfinch!

31st

a vocal male Blackcap was about Red Lion Lane gardens late morning, perhaps the 4th to be noted within the village this winter. A pair of Mute Swan was more unexpected, visiting Town Meadow, though looking settled on the neatly shorn grass. Red Kite were seen over Bridge Street and Town Meadow whilst a Grey Heron moved south-west over Glebe Meadow late morning.

Right: Grey Heron, Ardea cinerea - Picture: Dave Levy. Another of the near resident species about the Parish that little attention is paid to
* The Hampshire Ornithological Society, hos.org.uk
Contributors: Jane Beckmann, Nancy Cathcart-Jones, Brian Chivers, Susan Chivers, David Cluett, Gill Corbett, Pete Eeles, Brian Elkins, Margaret Elkins, Deb Heath, Alison Hutchins, Peter E. Hutchins, Doug Kelson, Dave Levy, Jane Mackenzie, Ken Mackenzie, Andy Noble, Barry Stalker & Mike Wall.
During February keep an eye or ear open for the following about the Parish: 'boxing' Brown Hare, Hedgehog reappearing from their hibernation, returning migrants such as Stone-curlew, Wheatear, Sand Martin, Blackcap and Chiffchaff, the first of the 'spring' flowers and the butterflies likely to be associated with them, these to perhaps include Brimstone, Peacock, Red Admiral and Small Tortoiseshell. As always, do let us know what you've seen!