Return to the list of reports
Bird spotting walk - 8th June 2005
Overton Biodiversity Society meets RSPB Basingstoke for the Ashes, well Ashe anyway!
25 members of the two groups massed at Ashe Church mid-evening before heading westwards, under my 'leadership', to look for birds.
The clear, calm and warm weather, a little over 20°C, was lovely for walking in but not so good for the wildlife that we hoped to see - the ideal conditions seemingly allowing everything to have finished early for the day!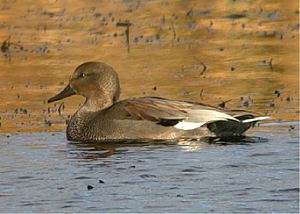 The source of The Test though low, still attracted a post-breeding flock of Lapwings to mingle with the resident Coots, Moorhens, Mallards and the apparently dingy-looking Gadwall.
Right: Gadwall Anas strepera. A drake - perhaps not quite the dull bird that first impressions made it seem?
The latter, when seen here, certainly did not elicit the enthusiasm given to the family party of Canada Geese that fed out on the pasture. Swallows and House Martins fed overhead, time taken to study the differences in their habits, plumage, structure and calls leaving some with a new-found confidence in their honed identification skills. Vocal Jackdaws and Rooks fed amongst the Rabbits near the main road, dropping in from their nearby nest sites.
The stream west of Lower Ashe Farm had all but dried up, the passage of previous cattle now marked by ankle-twisting holes hidden under vigorous vegetative growth close to the once waters' edge. Two friendly horses added a little something to the evening as they joined us for part of the walk whereas a lone Hare loped across an adjacent field. Some 15 or so Goldfinches fed on Groundsel heads, just a single immature amongst them perhaps showing poor local breeding success this spring. A Buzzard flapped slowly south and Swifts screamed high in the vapour-trail covered blueness. A pair of Red-legged Partridges scuttled through the deep grass, their striking head and chin patterns occasionally visible as panic stretched them to their maximum loftiness.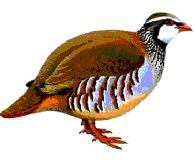 Left: Red-legged Partridge Alectoris rufa
The woodland by the ford held an agitated Marsh Tit, singing Robins and a Chiffchaff and a fly-over Linnet whilst the farm buildings attracted House Sparrows and parties of Swallows; these moving out low over the fields to feed on the incredible number of insects shimmering in the soft light of the slowly setting sun. A male Orange-tip was found at roost, perilously low on track-side vegetation where many legs were brushing by. Higher up, Scorpion Fly and Silver-ground Carpet were amongst the nettle 'canopy' and the micro moth Pseudargyrotoza conwagana rested on a leaf - about 1/10th the size of its' name!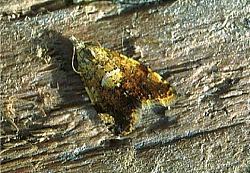 Right: Pseudargyrotoza conwagana. Though this moths' main food plant is Ash, they also feed on Privet and can therefore sometimes be very plentiful about domestic gardens
The pools at Polhampton allowed closer views of Gadwall and a small clutch of Mallards were soon shepherded out of view by their attendant mother Mallard. Willow Warbler sung in ….. willows! A Song Thrush was using the road as an anvil and watching this had the added bonus for many of seeing a Short-tailed Vole scurry from verge to verge.
Straight Lanes' hedgerows held singing Yellowhammers and a pair of Whitethroats, the nearby Mustard attracting a stunning veil of bio-mass - literally thousands of minute flying insects that should surely ensure successful broods of the birds in attendance. The edging Stinging Nettles brought in several micro moths and both Two- and Seven-spot Ladybirds.
A pleasant evening walk came to an end after some two hours, many then heading to Berrydown Court for the moth-trapping and, perhaps the even more eagerly anticipated, culinary delights offered by OBS members (read the moth trapping report here).
Return to the list of reports
Peter E. Hutchins